There are thousands of Elvis tribute artists around the world, and many participate in the popular annual Elvis tribute festivals dedicated to the late King of Rock 'n' Roll and his music — including the Collingwood Elvis Festival, the world's largest.
Competition at these festivals is friendly but fierce, so you know any Elvis tribute artist who is crowned champion has greatly impressed both judges and fans alike. That's the case with Matt Cage, who will be performing "Christmas With The King", an Elvis tribute concert, at Showplace Performance Centre in Peterborough on Saturday, December 2nd.
So far, Cage has placed first at the Collingwood festival three times, once as an non-professional in 2011 and twice again as a professional (in 2012 as "Grand Champion Professional Early Years" and again in 2016 as "Gospel/Inspirational Champion").
He also has an impressive number of both first and second place finishes at various other Elvis festivals across North America.
It was at the Collingwood Elvis Festival (Priscilla Presley herself took part at the 20th anniversary festival in 2014), that Cage — a lifelong fan of Presley's music — had an epiphany of sorts that set him on a life-changing course.
"I saw all the guys doing their performances and I thought to myself 'Hey, I can do this," recalls Cage.
"The next year I entered the contest. I dyed my hair black the night before and went for it. I didn't win the first time out, but I did pretty well. Afterwards, my phone started ringing and I got into doing some shows and other contests. The next year, back in Collingwood, I won the non-professional division and then, the next year, I won the professional division."
VIDEO: "Walk A Mile In My Shoes and "Bridge Over Troubled Water" performed by Matt Cage

At his December 2nd concert at Showplace, Cage will be front-and-centre doing what he loves, headlining "Christmas With The King" backed by Gerie and The Koasters and The Springtime Chordaires, with six members of the Peterborough Pop Ensemble also in the backing vocal mix. Tickets to the 8 p.m. concert, emceed by Bill Coulter, cost $36 and are available now, in person at the Showplace box office (290 George St. N., Peterborough), by phone at 705-742-7469, or online at showplace.org.
"It's a balance of some of Elvis' big hits, with a little bit of rock 'n' roll that people can shake a leg to," says Cage of the upcoming "Christmas With The King" concert.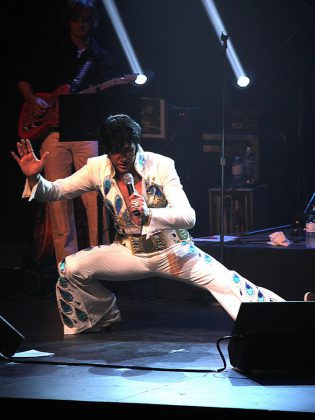 "I do the full range of Elvis' music, from the early years to the jumpsuit era in the 1970s. One thing that was great about Elvis is he was such a complete performer — rock 'n' roll, country, gospel — but his Christmas music was very special."
While Cage won't reveal his age, he's got more than a few years on the 22-year-old version of Elvis he portrays in Million Dollar Quartet, the Tony Award-winning musical that also features tribute performers paying homage to Johnny Cash, Jerry Lee Lewis, and Carl Perkins.
"That show has really been the biggest feather in my cap," says Cage of the show, now wrapping up a 10-day run in Kamloops B.C. and scheduled for December at Toronto's Panasonic Theatre.
"Before I got into doing Elvis, I used to do community theatre in Belleville," Cage says.
"I really liked acting and performing. Then I found Elvis and his music and went that way. With Million Dollar Quartet being a theatrical production, I'm able to act and sing in it. It's a great show, a lot of high energy, and I don't have to do three hours of performing. It's nice to share the load."
VIDEO: "Trouble / Heartbreak Hotel / Hound Dog / All Shook Up" performed by Matt Cage

What sets the Toronto-born and Belleville-raised Cage apart from many acclaimed tribute artists is he entered the game with no formal vocal training experience, outside of singing at family parties and taking his turn at the karaoke microphone.
"I was actually quite shy about singing," he explains. "If you told me I would be doing this for a living, I would have called you crazy. It started out as a bit of a side gig, a hobby type thing. I was working and doing gigs on weekends and nights. About three years ago, I ended up going to Las Vegas Planet Hollywood and working there for an extended period of time. At that point, it became either do this or keep working my day job — so I went full time with it.
"I've been pretty fortunate where a lot of stuff has just sort of come my way. I haven't really had to go out and beg for shows or anything like that."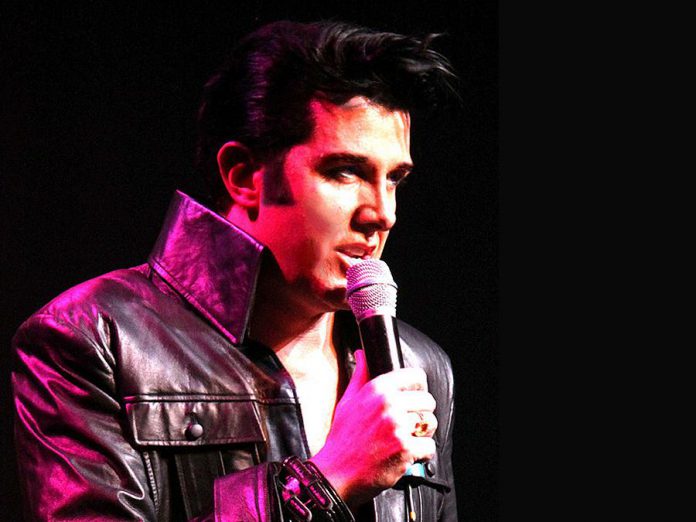 A big part of the reason for that, admits Cage, is the subject of his musical attention. Forty years after his death at age 42, Presley remains as popular in death as he did in life, arguably more so. Pilgrimages to Graceland in Memphis Tennessee are made annually by hundreds of thousands of people from around the globe, and his music continues to enjoy brisk sales. In short, people still can't seem to get enough of Elvis.
"He really was the complete package," assesses Cage. "He was a good looking man. He was supremely talented and his moves were dazzling. There was just a charisma about him. That's something that nobody can truly recreate. It was almost like a mystique. This person was so incredible yet so many people in this world think they can do him justice, myself included.
"I don't know if there's an answer as to why. Supply and demand is part of it. People want it so there's going to people who will do it but I don't think any one person can fully recreate what Elvis was. What I like to do is give people glimpses of who Elvis was. If you watch my show, you'll say 'Ah, right there, that was like Elvis.' I think the more glimpses you can give people, the more they'll enjoy it."
Staying "on top of the game" is a job in itself for Cage.
"The first few years I did a lot of YouTube video watching, watched a lot of his movies, and listened to his music all the time. I still do. I watch for little things. What he's doing with his hands, or how does he stand, or how does he carry himself. Then I stand in front of a mirror and do the same thing. I try to basically crisp everything up.
"When I'm backstage getting ready for a show, as I'm doing my hair or putting my suit on, I start breaking into character a bit. When I'm all decked out in my clothes and my hair is done and I'm ready to go, that's when I start feeling that Elvis persona. Offstage, I'm just regular old Matt."
VIDEO: "Suspicious Minds" performed by Matt Cage

That said, Cage admits to eating his "fair share of peanut butter and banana sandwiches" — a staple of Elvis' diet that Cage rates as "delicious." And he's made the mandatory trip to Graceland where, he says, "you can feel his presence … like you knew the guy and if he were home, he'd welcome you."
The reigning 2016 grand champion of Rockton Kings and Classics in Rockton Ontario and the Gospel/Inspiration category of the aforementioned Collingwood Elvis Festival, Cage says while he and others compete against each other, they are, at the end of the day, "brothers in arms" who generally support one another.
"Most of us are doing this because we love Elvis and want to pay tribute to him. We're all out there to achieve the same goal. There might be bit money on the line or opportunities but even there, you hear guys say something like 'Oh, I forgot my belt' or whatever. There's usually someone who will say 'Oh here, use mine.' It's like when two buses pass each other on the road, the drivers wave at each other. It's a brotherhood."
VIDEO: "You Lost That Loving Feeling" performed by Matt Cage

While life is good at present and he's doing what he loves to do, Cage acknowledges there's a shelf life to his portrayal of Elvis.
"There's only so long a person can convince someone that they're a certain age of a certain ability, but I do think there's a longer life in it when you're just doing it for fun — entertaining at old folks' homes or at car shows. I don't know if that's for me, per se. I'm taking it year by year for now. As long as I can keep doing it justice the way I want to, I'm going to continue with it.
"I have long-term goals of perhaps producing shows, sort of working the back end of things that will keep me in the industry but not necessarily in the spotlight."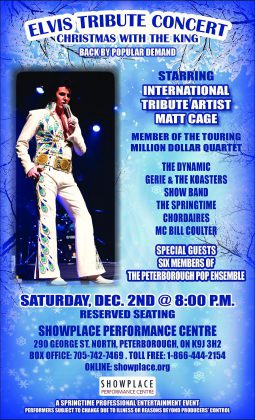 Meanwhile, at the Peterborough show, if Cage offers up "Trouble" (from the film King Creole), "Suspicious Minds", or Elvis' version of "Bridge Over Troubled Water", you'll be hearing one of his acknowledged favourite songs to perform.
"Those are my top three … today," he says, hinting that changes regularly.
"Elvis had a catalogue of about 800 songs, 500 of which were original or unique recordings. I have about 200 I can pull out. I try to rotate songs in and out, so no two shows are exactly the same."
And when all is said and done — when Elvis has left the building, so to speak — Cage is clear on how he measures his performance.
"If they're an older person and they say they relived their youth, for me that's a great compliment because it was a great experience for them and they were able to let go and have some fun.
"On the flip side of that, when I get a younger person who doesn't know much about Elvis come up and say 'Wow, that was a lot of fun. I didn't know what to expect', that also makes me feel really good because I'm carrying the torch for what Elvis started."