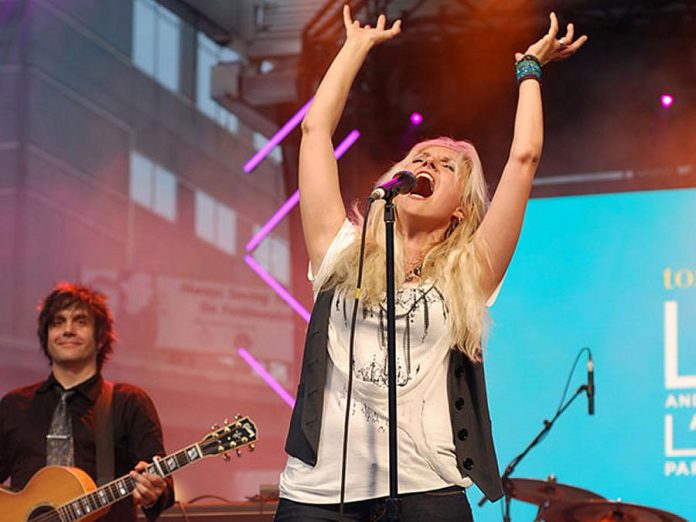 It's late afternoon on a beautiful fall day in Collingwood, Ontario and Sass Jordan is, well, anxious to move things along.
"As soon as you and me are done here, guess what happens … I get to have my glass of wine," she laughs, seemingly unaware of the pressure she has put on her interviewer to move things along.
But then the conversation touches on her reincarnation of her groundbreaking 1992 album Racine and suddenly there's plenty of time to chat. That glass of wine can wait.
"I'm excited as all get out," says the rock singer of recently released Racine Revisited and the associated new tour that kicks off Thursday, November 2nd at 8 p.m. at Market Hall Performing Arts Centre (140 Charlotte Street, Peterborough, 705-749-1146). "You know why? I have never done this show in the format that I'm doing it in. So, yeah, I'm really excited but I'm absolutely freaking terrified at the same time.
"Racine is French for roots. We're 25 years on. At that time (of the original recording), I was exploring my own roots musically. Now, for people coming to the show, that album is part of their roots. Now we're looking at collective roots, not just mine. It's powerful, it's exciting and I couldn't be more thrilled."
Producing the hit singles "Make You A Believer", "I Want To Believe", "You Don't Have To Remind Me" and "Goin' Back Again", Racine was Jordan's second studio album. It was released four years after her debut record, Tell Somebody, and three years after her 1989 Juno Award as Most Promising Female Vocalist of the Year. Three more Juno Award nominations followed over the next five years, each in the Best Female Vocalist Category.
VIDEO: "Racine Revisited" Promo – Sass Jordan

"I don't know if it (her Juno Award) gave me more confidence but it did set up Racine for me in Canada. It was like 'Oh, this person won a Juno a couple of years ago. Let's have a look at what she's doing now.' It did give me more of an entry into the Canadian (music) scene at that time that might not had been there.
"But I'm a little weird about awards. In my experience, it's really who you know. There's a lot of politics involved."
Now age 54, simple math tells us Jordan was 29 years old when she recorded Racine. As such, a lot of water has flowed under the bridge that saw her record another five albums, sell well more than one million records worldwide, and work alongside such rock heavyweights as Aerosmith, The Rolling Stones and the late Joe Cocker, to name a few.
"What's changed? The best word for that would be everything," assesses Jordan.
"Somebody who was born 25 years ago is now 25. That's a big deal, right? And I'm 25 years older and all the people who enjoyed that record at that time, it's the same thing. The only thing that's the same is the structure of the songs and essential message of the songs. That hasn't changed. That's timeless."
"I don't think anything is the same other than the essential building blocks of the construct — 'I was born in 1960-something' and 'I was born in Birmingham, England and I grew up in Montreal.'
"That's all the same shit, but I am a different person. I have a completely different outlook on life. Life is subjective. It's how you perceive it and that becomes your experience. My perception of life has changed dramatically over the past 25 years. If it hadn't, I'd be dead."
Hitting the road and sharing her music with fans, both of the longtime and new-to-the-game variety, is clearly an exciting prospect for Jordan as is her ongoing work on songs for a new album.
"It's going to be killer," she assures, adding, "I don't know if people care about records anymore but I do. Do I have a preference (in terms of recording over performing or vice versa)? Do I have a preference for anything over anything? Yeah, a private plane over a commercial flight. Each of them has their pros and cons. Each one is equally important to me, and equally powerful and fun."
VIDEO: "Make You a Believer" – Sass Jordan featuring Jeff Healey

As part of her Racine Revisited tour — the Peterborough date kicks off a stretch of eight tour stops in November — Jordan will share stories of her journey to date as well as take questions from audience members.
"I'm writing right now, and over the next couple of days, stories I'm going to share. It (telling stories) isn't therapeutic. Wine is therapeutic. I am really excited about the Q and A but I hope they don't ask 'What's your favourite breakfast cereal?'"
No doubt a few of those stories will touch on Jordan's journey across the Canadian musical landscape and beyond, both figuratively and literally, and the success which come has her way in a business that, more often than not, sees today's hot news turn cold in an awful hurry.
"Believe me, if it wasn't for me, I wouldn't be here," says Jordan of her remaining musically relevant so many years on.
"It's not because of the grace of anyone else. It's because I insisted on it. I work super hard and I love what I do. My whole reason for being is to uplift and inspire people. However I do that doesn't matter to me. I can do it through music; I can do it through words; I can do it through being there and listening to someone.
"Money is lovely, don't get me wrong, but that's not my motivation. If it were, I wouldn't be doing this for a living. I'm grateful to myself for hanging in there."
That said, Jordan is cognizant of the fact that music "is a collaborative effort", noting her rebirth of Racine is a clear example of that.
"A song is a song. I could do a song by Tom Petty, which I do, and it's going to have a completely different energy than when Tom did it with Stevie Nicks. It's exactly the same thing with my songs. I get to recreate them with musicians that weren't there when I wrote them.
"But the most important ingredient is the people that are in attendance at a particular performance. It's the collective that makes the thing what it is. As crazy and weird as that sounds, it's the God's honest truth. When I'm doing a song, its effect depends on who is there to listen to it and how it's affecting them.
"That's what we're here for — to have a lot of fun and get our minds off the bullshit for two hours. Sass Jordan is an entertainer. I know her personally."
Tickets to Racine Revisited, a Market Hall Presents event, cost $38 ($43 for floor seating) and are available in person at the box office, by phone at 705-749-1146, or online at markethall.org. Tickets are also available (cash only) at Moondance (425 George St. N., Peterborough, 705-742-9425).
VIDEO: "You Don't Have To Remind Me" – Sass Jordan