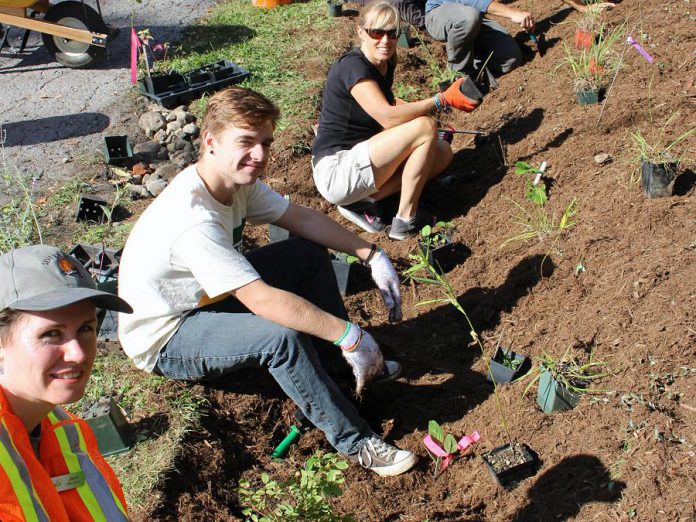 One of my favourite things to do in fall is to enjoy a walk around my neighbourhood. The crunch of the leaves underfoot is a welcome background to hellos between neighbours and the sounds of children playing in their yards and riding their bikes.
Often, when I'm out for a stroll, I can't help but take note of the opportunities that seem to be around every corner of my neighbourhood.
For example, water often pools at the base of the hill near the end of my street. There is a large open area of grass there that has the potential to hold a rain garden, which would help to remedy the periodic flooding there.
As you walk around your neighbourhood you may notice some things that you would like to change, expand upon, or create. You likely know exactly where puddles form, where flooding is re-occurring, where you'd like to see more trees, or where a boulevard could be beautified with gardens.
There are many opportunities within our neighbourhoods for action to take place, for a food garden to be planted, or for green space to be expanded — and no one knows better about where these could be implemented than you. Many of us hold neighbourhood wisdom that includes everything from knowing about areas that periodically flood to wishing you had more trees to shade the sidewalk.
Now we all have the opportunity to share this knowledge with the new Sustainable Urban Neighbourhoods (SUN) program, which is about to shine on two Peterborough neighbourhoods with opportunities for resident-led implementation of sustainable landscaping.
The Kawartha Heights and Curtis Creek/Ashburnham East neighbourhoods have been selected for the SUN program. We will be connecting with residents in these areas to curate, offer, and help implement a menu of sustainable landscaping options which may include planting trees, growing community food or rain gardens, or integrating pollinator plants and native wildflowers to naturalize outdoor spaces.
It will be up to the residents of each neighbourhood to determine what these projects look like and where they will be located.
Criteria considered for neighbourhood selection was based on the area's needs for flood mitigation, tree canopy improvements, food production, habitat creation, and diversification. Needs were determined through comparison of regional and local plans and priorities, local knowledge that had already been collected through other programs and partners, and community readiness to participate.
For the past six months, GreenUP staff have been exploring these two neighbourhoods, connecting with residents, and encouraging conversations within each area. For Jenn McCallum, GreenUP Water Programs Coordinator, and Vern Bastable, SUN Landscape Coordinator, it has been the act of walking within the neighbourhoods that has shed light on a number of ecological gems.
"In Kawartha Heights, there are beautiful walking trails that run along Byersville Creek, and the Kawartha Heights Park has a lot of potential as a community epicentre," says McCallum, who was previously unfamiliar with this neighbourhood.
"We are excited to be working in both neighbourhoods. Right now we are connecting with residents along with local schools and churches starting to gauge community interests and priorities. We are very interested in hearing from residents about how they would like to see their communities enhanced now and into the future."
If you live in any neighbourhood, we want to hear from you. GreenUP has put together a quick survey to help capture your perspective and priorities. When you share information about your neighbourhood, you will also be entered into a draw to win a prize!
The SUN program will offer a number of ways to get involved and share your perspective, from one-on-one interviews to joining the SUN advisory committee. There may be an opportunity to host a garden on your property, or to join your neighbours and volunteer to plant.
When you are out for your next evening walk, think of SUN and start to spread some light on the ideas, opportunities, and potential for neighbourhood-made greenspace in your area. We would love to hear from you; fill out the SUN survey at greenup.on.ca.
For more information about SUN, contact Jenn McCallum at jenn.mccallum@greenup.on.ca or Vern Bastabe at vern.bastable@greenup.on.ca or at 705-745-3238.
SUN is funded by the Ontario Trillium Foundation, and is modelled after the Toronto Region Conservation Authority's Sustainable Neighbourhood Retrofit Action Plan (SNAP) program.