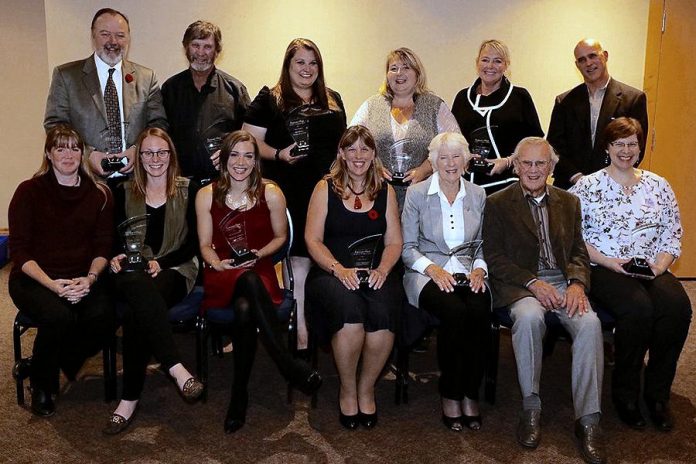 The Village of Lakefield in Selwyn Township dominated the 18th annual Kawartha Chamber of Commerce & Tourism Awards of Excellence, held on Friday evening (November 3) at Elmhirst's Resort in Keene.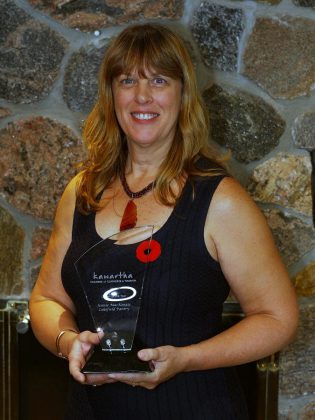 Jennie MacKenzie, owner and operator of the Lakefield Pantry, was named as Citizen of the Year.
MacKenzie was recognized for her long-standing commitment to the area, both as a business person and community initiator. For 28 years, Lakefield Pantry has supported the concept of "buying local" and the store today carries products from 28 local suppliers.
MacKenzie was part of the group that organized in 1997 to buy the Imagine the Marsh property to prevent its development, and the annual Polar Paddle was her brainchild.
She has co-organized or assisted with many other initiatives including Ladies' Night Out, Lakefield 5K Run & Walk, Family Paddle Day, Lakefield Farmers' Market, Lakefield Canada Day festivities, and the PolarFest ice carving competition.
Lakefield residents Mike and Aileen Dean, who have been called "Mr. and Mrs. Lakefield", received a special Lifetime Achievement Award.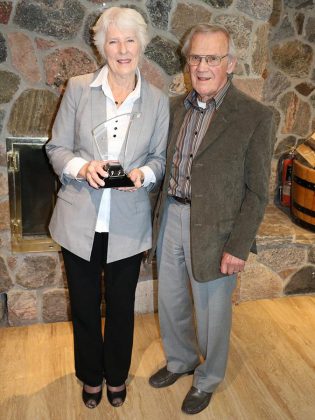 For over two decades they operated a successful marina business on Stoney and Clear Lakes, where Mike initiated and organized the first fire service for island cottages on Stoney, until municipal services became available. Early in his career Mike owned a construction business. Both have been successful real estate agents for decades, most recently with RE/MAX Eastern Realty.
Aileen has been involved with the Lakefield and Selwyn Women's Institutes since the 1970s. Mike was on the Board of Directors for the then Lakefield Chamber of Commerce and he arranged for a bank loan and supervised the building of the first Chamber office. He was one of five people who started teaching the Lakefield community about recycling, building three bin dumpsters at the train station and maintaining them for six years until the municipal recycling program started.
Both Aileen and Mike have been extremely active in the Lakefield Horticultural Society for close to 40 years, and were instrumental in beginning and maintaining the hanging baskets and Village gardens. For 30 years, they secured dealers and organized logistics for the Society's popular Antique Sale and Flower Show. One day a week, for 12 years, they along with one other volunteers prepared and served breakfast at Ridpath school to about 80 students.
Erin McLean of McLean Berry Farm was named Young Professional of the Year. In addition to hiring, training, managing and scheduling staff, Erin is responsible for all of the farm's marketing, including leveraging their social media accounts. She has been chair of the Lakefield Farmers' Market, a board member of the Ontario Farm Fresh Market Association, an executive member with Farmers' Markets Ontario, a member of the Economic Development & Business Committee for Selwyn Township, and has volunteered at the warming room in Peterborough.
McLean Berry Farm also won the award for Tourism or Hospitality Excellence, and Griffin's Greenhouses won the Outstanding Business Achievement award.
Other award winners included Camp Kawartha for Customer Service Excellence, Lakeshore Designs for Commercial Development or Renovation, Kawartha Local Marketplace for Entrepreneur Innovation, Habitat for Humanity Peterborough & Kawartha Region for Not-For-Profit Excellence, and Cross Wind Farm for Retailer of the Year.
The sold-out evening was emceed by Kawartha Chamber Board President, Cindy Windover of Windover Plumbing, with live auctions held during dinner with Keith Monk as well as a silent auction with many items and services donated by local businesses available for bidding.
For more information about each of the winners, visit kawarthachamber.ca.