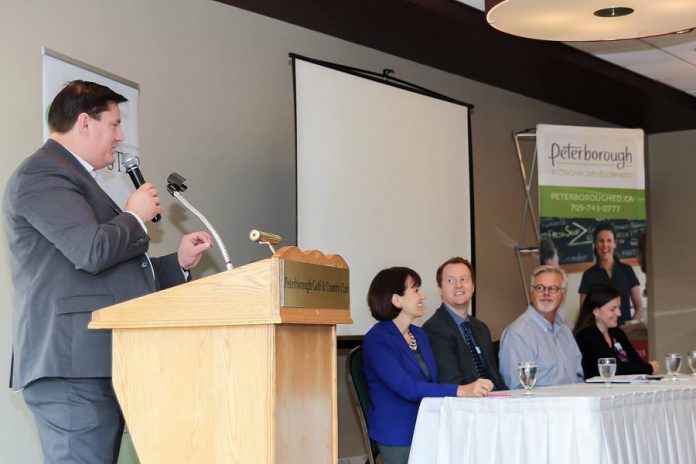 Ask anyone who has started and subsequently guided his or her own business to great success, and you'll learn that a dream of the entrepreneurial variety anchored that gutsy journey.
But lurking, as it always does, was the reality of the financial side of things. It's one thing to have an idea, but it's quite another to come up with the dollars that will make it a reality.
With that well in mind, Peterborough & the Kawarthas Economic Development (PKED) along with the Innovation Cluster are hosting the Peterborough & the Kawarthas Funding Forum.
Set for Tuesday, November 21st from 10 a.m. to 3 p.m. at the Peterborough Golf and Country Club (1030 Armour Rd., Peterborough), admission is free but registration at ptbokawarthasfundingforum.eventbrite.ca is encouraged.
The purpose of the forum is to provide entrepreneurs with an opportunity to find out about all the programs — including funding — available for their business. As well as an exhibitor showcase, the forum includes four break-out sessions related to business funding.
"We have a lot of business owners who come through the Business Advisory Centre and the Innovation Cluster looking for financial resources to make their business goal a reality," explains Cara Walsh, Corporate Communications Officer with PKED.
"This event brings financial resources and funding programs together in a one-stop shop for business owners. Between the exhibitors being there and the break-out sessions that speak to individual industry topics, it's meant to make it easier to figure out what funding opportunities are available to business owners and what the right steps are to take to secure funding."
Each 45-minute break-out session will feature a panel presentation on a specific topic: "Funding for Digital Startups", "Angel Investment for Startups", "Small Business – Tips For Successfully Securing Funding", and "Funding To Create Unforgettable Visitor Events And Experiences."
While the make-up of each panel is still being finalized, Walsh says there will be representation from organizations across economic sectors, including: the Ministry of Culture, Tourism and Sport; Regional Tourism Organization 8 (RTO8); the Ontario Arts Council; TD Bank Group; Business Development Bank of Canada; Community Futures Peterborough, and the Peterborough Region Angels Network … to name a few.
The digital session will speak to the growth of the digital sector — including information and communications technology, software as a service, augmented and virtual reality, and more — and the opportunities this growing field presents. The panel will feature experts in financing and intellectual property matters who will speak on how to find the right funding and when to begin seeking it out.
"Hyper-growth, innovative companies require different types of capital at different stages," says Michael Skinner, President & CEO of the Innovation Cluster. "By attending the sessions on digital funding and angel investment, entrepreneurs will hopefully be able to proactively determine what stage they are at and what their capital requirements would be."
In the second panel, an angel investor, a venture capitalist, and a lawyer will lend their voices to smart money for startups. This session will explain the difference between angel and venture capital investment and include advice on when to pitch for investment and what to expect.
"Having a better understanding of what to expect and who the major players are as an innovation and technology startup will make the process of securing funding much easier," notes Skinner, who is also an angel investor.
"The Funding Forum is an opportunity for entrepreneurs to speak with organizations and funders in a supportive and encouraging environment," Skinner adds, explaining that it allows them to feel inspired to ask any question and connect with each organization.
The small business session will answer questions around securing funding, whether a grant or loan, and how to use this funding to achieve success.
Finally, the tourism session will benefit business owners with an idea for an engaging experience or a memorable event they want to develop or grow.
"Tourism is an important sector of our local economy and is an important part of the work we do at Peterborough & the Kawarthas Economic Development," Walsh says, explaining the reason for a dedicated session on tourism.
The free event will not only inform business owners about available financial resources and programs, but also provide a unique opportunity for entrepreneurs to connect directly with funders.
"A lot of our clients come in knowing they need financial resources to start up their business but don't necessarily know where to go to get them," Walsh explains. "Participants will walk away having actually made a connection with someone at those funding agencies, which is key. Having someone to bounce your idea off of in advance of applying for funding is very helpful."
Walsh also explains that the Peterborough & the Kawarthas Funding Forumis a natural extension of the discussion generated at last year's Spotlight On Small Business event.
"We had a number of local entrepreneurs speak at that event but this year we're focusing on the funding aspect. This is something that each organization's clients are identifying as a need.
"It's a good opportunity for people to come out and learn a little bit about the funding options that are out there and also how to best pitch their ideas for funding."
To register for the Peterborough & the Kawarthas Funding Forum, visit ptbokawarthasfundingforum.eventbrite.ca.