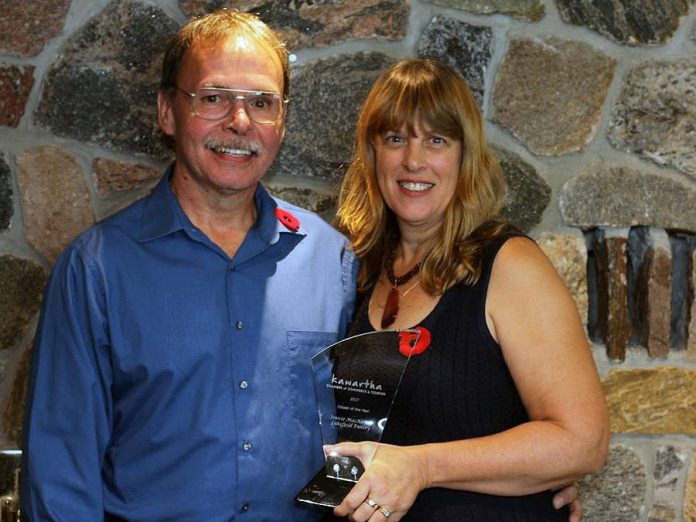 ---
Ten Honoured at Awards of Excellence Gala
Congratulations Award Recipients!
The Chamber's Annual Awards of Excellence were presented Friday night at Elmhirst's Resort. Chamber Board President, Cindy Windover of Windover Plumbing, congratulated the recipients as well as all who were nominated. With over 80 nominations there was a lot to celebrate!
The Chamber's Citizen of the Year, Jennie MacKenzie, has owned and operated the Lakefield Pantry for 28 years. Long before becoming a familiar mantra, "buying local" was an important aspect of her business. Today, products from 25 local suppliers are carried in the store. For over 10 years she has been the lead organizer of the PolarFest ice carving competition in Lakefield and the Polar Paddle. Her involvement has included a multitude of other community initiatives including Imagine the Marsh, Lakefield Farmers' Market Board, Family Paddle Day, Ladies Night Out, and more.
This year, the panel of judges elected to honour Mike and Aileen Dean with a special award for Lifetime Achievement. For decades they have been successful real estate agents, most recently with RE/MAX Eastern Realty. Their commitment to community betterment has been outstanding. Aileen actively participates in the Selwyn Women's Institute, many years ago Mike introduced the Village of Lakefield to the concept of recycling, they have both prepared and served breakfast at Ridpath school for 12 years, and have volunteered with the Lakefield Horticultural Society helping to maintain Village gardens as well as organizing their Antique Sale & Flower Show for over 30 years.
Both awards were sponsored by RBC.
Recipients in the eight remaining categories are as follows:
Commercial Development or Renovation – Lakeshore Designs
Finalists: Salon Sorella & Day Spa, The Regency of Lakefield, Tribal Voices
Sponsored by BALL Real Estate Inc. Brokerage
Entrepreneur Innovation – Kawartha Local Marketplace
Finalists: Loch Eyewear, Your Body You
Sponsored by Gastles Registered Patent Agents
Not-for-Profit Excellence – Habitat for Humanity Peterborough & Kawartha Region
Finalists: Alternatives Community Program Services, Cuddles for Cancer
Sponsored by Darling Insurance
Retailer of the Year – Cross Wind Farm
Finalists: Celtic Connection, East of Eden Antiques
Sponsored by Nexicom
Tourism/Hospitality Excellence – McLean Berry Farm
Finalists: Beachwood Resort, Lang Pioneer Village Museum, Six Foot Bay Resort
Sponsored by Peterborough & the Kawarthas Economic Development
Customer Service Excellence – Camp Kawartha
Finalists: Accurate Accounting & Tax Services, Salon Sorella & Day Spa, Tribal Voices, Village Pet Food & Supply
Sponsored by CIBC
Young Professional – Erin McLean, McLean Berry Farm
Finalists not announced.
Sponsored by Community Futures Peterborough
Outstanding Business Achievement – Griffin's Greenhouses
Finalists: Accurate Accounting & Tax Services, BALL Real Estate
Sponsored by County of Peterborough
Read more details on the recipients.
'Thank You' from the Chamber's Citizen of the Year
Citizen of the Year, Jennie MacKenzie, shared the following 'Thank You' letter acknowledging her cohorts:
"I was honoured to be presented with the Citizen of the Year Award at the 2017 Kawartha Chamber of Commerce & Tourism Awards of Excellence Gala on Friday evening. I can't really remember what I said in my comments upon accepting the award, so if you would indulge me, I would like to make sure I thank the many people who are involved in this award.
This award is 'Presented to an individual who has been a leader in moving the region forward and has been responsible for the improvement and well being of the business community beyond personal or business gain.' I have been involved in many different events in and around Lakefield over the last 28 years, but as you know, it is impossible to do these things alone so I feel compelled to acknowledge my cohorts.
Firstly my husband, John. After the initial shock of 'You want to do what?!', he is always right there to support me and help me, often being "voluntold" as he says. I love you John and I thank you for being at my side."
ServiceOntario Closed November 11th for Remembrance Day
The Chamber's ServiceOntario office at 133 Water Street in Lakefield will be closed on Saturday, November 11th for Remembrance Day.
The office will reopen on Monday, November 13th at 8:30 a.m..
Please note: the office is open until 7 p.m. on Thursday evenings, to assist with your vehicle, health card, and organ donor transactions.
Completing Your Accessibility Compliance Report
Deadline: December 31st, 2017
Businesses and non-profits with 20 or more employees and public sector organizations must complete an accessibility compliance report by December 31, 2017.
You must submit an accessibility compliance report if you are a business or non-profit organization with 20 or more employees or a designated public-sector organization.
The compliance report confirms that you have met your current accessibility requirements under the Accessibility for Ontarians with Disabilities Act (AODA).
If you don't complete your accessibility compliance report, you could face enforcement which can include financial penalties. Read more.
Know Your Power Cobourg – November 15th

Navigating energy-efficiency programs for business
Chamber members are invited to a breakfast event on Wednesday, November 15th, to learn about energy cost-saving programs and incentives available to Ontario businesses. The event is being held at the Best Western Plus Cobourg Inn & Convention Centre, 930 Burnham St., Cobourg. Registration and breakfast is at 9 a.m., and the program runs from 9:30 to 11 a.m. There is no charge to attend. Register here.
Remembrance Day Ceremonies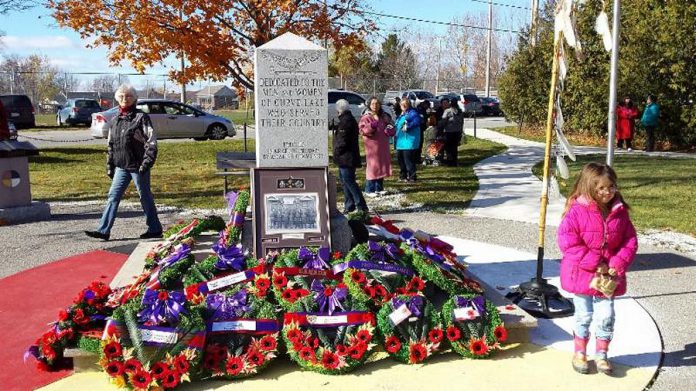 Remembrance Day Ceremonies are taking place in the following communities:
Wednesday, November 8th – Buckhorn Community Centre, 2-3 p.m.
Saturday, November 11th – Aspley Legion, 11 a.m.
Saturday, November 11th – Curve Lake Cenotaph, 10:30 a.m.
Saturday, November 11th – Lakefield Cenotaph, 11 a.m.
Saturday, November 11th – Warsaw Cenotaph, 10:45 a.m.
History Comes to Life at Lansdowne Place with Lang Pioneer Village
Tribute to Canada's Military History, November 8th at Lansdowne Place
On Wednesday, November 8th, Lansdowne Place and Lang Pioneer Village Museum invite the residents of Peterborough and the Kawarthas to visit a Remembrance Week tribute to Canada's military history over the last two centuries.
To commemorate our country's past, students from the Norwood District High School and the East Northumberland Secondary School will be dressed in authentic reproduction uniforms from a variety of military conflicts that took place in Canada in the 19th Century.
The public is encouraged to join them in Centre Court, located on the lower level of the Shopping Centre, to learn about the War of 1812, the Fenian Raids, the 57th Battalion "Peterborough Rangers" Militia circa 1885 and much more. Read more.
Lakefield Herald Presents MacKinley Oliver, Delusionist – November 17th
"Delusionist" MacKinley Oliver will perform at 8 p.m. on Friday, November 10th at the Lakefield Legion (10 Nicholls St., Lakefield).
Tickets are $20, available at the door or in advance at the Lakefield Herald office (64 Bridge St., Lakefield).
Upcoming Santa Claus Parades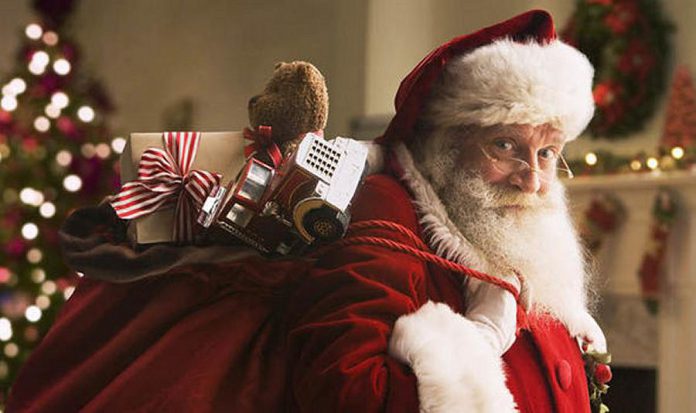 Apsley
The Apsley Lions Club is hosting the annual Santa Claus Parade and Christmas Party on Saturday, November 25th. The parade begins at 6 p.m. at the Apsley Public School, continues along Burleigh Street to Wellington, then along Jack Lake Road to the North Kawartha Community Centre, where the festivities ensue. Inside the North Kawartha Community Centre, refreshments are served along with "Loot" bags for kids 10 and under.
Lakefield
The Lakefield & District Lions Club's annual Lakefield Santa Claus Parade is taking place on Sunday, November 19th beginning at 1 p.m.. Float registration is at the Lakefield Legion from 12 to 12:45 p.m.. Food items will be collected for the Lakefield Food Bank along the parade route. The Lakefield Lioness Lions will also be collecting toys for the toy drive.
Warsaw
The Township of Douro-Dummer will be hosting the annual Santa Claus parade on Saturday, November 25th in the hamlet of Warsaw. The parade will begin at 5 p.m. at the Warsaw Public Works garage and continue through the village. The theme this year is "I'll Be Home for Christmas." Following the parade will be a tree lighting ceremony held in the gazebo next to the Town Hall in Warsaw.
Upcoming Events
Buckhorn Autumn Dinner Theatre – November 10th-12th
Abuse Prevention of Older Adults, Lakefield – November 10th
Christmas Bazaar at Regency of Lakefield – November 18th
For more information about the businesses and events listed above, please visit the Kawartha Chamber of Commerce & Tourism website at kawarthachamber.ca.
All photos supplied by Kawartha Chamber of Commerce except where noted.