Expect the unexpected at The Avant-Garden Shop.
What started as a retailer selling high-end outdoor garden decor 15 years ago is now a gift paradise overflowing with a diverse collection of eclectic items. The Avant-Garden Shop is the perfect destination to find a distinctive gift for a friend, gardener, bird lover, or to find something unorthodox to breath new life into a bleak room.
"Despite the store name, we're more than just a garden store," says owner Brenda Ibey, who opened the store in 2002 with business partners, Dave and Ellen McLeod. Brenda eventually took over the business full-time in 2008.
Located at 165 Sherbrooke Street in downtown Peterborough, the store offers a wide array of home and garden decor, gardening accessories and backyard bird supplies, including the Squirrel Buster Plus, their top-selling squirrel-proof bird feeder, as well as The Garden Bandit, their number one weeding tool.
You'll also find cards for all occasions created by independent artists, along with fragrances, wind chimes, bath products, and even jewelry. Other popular store items are multi-patterned and colourful Happy Socks, Tilley hats and unique metal wall art.
"No one else in the area has as much Canadian-made outdoor wall art," Brenda says of her extensive collection sourced from artists in British Columbia and Ontario.
If you're a hardcore gardening enthusiast looking for a plant nursery, Brenda says you'll be taken by surprise.
"You won't find plants or soil here," she laughs. However, if you need the perfect accessory to go with your green thumb, The Avant-Garden Shop has it all.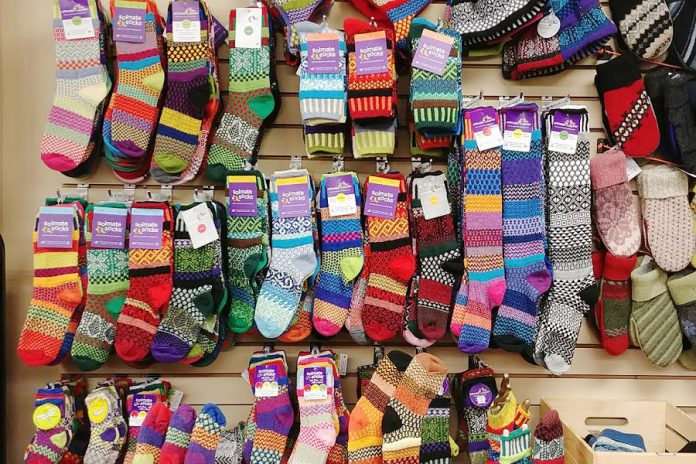 With an eye towards originality and quality, they carry the very best hand-made items from over 75 Canadian artisans and a number of American artisans, along with some fair trade items.
"We feel it's very important to support local as much as we can," Brenda says. She's an advocate of the shop local movement, and is proud to say that she personally knows some of the people and the stories behind many of the collections they carry.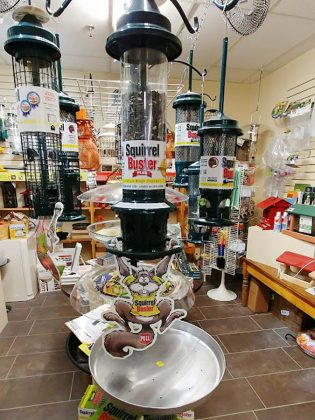 Prior to owning The Avant-Garden Shop, Brenda learned the value of "Canadian made" while working for 13 years at GreenUp, Peterborough's non-profit environmental organization whose mission is to enhance environmental health in the region.
"I became well-informed on the importance of local economic development and supporting our community," she says. "Not just by being green and doing things like recycling or composting, but by buying local and buying Canadian."
The Avant-Garden Shop features a powerhouse of Canadian artists: Jean Pierre Schoss and Brenda Tucker from Uxbridge, who create animal forms and nature images from recycled propane, water, and oil tanks; Abbotsford's Ron Stephens, who uses sheet metal to produce wild life and domestic creatures; and Matachewan's Wendy Stanwick, a jeweller who uses diamond drill core samples from local sources to create her stunning jewelry line. And so many more, from coast to coast.
A trip to Brenda's store often includes running into someone you know from the neighbourhood, or an exchange of advice on gardening, or how to attract more birds to one's yard.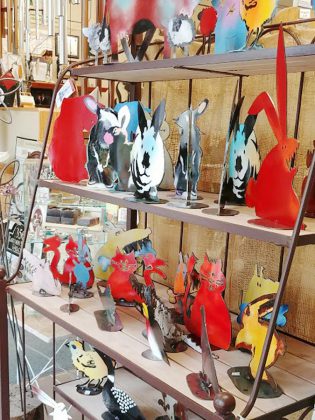 Over the years, Brenda has set a high standard for her store and the business community has recognized her efforts. Last month, she took home the Customer First award at the Peterborough Business Excellence Awards. It sits behind the store's till — beside the Best Retailer Award she won in 2012.
"This award shows recognition for our business and the work we do," Brenda says. "We strive to make the customer first and, most important, to keep them happy."
They are true to their word. Brenda and her husband Clayton are keen to make house calls to customers' homes to help with bird feeders and pole system installations — at no extra charge.
And while the trip to The Avant-Garden Shop is always worth the visit, all this is also available at your very fingertips simply by visiting their online store at www.avantgardenshop.com.
Customers will find not only the ease of shopping just like in the physical store, but also the opportunity to engage with The Avant-Garden Shop through their newsletter, social media platforms, plus a blog that includes gardening tips.
VIDEO: The Avant-Garden Shop

You can also catch Brenda weekly on Peterborough's CHEX TV in three-minute informational segments about bird feeding, gardening, and fun products available in the shop.
On Thursday, November 23rd, from 9:30 a.m. to 8 p.m., The Avant-Garden Shop invites the community to come to the store for customer appreciation day — and to celebrate 15 years in business — complete with door prizes, refreshments, and no tax on all store items.
The Avant-Garden Shop is located at 165 Sherbrooke Street in Peterborough. Hours are 9:30 a.m. to 5:30 p.m. Monday to Friday, and 9:30 a.m. to 5 p.m. on Saturday.
Take a virtual tour of The Avant-Garden Shop

For more information, call 705-743-0068 or email info@avantgardenshop.com. To browse and shop online, visit www.avantgardenshop.com.
You can also connect with them on Facebook, Twitter, YouTube, and Instagram.