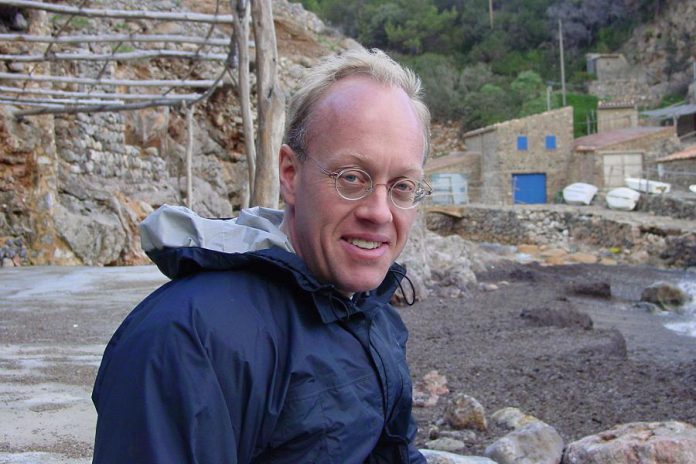 Performing arts producer Public Energy is bringing the outspoken American journalist and Pulitzer Prize winner Chris Hedges to speak at Market Hall in Peterborough at 7:30 p.m. on Monday, November 20th.
Hedges is a leading writer and activist on the American left. His journalism explores how corporations have hijacked the centres of power in America and how America's ruling classes have failed the country and the world. He has written more than 11 books, including the 2012 New York Times bestseller Days of Destruction, Days of Revolt which he co-authored with the cartoonist Joe Sacco.
Hedges spent nearly two decades as a foreign correspondent in Central America, West Asia, Africa, the Middle East, and the Balkans, reporting from more than 50 countries, and has worked for The Christian Science Monitor, NPR, Dallas Morning News, and The New York Times, where he was a foreign correspondent for 15 years (he contributed to The New York Times coverage of global terrorism that received the 2002 Pulitzer Prize for Explanatory Reporting).
Hedges left The New York Times in 2003 after receiving a formal reprimand for publicly denouncing the George W. Bush's invasion of Iraq. Among his other acts of resistance was successfully suing President Barack Obama over his move to indefinitely detain and deny due process to U.S. citizens who are branded by the state as terrorists (the victory was turned over on appeal).
Hedges is currently a columnist for the progressive news and commentary website Truthdig and is also the Emmy-nominated host for the television program On Contact on RT.
In Peterborough, Hedges will deliver a public talk on the topic "Writing As Resistance". He will speak on his life and work as a writer, engaging head-on with some of the most contentious issues of our time.
Sponsored in part by The Council of Canadians, Traill College at Trent University and the Trent University departments of History, Cultural Studies, English and Political Studies, Hedges' talk is held in conjunction with the Precarious Art Festival, which is exploring the economic insecurity of working artists. Hedges is donating his fee to support the work of Public Energy, including its partnership with the Precarious Festival.
"We thought it would be very appropriate for Chris to appear during the Precarious Festival, as the festival's theme of precarious work is reflected in so much of his writing," explains Bill Kimball, Public Energy's artistic producer. "Chris and I have been friends since high school, when he founded an alternative newspaper to counter the official student paper endorsed by administration. Now Chris wants to visit Peterborough and do something to support the work I'm part of in the arts in Peterborough."
Hedges has written about the role of the artist in society, including in his article The Artist as Prophet, which surveys a range of writers from the novelist Russell Banks to the poet Anna Akhmatova. Hedges has recently broadened his work into theatre: he is collaborating on a new play, Caged, with prisoners he recently taught at a maximum-security prison in New Jersey, due to premiere in May 2018.
Regular tickets for the public talk are $15, and limited premium tickets — which include a meet and greet with Hedges from 6 to 7 p.m. at Catalina's (131 Hunter St. W., Peterborough) — are available for $75, which includes a tax-deductible donation for $60 in support of Public Energy. Both regular and premium tickets are available in advance at markethall.org.
VIDEO: Chris Hedges on What it Takes to be a Rebel in Modern Times