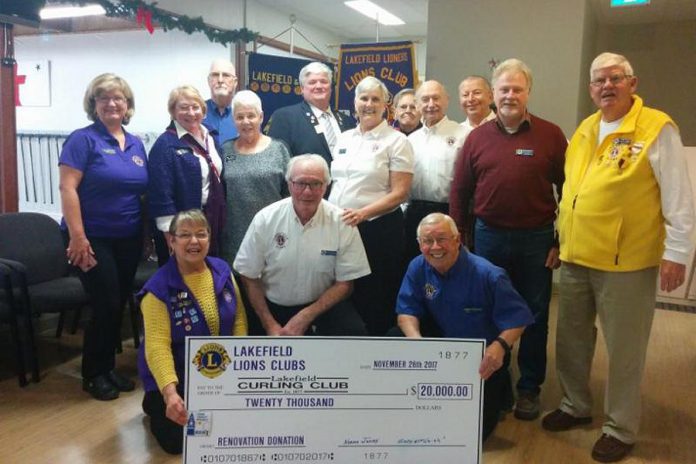 ---
Donations Accepted for Toy & Food Drives at December BAH
Drop into Kawartha Lakes Construction on Wednesday, December 13th for the Annual Holiday Business After Hours. Unwrapped toys are being accepted for the Lakefield Lioness Club's annual toy drive, and non-perishable food items are accepted for the Lakefield Food Bank.
Help pick the winner of KLC's annual Employee DIY Christmas Tree challenge! Register now.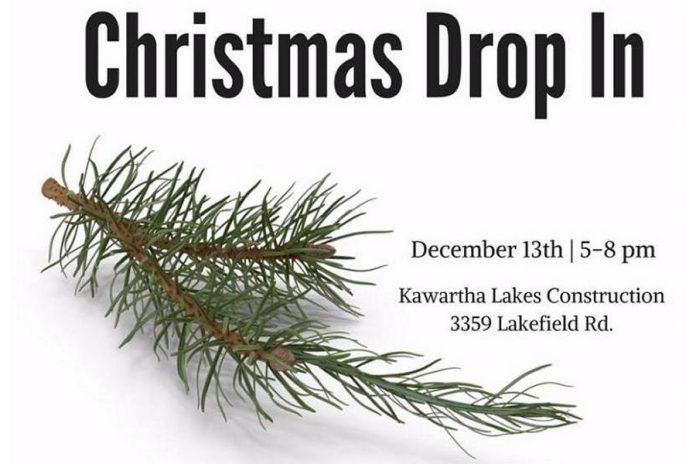 Peterborough County Sign By-Law – Extension of Public Comment Period
The Chamber would like to hear from any businesses impacted by the proposed change to the County Sign By-Law. Please send your thoughts to generalmanager@kawarthachamber.ca.
At its November 15th meeting, Peterborough County Council extended the public consultation period for review of the Sign By-Law 2007-55 and are seeking input into the new sign by-law for the County.
The intent is to address the proliferation of signs along County roadsides (particularly in Bush Country areas in the Municipality of Trent Lakes, Township of North Kawartha and the Township of Havelock-Belmont-Methuen) that are not visually appealing in these natural areas. Read more.
Information related to Sign By-Law 2007-55, Bush Country Signs and the consultation process completed to date is available on the County website.
County Council has extended the public consultation period so that they can receive additional written submissions (email, letter) from any party interested. Please direct written submissions to pwinfo@ptbocounty.ca or via regular mail to: Bush Country Sign Consultation, County of Peterborough, County Court House, 470 Water Street, Peterborough, ON, K9H 3M3. Submissions are due by Friday, January 5, 2018 at 2 p.m.
RTO8 Experiential Training – January 22nd – 25th
Are you tired of the typical classroom or conference-type training? IGNITE Kawarthas Northumberland is different.
The program, taking place from January 22nd to 24th, 2018, involves a combination of physical activity, cultural interaction, and engaging with companies who are well known and respected in the Explorer's Edge region of Ontario.
This learning opportunity at beautiful Northern Edge Algonquin in Algonquin Park received rave reviews from those who attended last March.
Download an application form. Deadline for applications is December 15th.
Welcome New Chamber Member
Woodview on the Lake
6242 Highway 28, Woodview, www.woodviewonthelake.com, 905-512-2488
Scenic waterfront property ideal for outdoor and indoor events. Two beautiful cottages for accommodation including a manor and lakeside lofts that sleeps up to 18 people. Perfect for weddings, retreats, business and family gatherings. Sports training groups are welcome.
Christmas by Candlelight at Lang Pioneer Village
You are invited to celebrate the most wonderful time of the year at Lang Pioneer Village Museum with Christmas by Candlelight, Saturday & Sunday, December 2nd & 3rd! From 5-9 PM each night, delight in the sights, sounds and smells of the holiday season and enjoy a traditional pioneer Christmas.
Enjoy the beauty of the historic Village lit by the soft glow of candles, lamps and lanterns. See stars shining brightly in the country night sky and hear the jingle of sleigh bells as you tour by horse-drawn wagon ride. Throughout the Village, enjoy the familiar scent of hearth fires, pine and cedar garlands and freshly-made natural centerpieces.
Lions Support Lakefield Curling Club with $20,000
On November 26th, the Lakefield Curling Club (LCC) was presented with $20,000 from the Lakefield & District Lions Club in support of the LCC Renovation Project. This donation will sponsor the LCC Sunday Junior Curling Program for 10 years beginning in the 2018 curling season.
The Lakefield Curling Club promotes physical fitness and social activity to people of all ages within the Village of Lakefield and surrounding communities through the sport of curling. This year LCC undertook a major renovation project addressing the high energy costs of ice making. The renovation will also address the need for improved capacity and programming for the sport of curling.
Late Night Shopping in Lakefield – December 1st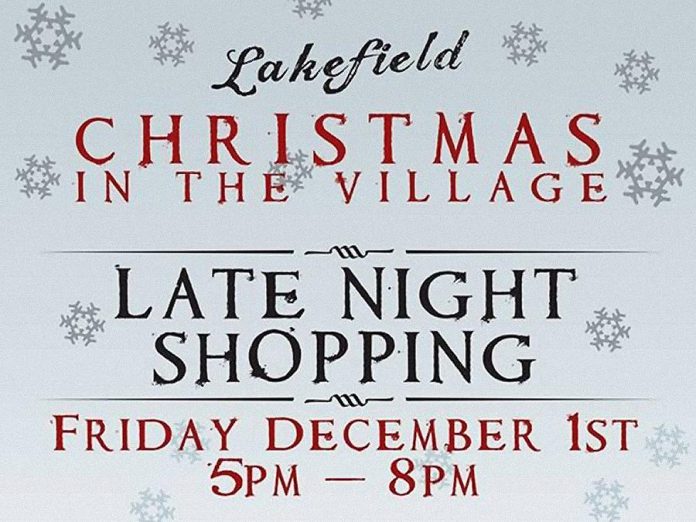 Lakefield Village merchants will be open until 8 p.m. for late night shopping on Friday, December 1st. Visit shops throughout the village for special offers in store.
Activities, games, and carol singing taking place in the municipal parking lot beside The Village Inn. Visit with Santa and have your photo taken at The Village Inn from 5 to 7 p.m.
A live nativity procession will be leaving Cenotaph Park at 6:30 p.m. (BYOL – Bring Your Own Lantern), horse and carriage rides will depart from Lakefield IDA, there will be apple cider and cookies at Cassis Bistro, and much more. Visit www.facebook.com/CITVLakefield for details.
Selwyn Township Economic Development Survey for Residents & Business Owners
The Township of Selwyn is on a mission to ensure local businesses thrive to increase employment opportunities and wants to hear what you have to say about the local economy.
As a thank you, each person who completes the survey before December 15th will be entered to win a $250 gift card to be used at a Selwyn business. Click here to take the survey.
Christ Church Tree Lighting Celebration – December 1st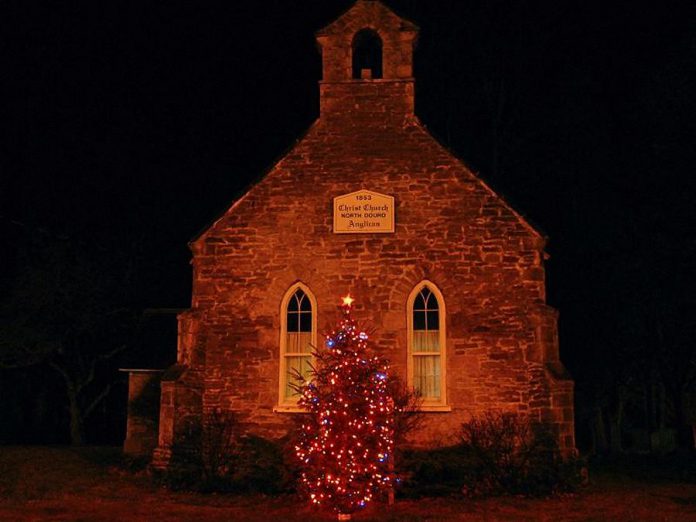 Christ Church Community Museum invites you to the Annual Christmas Tree Lighting Celebration on Friday, December 1st at 6:30 p.m.
Sing traditional carols to welcome the Christmas season with special guest Michaela Hetherington performing original songs and beloved classics.
There will be a freewill offering, with proceeds towards ongoing maintenance of Christ Church Community Museum. Refreshments will be served.
Upcoming Events
Lakefield Animal Welfare Society Bake Sale – December 1st & 2nd
Frozen Kids Holiday Party – December 3rd
Holly Tea & Loonie Auction Harvey Community Care – December 6th
For more information about the businesses and events listed above, please visit the Kawartha Chamber of Commerce & Tourism website at kawarthachamber.ca.
All photos supplied by Kawartha Chamber of Commerce except where noted.