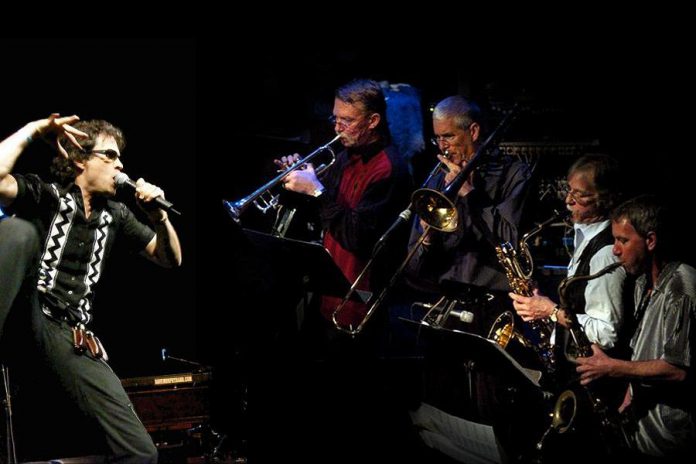 In the live music performance realm, where bands come and often go quicker than they came, 18 years is a lifetime.
"It's hard for me to comprehend how long it has been," says trumpet player Greg Weichel who, in 1999, brought together a group of Peterborough musicians to form The Rocket 88s.
"It seems like yesterday I was on the phone talking to guys to get them together. We rehearsed for nine months before our first show.
"I wanted players that were good enough to be flexible at playing different styles of music and it has worked out really well."
"Really well" is an understatement. Now known as The Rocket Revue, the band — which has billed itself since day one as Peterborough's "swinginest, rockinest rhythm and blues band" — doesn't perform all that often but when it does, it creates a revival-like feel that lifts each performance to event status.
VIDEO: The Rocket Revue promo

On Saturday, December 30th, The Rocket Revue will be joined by singer and harmonica master Jerome Godboo on stage at the Market Hall in downtown Peterborough — six months to the day that it last performed, as the closing act at the Canada 150 Hunter Street Dance Party.
"We're the band that played June 30 with the horns and all, just in case anybody has forgotten," laughs Weichel.
This year, the annual show takes place the night before New Year's Eve and at the Market Hall instead of the Parkway Banquet Centre.
"The last couple of years we played on New Year's Eve," Weichel says. "They were both really good shows but a lot of our regular crowd, because of family things or whatever, had a hard time coming out New Year's Eve.
"And we wanted to come back to Market Hall. It's a great place for us to play and we love it there. State-of-the-art acoustics, the crew is awesome … there are so many positives there for us."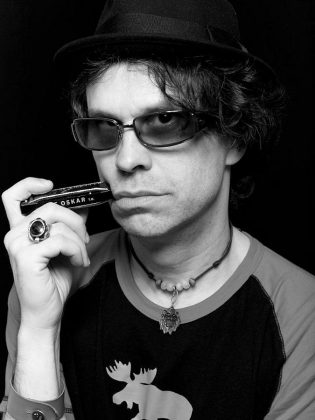 In Godboo — Weichel describes him as "musically fearless" — The Rocket Revue has the consummate front man. Known for his work in the popular 1990s Toronto blues-rock band The Phantoms, Godboo has released 14 albums in his 25-plus year career, 11 of which are solo. He received the Lee Oscar Best Harmonica Player Award at the 2014 International Blues Challenge in Memphis.
"He'll be doing some of his original tunes and some of our tunes," Weichel says. "He works really hard at them and, come show time, he's right on the money.
"He's a world-class harp player; a great entertainer. He likes to get the crowd going. There'll be no wussy music, so to speak. He's a force. It's just terrific to have him here."
Godboo is one of a handful of singers who have sang lead vocals with The Rocket Revue, others including Beau Dixon, Bridgette Foley, Jan Archer and, for a number of years, Mr. Soul — Buzz Thompson (Weichel says Buzz will be in the audience on December 30th and will be joining them for a few tunes).
The Rocket Revue's roster has included a number of familiar names over the years but in recent years has featured Brent Bailey (keyboards), Al Black (drums/vocals), Gary Peeples (guitar/vocals), Andy Pryde (bass), Shea Bailey (congas/percussion), Jim Usher (tenor sax), Steve McCracken (tenor/baritone sax), Rob Roy (trombone), and Weichel.
VIDEO: Jerome Godboo at Grossman's House of Blues

As solid a lineup as that is, Weichel says the winds of change are blowing.
"All the guys in the band are really good players. Some of them are marquee, world-class players. They have other projects they want to do. Some have politely said they're taking a break from the band. That's understandable. It gives them a chance to do their stuff yet keep the door open for down the road. It also gives the rest of the guys in the band a chance to bring in some other great players who, for years, have wanted to do stuff with us. I have every intention of opening those doors."
On a personal level, Weichel is still battling the after effects of a July 2016 car crash that left him with multiple injuries, including a severe concussion.
"Things aren't a hundred per cent but I'm a tough guy and I do the best I can. I have major problems with my shoulders, my hands, my neck … to stand there and play the horn is a very physical thing. I have to work at it diligently every day. I have exercises and I work out. But I'm surrounded by fabulous horn players and that sure helps."
And despite the pending band personnel changes, Weichel is adamant that year 18 will extend into 19 and beyond.
"I have no intention of letting it go," he says. "It's my creation. I know, be careful what you wish form but The Rocket Revue is a special group and I'm going to keep it that way.
"It's still a lot of fun. I throw my hands up in the air every once in awhile but I sleep on it and get up the next day and say okay, we'll fix this or change that, or adjust this or whatever. You got to roll with it and do the best you can and that's what we do. This group we have right now has been solid for five or six years, some of them a little longer. That's a terrific run. I know they're going to play a little extra hard at this show."
With the Peterborough music community still in shock over the sudden death of guitarist and singer Jan Schoute — he played with The Rocket Revue — and the recent news that Rocket Revue member Shea Bailey's partner Crystal Parker is battling an aggressive form of cancer, Weichel says the December 30th show will, at the very least, provide a chance for musicians and audience alike to smile after what has been a very tough stretch.
"Shea is one of our own. When we get together for our first rehearsal, we'll figure out what we're going to do. The Rocket will do something special for Shea and Crystal, for sure."
Tickets to the pre-New Year's Eve warm-up cost $40 ($45 for reserved table seating) at the Market Hall box office, by phone at 705-749-1146, online at markethall.org, or at Moondance (425 George St. N., Peterborough, 705-742-9425, cash only).
For more information on The Rocket Revue, visit www.rocketrevue.ca.