On Friday (December 1), Neil Young returned to his childhood hometown of Omemee, Ontario to deliver a solo acoustic concert live-streamed to fans both in Canada and around the world.
While the concert was a promotion for the release of Neil's new record The Visitor, he only played one song from that record.
However, the show was also a promotion for the launch of the Neil Young Archives — where fans can stream music from Neil's entire catalog — which may explain why the remaining songs he performed were a mix of beloved classics and some tunes Neil hasn't performed in many years.
kawarthaNOW plans to run a series of stories and photos from local residents who were at the event but, for those of you who didn't see it, we're providing a summary with stills from the live stream.
For people outside of Canada who have access to Facebook, you can view the concert on Neil's Facebook page (this link will return an error if you live in Canada; there's no word if CTV will make an archive of the concert video available to Canadians).
The invite-only audience inside Coronation Hall included some notable Canadian musicians like Randy Bachman (The Guess Who, BTO) and Tom Wilson (Junkhouse, Blackie and the Rodeo Kings) as well as local musicians like Bobby Watson and kawarthaNOW's own Josh Fewings of Mayhemingways (Josh also worked on the set-up crew).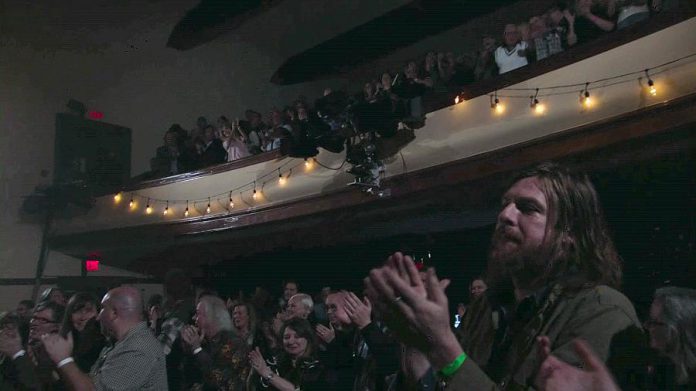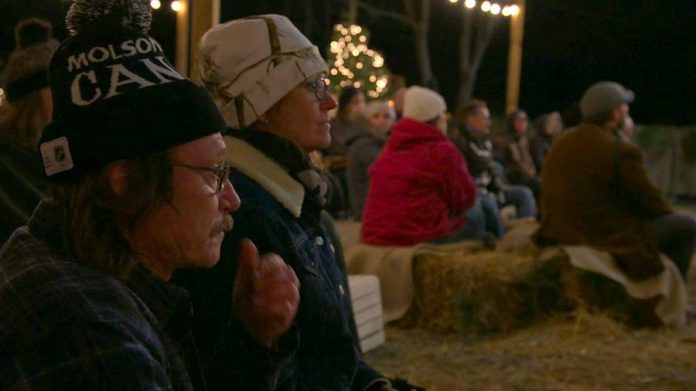 Some teachers from the Scott Young Public School in Omemee — named in honour of Neil's father, who has since passed away — were also there. Proceeds from the concert and the live stream (reportedly $18,000) are going back to the school's music program as well as The Bridge School in California (a school for children with severe speech and physical impairments).
While Neil was inside Coronation Hall, Omemee's King Street was crowded with both local residents and visitors. Some people lined up to get into the enclosed viewing area set up outside the venue, where old-fashioned television sets displayed the live stream from inside the venue.
The live stream, which was directed by Neil's girlfriend and actress Daryl Hannah, began with a short video featuring scenes from Omemee along with photographs of Neil from the time he lived there (from when he was four to eight years old), with Neil providing reminiscent narration.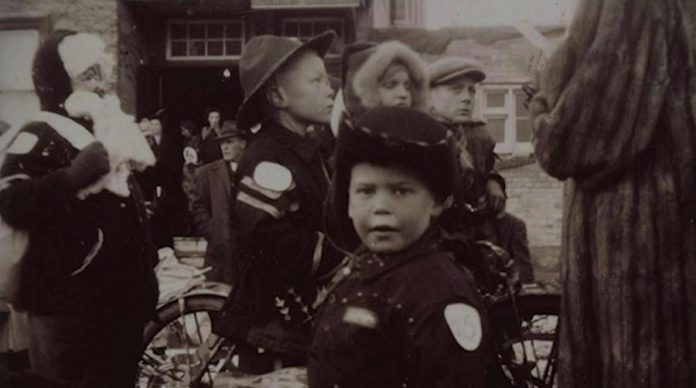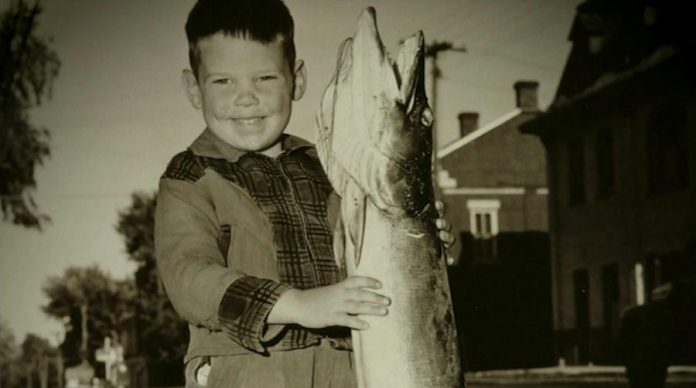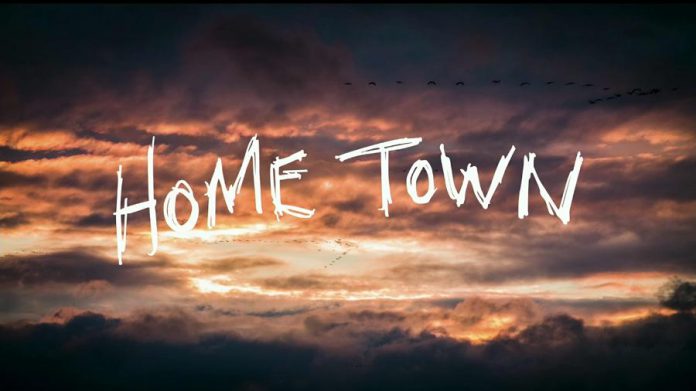 Neil then walked to the stage where he performed 18 songs over almost two hours, switching mainly between guitar and harmonica and piano but also performing on ukelele, banjo, and pump organ. With a mic inserted in his harmonica holder, he frequently spoke to the audience between songs, as he moved around the heavily decorated set.
Others may disagree, but it seemed to this writer that Neil appeared a bit off-kilter at first, perhaps adjusting to the unusual set-up for the concert or to being back in his home town and broadcasting a live concert to the world.
He stopped to drink water frequently (he removed his jacket because he said it was too hot), before switching to tea with honey and eventually a beer. He hesitated at times, either for which song he would play next, or in choosing the correct instrument for the song (his crew helped him out there). When there was a small problem with a guitar, he joked "Omemee performance marred by technical problems" (other than that minor incident, there were no technical problems).
However, all of this didn't affect Neil's performance and, if anything, his humour and openness just made the concert feel more intimate and endeared Neil to the crowd even more (at one point he commented that the world is "too perfect" and we need to embrace our mistakes).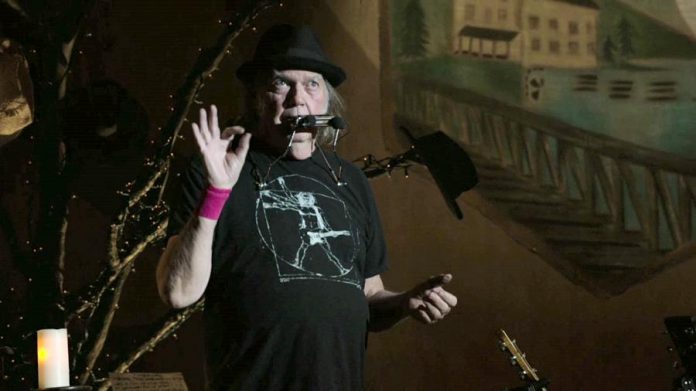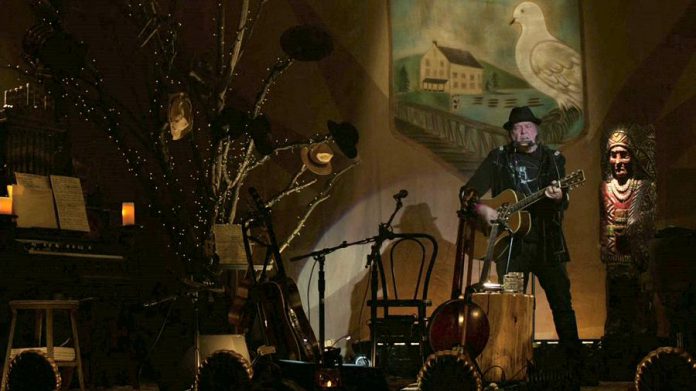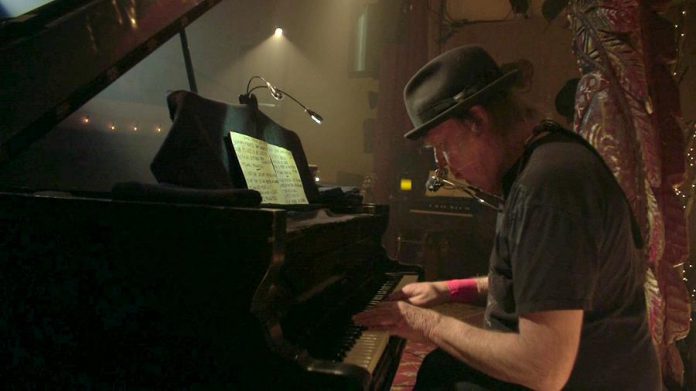 Neil opened the concert with the title track of his 1978 studio album Comes A Time, followed by "Love Is A Rose" (recorded first by Linda Ronstadt before Neil recorded it on Decade).
He switched to piano for "Journey Through the Past" (a song he first performed on piano in 1971 at Massey Hall and recorded later that year with The Stray Gators) and returned to guitar for "Long May You Run", the title track from the 1976 record by the Stills-Young Band, his collaboration with Stephen Stills.
It was back to piano for "I'm Glad I Found You" from 2014's Storytone and then Neil picked up the ukelele for "Tumbleweed", also from that record.
Neil returned to the guitar for his classic 1972 tune "Old Man" from Harvest. Before launching into the tune, he donned a ball cap that read 'Ben Keith – Man of Steel' and spoke about the former pedal steel guitarist, who played with Neil for almost 40 years. Ben died in 2010 at the age of 73 at his home on Neil's Broken Arrow Ranch in northern California, where in 1970 Neil was inspired to write "Old Man" about Louis Avila, the caretaker of the ranch that Neil purchased when he was 25 years old.
Next up was "Old King" on banjo, from 1992's Harvest Moon, a tune Neil last performed in 2009. Then it was back to piano for "Someday" from 1989's Freedom, and then "There's a World" from Harvest — a tune Neil hasn't performed since 1971.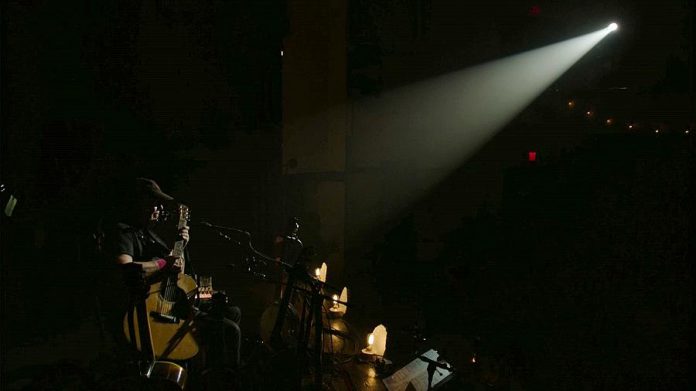 The final five songs of Neil's set were all on the guitar. He began with the debut of "Stand Tall", the only tune he played from his new record The Visitor, which was released on the same day as the concert.
He followed that with "War Of Man" from Harvest Moon, the first time Neil has performed this song in concert since 2013. He then performed "Don't Be Denied" from 1973's Time Fades Away, a song he last played solo in 2003.
When Neil launched into "Helpless" — a song he wrote for Crosby, Stills, Nash & Young's 1970 album Déjà Vu — the Omemee audience lit up for its referential opening lyric "There is a town in north Ontario".
Before leaving the stage, he followed up with another big crowd-pleaser, "Heart of Gold" from Harvest.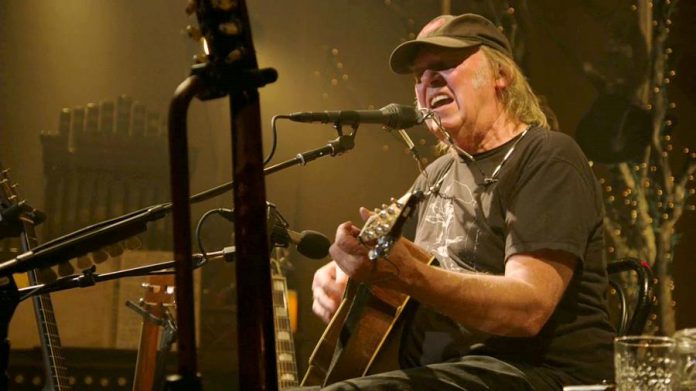 Following a long standing ovation by the crowd, Neil came back for a three-song encore, first performing "One Of These Days" from Harvest Moon.
He then moved to the pump organ for "Mother Earth (Natural Anthem)" from 1990's Ragged Glory.
He returned to the guitar for his final song, "Sugar Mountain", first released as a single in 1969 and then re-released on 1977's Decade.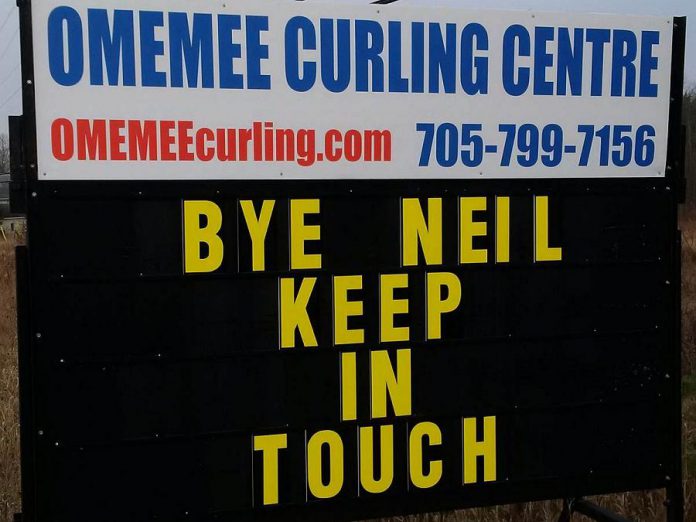 Here's the set list for the concert:
Comes a Time
Love Is a Rose
Journey Through the Past (on piano)
Long May You Run
I'm Glad I Found You (piano)
Tumbleweed (ukelele)
Old Man
Old King (banjo)
Someday (piano)
There's a World (piano)
Stand Tall (debut)
War of Man
Don't Be Denied
Helpless
Heart of Gold
Encore
One of These Days
Mother Earth (Natural Anthem) (pump organ)
Sugar Mountain
Except where noted, all photos are enhanced screen captures from the "Home Town" concert live-streamed by CTV/Bell Media.