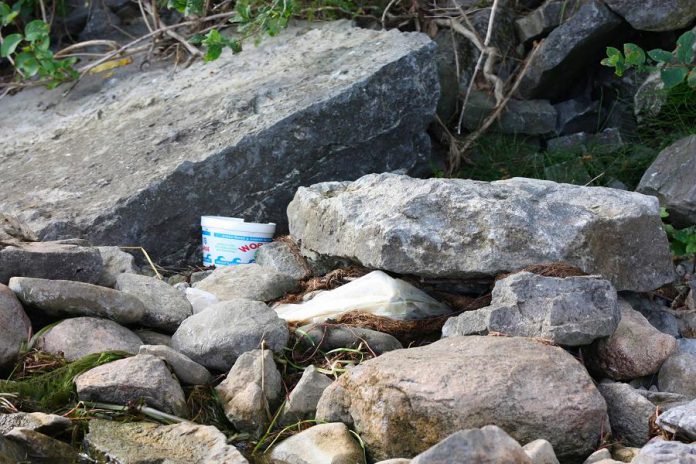 The County of Peterborough is taking measures to prevent littering at the James A. Gifford Causeway, connecting Bridgenorth and Ennismore across Chemong Lake in Selwyn Township.
On Wednesday (December 6), county council approved staff recommendations to address the litter issue.
These include a new no-trespass by-law for the length of the causeway (the exterior areas along the guiderails and both shorelines) and the hiring of private security to enforce the by-law. The county will also increase the frequency of litter and garbage collection to three times per week from May to October.
The issue was first brought to the public's attention in August of this year, when local realtor Brad Sinclair took to Facebook to post photos of garbage strewn along the shores of the causeway. Sinclair's post was widely shared and commented on by people concerned with the situation.
Sinclair identified that the majority of the litter was left by people fishing at the causeway, and largely consisted of worm containers.
The county will apply to the Ministry of the Attorney General for the approval of set fine amounts for the no-trespass by-law.
"Council made a very sound decision today that took a balanced approach to ensuring public enjoyment of our region, with that of public safety," said County Warden Joe Taylor.
The total estimated cost for the new measures is $27,000, an amount approved for inclusion in the county's 2018 budget.
County staff will also work with local partners to raise awareness of the new by-law, the impacts and solutions for litter, and the introduction of a Clean Marine initiative to reduce litter.
VIDEO: Causeway Trash Issue – Brad Sinclair