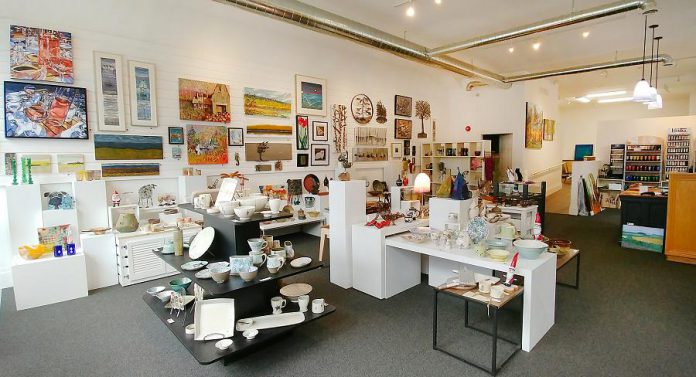 Upscale. Contemporary. Oozing creativity. These are the words best to describe META4 Contemporary Craft Gallery, the newest fine art space to recently join the heart of Peterborough's downtown core.
The gallery, located at 164 Hunter Street West, made its debut in Peterborough in November and has quickly become a top destination for fine art and crafts. In a relaxed and inviting manner, META4 offers a compelling selection of work by over 120 of Ontario's finest artists and artisans to customers.
If you're looking to give the gift of art to a special someone this holiday season, perhaps an art aficionado or maybe just for yourself, this artistic hub offers an eclectic line of ever-changing work and a little bit of everything. Wander among paintings, glass works, pottery, sculptures, ceramics, and intriguing objects with no limit on style.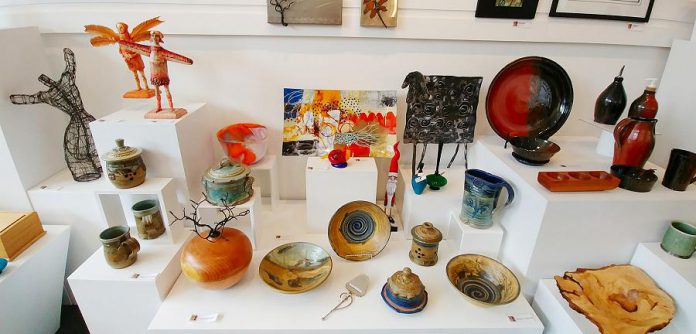 "The space is not mainstream," says co-owner Birgitta MacLeod, as she scans the light, airy room. "It's delightful in the way that there's so much to explore and see. You want to take your time and look around. There is a lot of beauty to take in."
And, at the back of the gallery, sits a bright studio where talented instructors from all over Ontario are brought in to teach workshops and classes for adults and youth of any skill level to explore their creative side.
Promoting artists within a 100-mile radius
Expect modernist, traditional and contemporary works — all carefully selected by Birgitta and business partners, Jennifer Hardie and Bonnie Thomson, who are all artists themselves (Birgitta, a painter; Bonnie, a glass artist and stone carver; and Jennifer, a sculptor and maker of jewellery and other accessories).
The trio only house Ontario-made art and crafts in their gallery and try to keep within a 100-mile radius of the gallery's location when searching for new work at art shows and studio tours.
"We really enjoy and prefer to work with artists close to home," explains Birgitta. "Our decisions are based on whether it's the right fit for the gallery. Do our customers want it? Is it well made? Is it priced appropriately? And is it unique and original like the other work we have?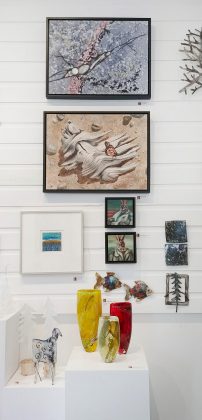 "There's so much talent and great art close to home, so why go too far to get it? By promoting local, we get to have a good personal relationship with the artist whose work we sell. It's more difficult to do that if you're buying art from the other side of the country."
With Birgitta, Jennifer, and Bonnie so highly regarded in the art community, local artists often seek the partners out to represent their portfolio.
Birgitta says they understand that as a working artist, it's not enough to produce art. You need to promote it as extensively too.
"Having been on both sides, we know how challenging it is for some artists who are heads down in a studio to get out and promote their own work. It's our job is help artists connect with art lovers and vice versa."
To ensure an artist's work reaches the right audience and potential buyers, META4 Gallery displays the selected artwork year round and features a new artist each month on their website and social media channels.
META4 Gallery offers the same level of professional service you would expect to find in any retail experience. The gallery takes all major credit cards and has a return policy. If you take a painting home, hang it on your wall and don't like it, you can take it back. They also provide gift wrapping and gift certificates.
"All of this can be hard for artists to organize, so we do that for them," says Birgitta.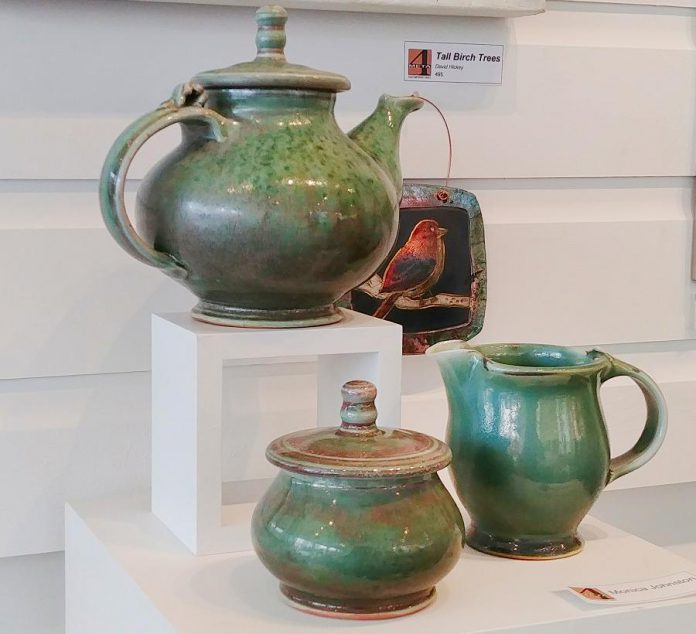 Growing from humble beginnings
This is the second location for META4, with their home base being located in Port Perry since 2005.
When Birgitta, Jennifer, and Bonnie were exploring options for a second gallery, they spent some time driving to towns and cities in Ontario, and eventually landed on Peterborough as the preferred destination.
"We thought this is a great place," Brigitta says. "It has a good downtown and there's no gallery here of this size and scope."
The Peterborough Downtown Business Improvement Area (DBIA) welcomed their visit with information and support, and META4 soon became a contender in the DBIA's "Win This Space" entrepreneurial competition last year.
While they didn't win the contest, they realized that they had a solid business plan and already had most of the legwork done for finding their current location.
They officially opened their Peterborough store on November 3rd.
Studio classes and workshops
Whether you're just looking to dabble, want to experiment with a new medium, or feel like channelling your inner Bob Ross, META4 offers a variety of artistic classes and workshops for beginners to advanced, taught by experienced instructors to guide and help unleash your creative potential.
Half-day, full-day, weekend, and weekly courses are offered ranging from oil painting, jewelry making, fused art glass, landscape painting, watercolour painting, acrylics, gelatin plate mono-printing, mosaics, and drawing.
Courses and schedules are regularly updated on their website at meta4gallery.ca. As a bonus, when you register for a META4 class or workshop, you'll receive 15 per cent off all art supplies.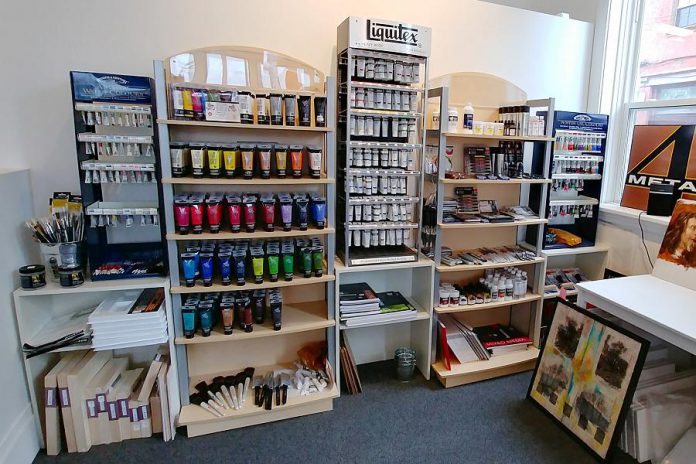 And if you need art supplies, META4 carries a wide selection of artist-quality acrylics, oils, watercolours, mediums, paper (including individual sheets), inks, brushes, graphite, coloured pencils, conte, charcoal, art markers, palette knives, easels, varnish, stretched canvas, wood supports, and much more. Show your student ID (high school, college, or university) and save 10 per cent on art supplies.
Some merchandise is also available to purchase on the META4 website at meta4gallery.ca.
While all items go through a selection process for inclusion in the store, Birgitta says they're always exploring for new pieces and are updating inventory on a daily basis.
"The thing that drives us is connecting people with beautiful, original things," she adds. "There are a lot of ways you can spend your money, but why not choose something that is high quality and locally made that could last forever — you'll love it all of your life."
12 Days of Christmas Special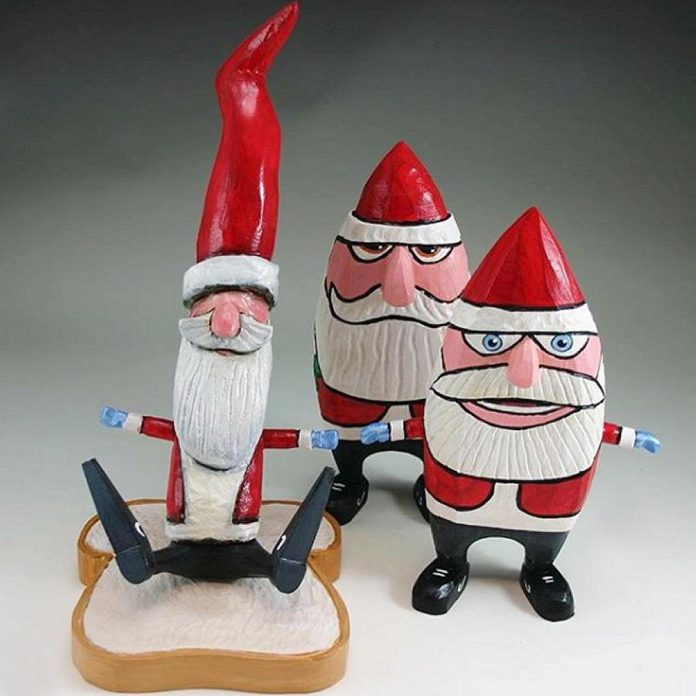 Almost every day, META4 has new work arriving, just in time for holiday shopping. On December 1st, META4 began its "12 Days of Christmas" special, where you can receive 10 per cent off daily gift features. There are still four days left, with pottery featured on December 9th, necklaces on December 10th, platters and serving pieces on December 11th, and visual art on December 12th.
In December, META4 is open Saturdays from 10 a.m. to 6 p.m., Sundays from 12 to 4 p.m., Tuesdays and Wednesdays from 10 a.m. to 5 p.m., and Thursdays and Fridays from 10 a.m. to 7 p.m.
Extended hours will be offered on Tuesday, December 19th and Wednesday, December 20th, with the store open until 7 p.m. For last-minute Christmas shopping, META4 will also be open from noon to 4 p.m. on Sunday, December 24th.
META4 Contemporary Craft Gallery is located at 164 Hunter Street West in downtown Peterborough. For more information, call 705-874-9444, email info@META4gallery.ca, or visit www.META4gallery.ca. You can also follow META4 on Twitter, Facebook, and Instagram.
VIDEO: A story behind the gift
You don't have to be an artist to become a part of the arts community. Hear Birgitta talk about the story behind the gift.

Posted by META4 Contemporary Craft Gallery on Tuesday, October 11, 2016