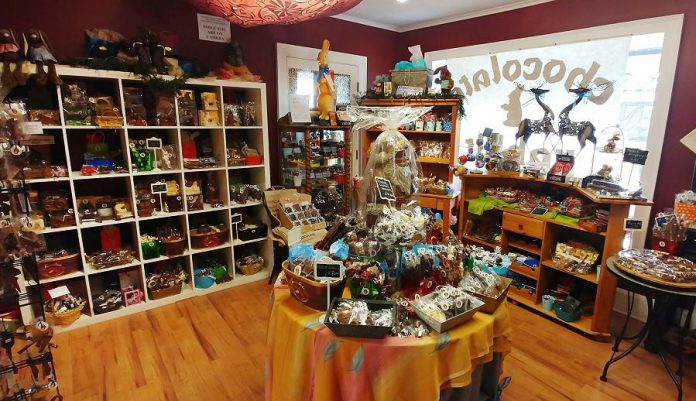 Chocolatier Lois MacEachen is a real-life Charlie in her very own chocolate factory. Though you can barely call it a factory — it's a charming boutique and production venue, owned and run by Lois, where unique and individual handmade chocolates are created.
Lois has been building her business one chocolate at a time in Lakefield for 11 years. When you enter The Chocolate Rabbit, nestled away at 11 Queen Street, you are immediately greeted by sweet, sugary goodness.
Behind a large glass counter sit hundreds of her popular signature bonbons that carefully blend divine flavours and whimsical art.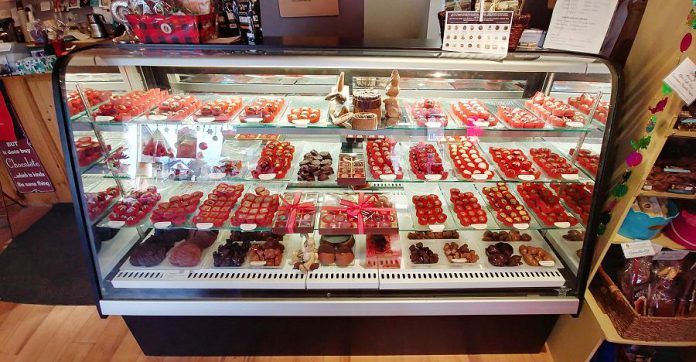 An assortment of 24 chocolates are on display each day, from caramel milk (creamy milk chocolate and buttery caramel) and cappuccino (locally roasted coffee married with velvety milk chocolate) to the more unorthodox flavours of pacific breeze (tropical Malibu Rum and toasted coconut) and love potion (maraschino cherry in a cherry whiskey ganache).
The surface of each chocolate is painted by Lois, who gives individual attention to each one, and decorated with patterns and swirls or sprinkled with a mouth-watering topping.
Each chocolate is its own little masterpiece. They are so superb as works of art you won't know whether to eat them or gaze at them with admiration — the struggle is real for chocolate enthusiasts! The good news is you can buy a single piece to savour or build a custom box of eight, 12, or 15 pieces.
Lois is proud all of her chocolate is made daily from the finest ingredients, including fresh local cream and Swiss chocolate, with no additional sugars, extracts, oils, preservatives, or essences added to her special recipes.
"An important feature to our customers is the fact that all the chocolate is made fresh and with quality ingredients," Lois says.
"My recipes are clean, meaning there are no fillers, so you can be assured you're getting good, high-end chocolate."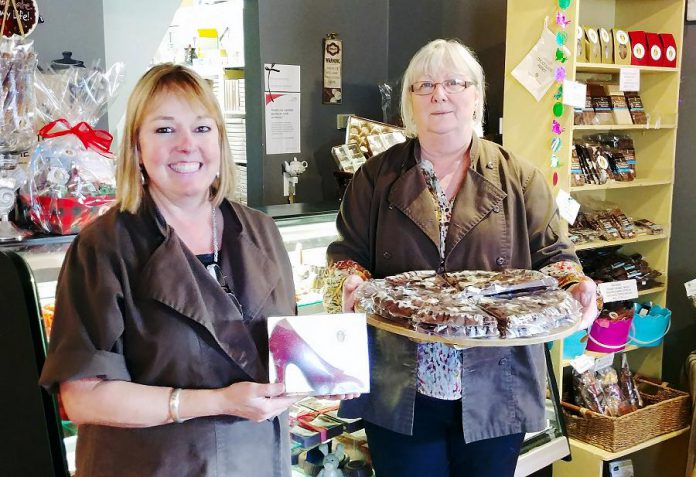 All in-store chocolate is made on site in a small kitchen fully visible from the back of the store. If you take a peek inside, you will see three fully automatic chocolate-tempering machines running — one of each is dedicated to white, milk, and dark chocolate.
While the machines are operating, you can be sure to find Lois handcrafting truffles, combining subtle flavours and delightful textured aesthetics, or her associate Linda Anderson moulding giant chocolate letters, Santas, and snowmen, prepping for the holiday rush.
Truffles are not the only goodies to sink your sweet tooth into. You'll also find chocolate-covered ginger, fudge, bark, and bars, as well as seasonal gifts, delightful wedding and business packages, hot chocolate, tea, coffee, tea accessories, jams, and much more.
Some of the chocolate is vegan, gluten free, and diabetic friendly.
The store also carries a large selection of specially blended organic and bio-grown teas.
Flavours such as loose leaf black, herbal, Rooibos, Honeybush, white, green and fruit teas are there to calm and invigorate your senses.
For Lois, the choice to add tea was a smart move in diversifying her business, knowing that in a small town she wasn't going to survive on selling chocolate alone.
To pursue her passion and knowledge of tea, Lois is currently studying to become a certified tea sommelier under the Tea Association of Canada, with the hope of turning a customer's teatime into a tasting experience with chocolate pairings.
If shopping isn't your cup of tea, the cozy rockers located directly outside the store's entrance are there for the enjoyment of those who want to take a break from their day and visit with a friend, or to treat themselves to a tea or coffee.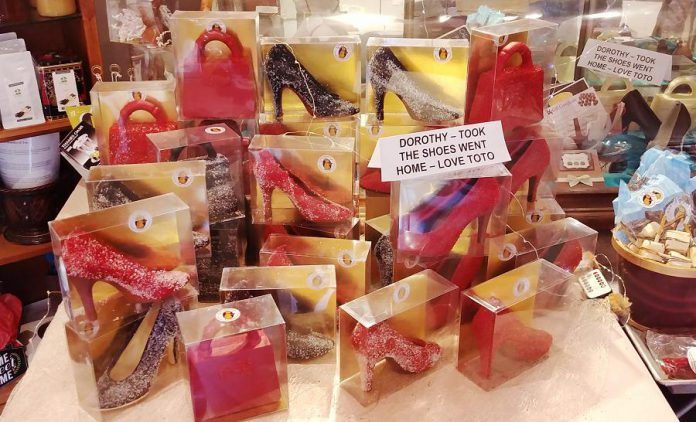 Aside from Valentine's Day and Easter, Christmas is the busiest time of the year for the chocolate shop. Christmas specialities include a range of handmade gift baskets, chocolate "kaboodle" kits, and novelty-themed chocolates (stiletto, horse, cat, dog, bicycle, fire truck, and tractor).
You can choose from the selection of handmade milk chocolate pieces adorned with Santa, snowmen, wreaths, candy canes, and a Christmas tree — all perfect for stocking fillers.
Happy to give back to the community, especially as it has been so positive towards her business, Lois has made it a point to support area artisans and crafters by featuring their items on her store shelves, including McMullen's honey from Warsaw, biscotti from Pastry Peddler in Millbrook, maple products from Staples in Cavan, and jams from The Stone Kitchen in Bancroft.
In between working and talking, Lois smiles and tends to her customers who have dropped in to compliment her truffles — most specifically the pistachio flavour. She's gracious and flattered by their kind words. It's one of the reasons she loves being in Lakefield.
"There is a real trend with buying local and staying local," Lois says. "The community has been tremendously supportive right from the beginning. We could not have survived without them."
The Chocolate Rabbit is located at 11 Queen Street in downtown Lakefield. For more information, call 705-652-8884, email chocolaterabbit@uniserve.com, or visit www.thechocolaterabbit.net.
You can also follow The Chocolate Rabbit on Facebook and Twitter.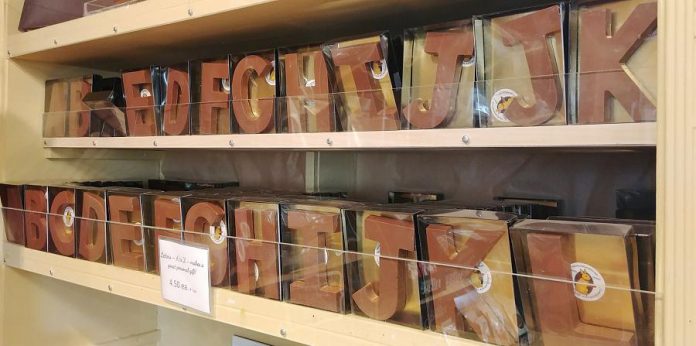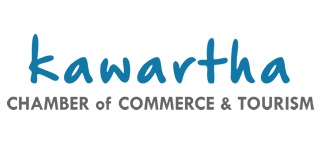 The Chocolate Rabbit is a proud member of the Kawartha Chamber of Commerce & Tourism. The chamber represents members in Curve Lake First Nation and the municipalities of Douro-Dummer, North Kawartha, Selwyn, and Trent Lakes. Visit kawarthachamber.ca for more information.