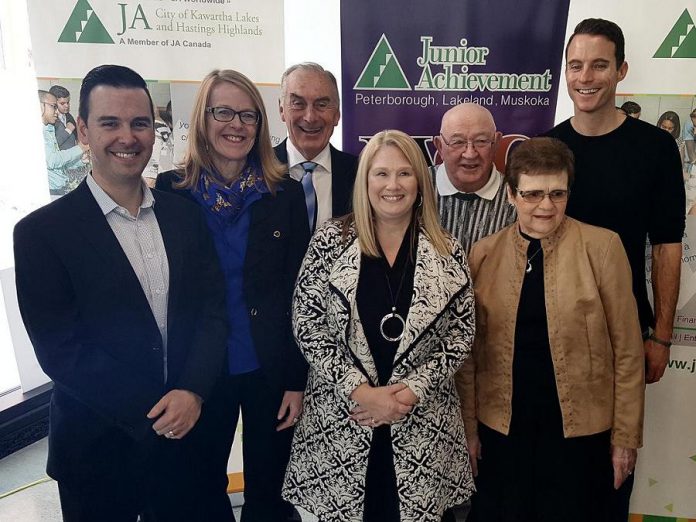 Paul Bennett's entrepreneurial journey, while still a work in progress, continues to bring him personal and business riches.
But as the owner of Ashburnham Realty noted Wednesday morning (January 10) at the VentureNorth building in downtown Peterborough, each business success journey is different and, as such, young people need to be reminded there is no set path to success.
As one of nine 2018 inductees into the Junior Achievement Business Hall of Fame, Bennett says it's important "to highlight that a lot of people that took different routes," adding the annual induction does just that.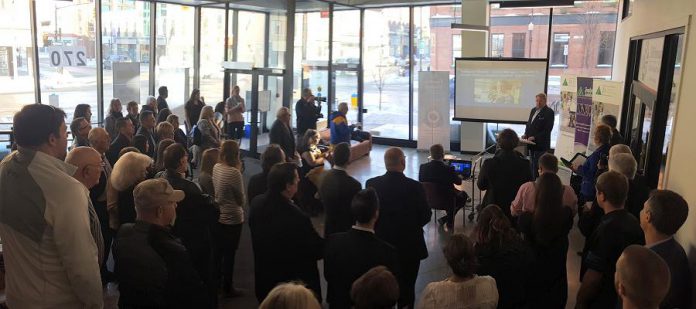 "Kids can look at each story and realize they don't have to go to this school or that school or they don't have travel this path or that path. They can find their own way and embark on their own path. There is no magical success story. The journeys are all so totally different."
Before a large crowd that included several past inductees, the 2018 inductees were revealed.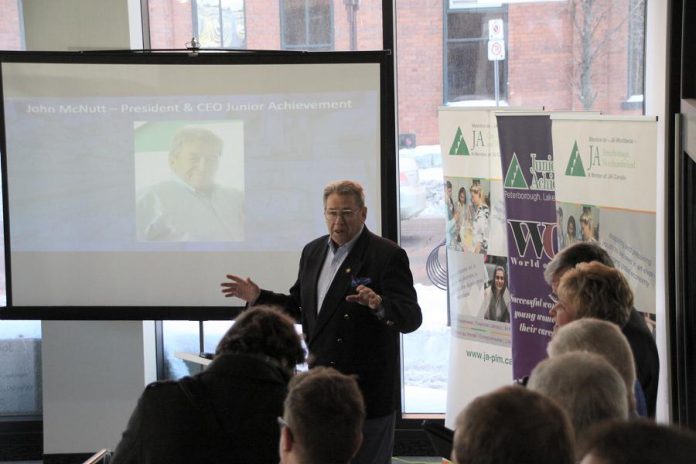 John McNutt, president and CEO of Junior Achievement Peterborough Lakefield Muskoka, said a selection committee considered a record number of nominations through December before settling on the final list as follows:
Alf and June Curtis, founders of Alf Curtis Home Improvements Incorporated
Paul Bennett, owner of Ashburnham Realty
John A. McColl and James H. Turner, founding partners of McColl Turner LLP, Chartered Professional Accountants
John James (Jack) Stewart, founder of J.J. Stewart Motors
Sally Harding, president and CEO of Nightingale Nursing Registry Limited and Nightingale Home Maintenance Incorporated
Monika Carmichael, dealer principal and general manager of Trent Valley Honda
Robert Gauvreau, president and CEO of Gauvreau and Associates Chartered Professional Accountants
Paschal McCloskey, president and CEO of McCloskey International Limited
Carl Oake, founding broker/owner and Century 21 United Realty
All will be formally inducted Thursday, May 24th at The Venue — McColl, Turner and Stewart posthumously. Details on that event will be provided as it draws nearer.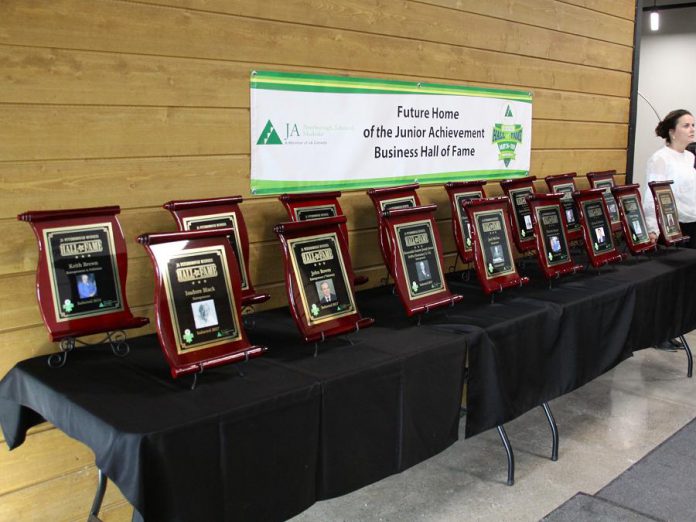 Each inductee will have a plaque denoting the honour displayed alongside those of past inductees at VentureNorth.
"Their (inductees) understanding of their community and the leadership that they provide to their staff," said McNutt of traits shared by all being honoured.
"Most of them have staff that have been with them a long time. That always tells me something. You get loyalty because you got respect. That's the thread that runs through all of this."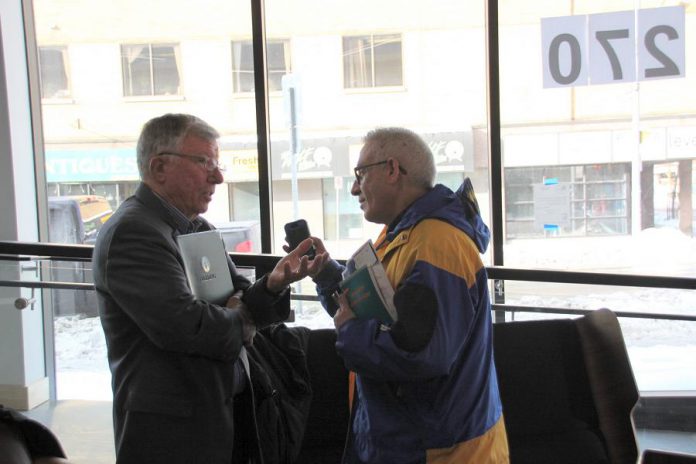 Junior Achievement board chair Paul Ayotte added each has not only created opportunities for others but has given back to the community.
"I can remember Alf Curtis put in some windows in for me. He then started supplying other installers here. The next thing you know he's got the Castle Building Centre going, creating more jobs here, and he's got one in Lindsay and one in Belleville, contributing to those communities as well. That's the story we want to get out there. You see a niche and you create work."
To a person, each inductee wore broad smiles, clearly delighted with their induction, with Carmichael admitting to being "overwhelmed…really honoured. I've got goose bumps all over me. It makes you want to do even more."
"Much of my work now is giving back and doing what I can do to inspire younger people. That's what Junior Achievement does, so it's a really nice connection," said Carmichael, who has been with Trent Valley Honda for 27 years now and oversees a staff numbering more than 50.
"Never stop learning and never give up" is her advice to young people starting out.
"Failure is part of the learning process," Carmichael added. "We don't always get it right the first time. Take time to listen to those around you and take advantage of programs. Learning never ends.
"For me, the big thing is young women. They can be anyone they want to be, they can do anything they want to do, but they have to have the confidence to try and if they fail, to get up and keep going."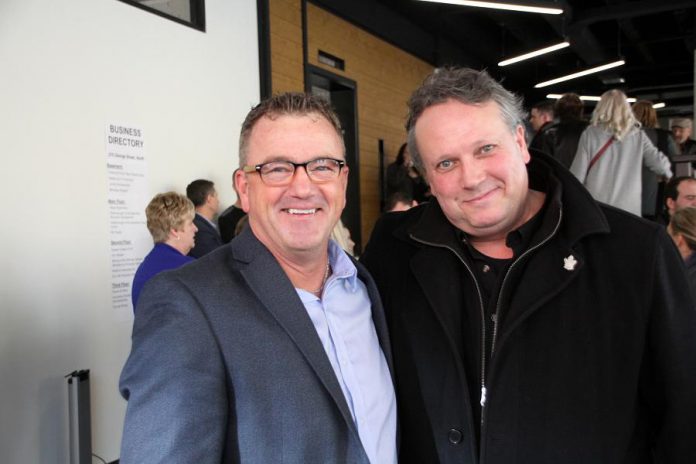 Meanwhile, Alf Curtis, who with June started his business in 1975 with two employees, used the opportunity to offer those starting out some sage advice.
"Don't figure you're going to make any money at the start," he said.
"If you do make a few bucks, remember the days ahead are going to be lean. Those first five years will determine if you're going to make it or not. The first two years is really bad. It takes five years to get things situated right."
Also announced at the event was the establishment of a Legacy Fund which, according to McNutt, will be used exclusively for the creation and running of entrepreneurship programs. That fund sits at $5,000, half of that courtesy of the present partners of McColl Turner.
Established in 1955, Junior Achievement Canada has been inspiring and preparing youth to succeed by providing opportunities to learn financial literacy, entrepreneurship and work readiness skills with engaging programs and the help of dedicated volunteers.
Since 2007, Junior Achievement Peterborough, Lakefield, Muskoka has served an area stretching from the Grey-Bruce Peninsula to the Ontario-Quebec border. That effort has been aided by a number of corporate and media sponsors, KawarthaNOW.com among them.