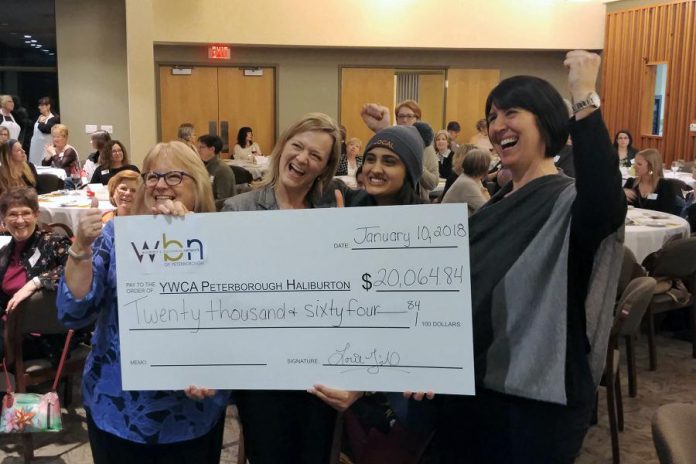 The Women's Business Network of Peterborough (WBN) has donated $20,064.84 to YWCA Peterborough Haliburton.
Through their annual fundraising gala held in December, WBN has supported the YWCA Crossroads Shelter for more that 30 years. The funds raised at the 2017 gala, held this past December, will be used to support the nutritional well-being program at YWCA Crossroads Shelter, which supports local women and children fleeing violence who are in crisis.
"We feel it's vital to support and give back to our community, especially to the women and children who utilize Crossroads Shelter and its nutritional well-being program," says Lori McKee, WBN's Program Director. "I got to witness first-hand the high energy and generous contributions handed out by members, donors and volunteers from the day we started planning right up to the night of the Gala."

"To our members, guests, donors and volunteers, thank you for all your donations, hard work and support so we could reach our fundraising goal."
WBN revealed the final donation amount tonight (Janaury 10) at its January members' meeting at Highland Park Funeral Centre, where McKee and WBN Program Director Sana Virji presented the cheque to Corinna Campbell, YWCA Associate, Events & Annual Giving and Anne Arnold, YWCA Development Assistant.
"At the YWCA, we invest in both safety and nourishment to help women and children feel welcome and protected," says Jen Cureton, YWCA Director of Philanthropy and Communications. "The Women's Business Network has been a vital partner in helping women and children escape violence and build new lives.
"We're so grateful to work with WBN each year through their Holiday Gala to drive our vision to see all women and children thriving."
YWCA's Nutritional Well-Being program at Crossroads Shelter provides healthy food, supplements, and vitamins to women and their children, 365 days a year. Last year, 25,413 meals were prepared and served to women and children living at Crossroads.
The program also helps families learn about meal planning, food preparation, principles of nutrition, preparing main meals and encouraging participation from women and children too. They help women to address their health goals with healthy food, and cook tasty affordable dishes that are possible on a modest budget.
WBN is a networking channel for women who wish to enhance and expand their business contacts and grow their businesses. Formed in 1961 as the Peterborough Chapter of the Canadian Advertising and Sales Association, the network has evolved into a dynamic and growing membership of women with diverse backgrounds and careers who meet to share their knowledge and experience and promote their businesses.
For more information about WBN and to read profiles of selected members, visit our special editorial section.