Over the last two weeks we have endured a polar vortex, temperatures reaching minus 35°C with the wind chill, and several feet of snow that have buried everything in sight.
Some of us layer up in coats, mitts, and scarves to go outside and enjoy the winter, while others curl up by the fire with a cup of hot chocolate. Whether you prefer to embrace the snow or to hibernate, a great way to enjoy the season is to get to know the array of birds that share your backyard.
Winter is hard for birds as they face the cold temperatures, windy days, and long dark nights. Birds primarily feed on insects, which are very difficult to find in the winter. Many birds migrate south to seek warmer temperatures and a heartier source of insects, but many remain in cold northern areas for the season. You can help ease the hardships of birds that stick around by providing food to supplement their diet.
The Peterborough Field Naturalists keep the birdfeeders at GreenUP Ecology Park stocked full of seed over the winter, providing a consistent and reliable source of food for the birds in the park. You can watch for the frenzy of birds at the feeders in these areas while walking along the Trans-Canada trail in East City.
Bird watching is a great family activity that can start with making small feeders and simply watching from the window. It provides everyone with the opportunity to develop an interest in local wildlife.
Children especially, will quickly get to know common species found in the yard and will soon learn the familiar 'chick-a-dee-dee-dee' call of the Black-capped Chickadee and the 'birdie-birdie-birdie' of the Northern Cardinal. With some patience and by being very still, you can even hold seed and train Chickadees to feed right from your hand — an experience that is sure to bring joy to all.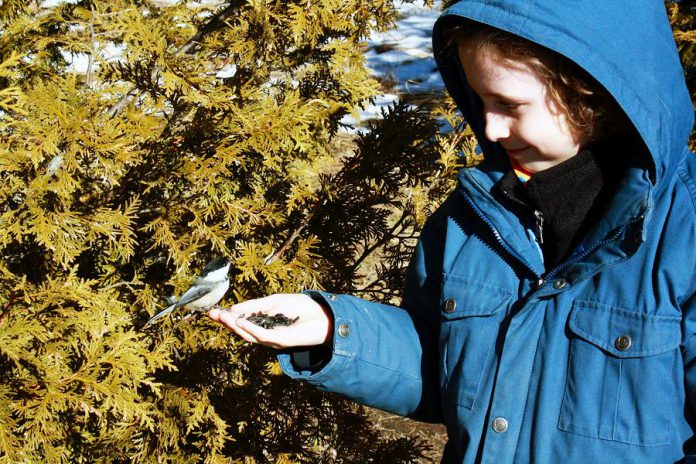 Providing food for the long term gives birds a consistent source that they can rely on and come back to throughout the year. There are many seed types and feeders that you can use to attract a variety of species to your yard. Stores carry several seed options and feeder constructions to suit the birds in your area. With so many options how are you to know which to choose?
You may want to attract certain birds to your yard. If so, Black-capped Chickadees and Northern Cardinals enjoy black oil sunflower seed; Blue Jays and American Crows feast heartily on whole peanuts; Mourning Doves enjoy cracked corn spread over the ground; Woodpeckers peck away at suet; and Waxwings love fruit.
If you're just getting started, you may want to start with one feeder and a seed that will attract the largest variety of birds. GreenUP Board Member, Peterborough Field Naturalist, and long-time birder Martin Parker suggests that black oil sunflower seed is a great option. It has a thin shell and a high fat content, making it an ideal choice for many bird species.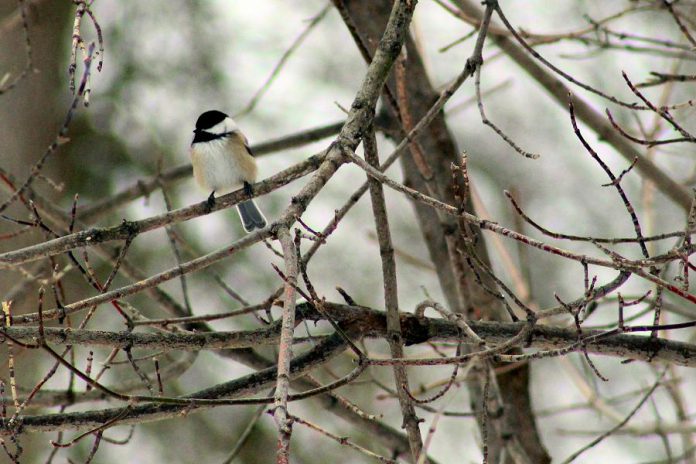 Parker also suggests experimenting to see which birds live in your yard and the seeds they prefer. To do this, you can provide a sample of different seeds within the sections of an egg carton, place it in your yard, and watch to see which seeds are eaten and which are left behind. Then you can invest in a larger bag of the more popular seed and an associated feeder.
If you're looking for a great winter activity for these cold, snowy days, consider gathering up some supplies to make your own feeders.
With only a few supplies, it is easy to make wildlife-friendly feeders and garlands can be hung from a tree in your yard, or can be strung in trees in the park.
Adorning trees with healthy treats is a great way to attract birds. String grapes, cranberries, and popcorn onto strings; spread pinecones with shortening or peanut butter and roll them in a variety of seeds. Some species of birds particularly enjoy feasting on frozen fruits such as oranges and apples because they are a natural source of sugar and an essential source of energy for winter birds.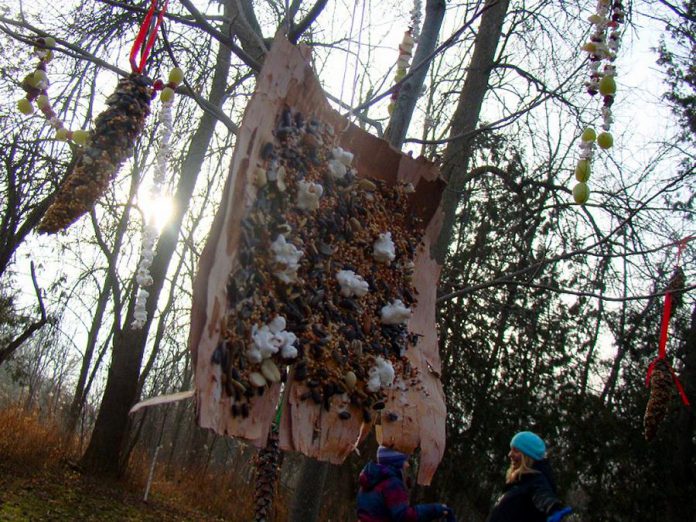 To further support birds in your own backyard, you can hang birdhouses, enhance your hedgerows, and plant trees. These provide shelter from the chilly winds and protection from predators such as cats and hawks. In warmer seasons, birds will choose these areas to nest and take cover.
Want to do even more? Bird Studies Canada provides great opportunities to get involved with citizen science, community bird watching programs. With Project FeederWatch, feeder watchers periodically record bird species present and the number birds at their feeders.
The Great Backyard Bird Count is another program where birdwatchers of all ages can record what they see at their feeders over a four-day period. Both of these programs help scientists study bird populations across Canada and North America.
For more information about GreenUP Ecology Park visit www.greenup.on.ca. To learn more about feeding birds in winter, visit www.feederwatch.org and to get involved with citizen science programs, visit www.birdscanada.org. For local bird watching information visit www.peterboroughnature.org.