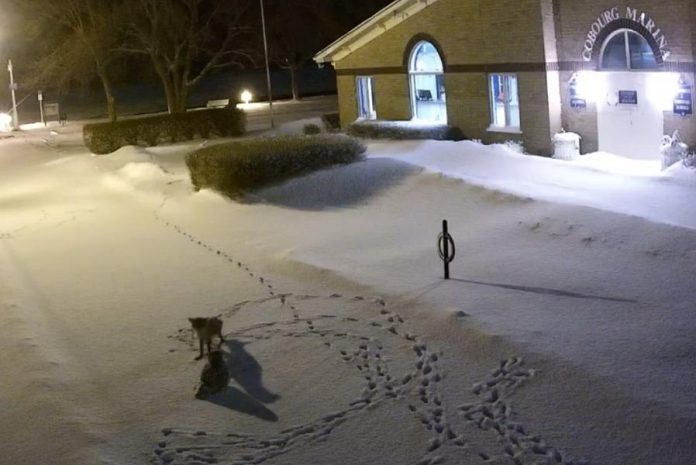 The Town of Cobourg has posted a video of an encounter between a red fox and a snowy owl at the Cobourg marina.
The encounter on January 4, 2018 was captured on security cameras installed at the marina by local company Focus Security.
The video begins with a fox running along the pier, when a snowy owl suddenly swoops in from behind and dive bombs the startled fox — which makes us wonder whether this is a continuation of an earlier incident between the two animals.
The owl flies off over the lake, with the fox watching. The fox then wanders around the pier area sniffing before running off, at which point the owl flies in and lands in the pier area. It appears as if the owl is tracking the fox.
The fox returns to the pier area and makes a small test lunge at the owl, apparently hoping to scare it off. The owl ruffles its feathers but stands its ground.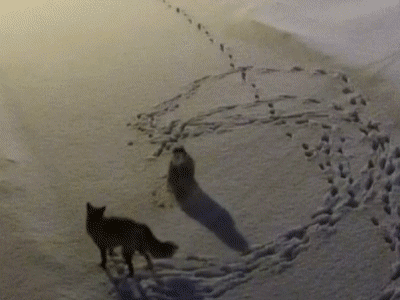 The fox begins to circle the owl, which constantly turns to keep facing the fox, who at several points comes within a couple of feet of the owl.
The standoff continues for a couple of minutes, and then the fox runs off again.
The owl takes off a few seconds later, heading in the same direction as the fox — which makes us wonder whether the encounter continues somewhere else.
It's most likely the snowy owl and the fox were defending their territories, as both animals would be competing for the same winter food sources (small mammals like mice, squirrels, and rabbits).
This isn't the first time someone has captured a continuing encounter between a fox and a snowy owl.
In November 2012, a video captured at Hudson Bay shows a snowy owl and an Arctic fox demonstrating similar behaviour. Over the course of about a week, the fox and owl were seen repeatedly dancing around each other, almost as if they were playing.
"For the most part the owl was oblivious, but at times it seemed it would taunt and goad the fox," says David Briggs, senior expedition leader for the tour company Arctic Kingdom, who took the video and sent it recently to National Geographic.
There are also several other videos online documenting fox and owl encounters.