For many entrepreneurs, accessing capital is one of the most challenging aspects of a startup or expansion. Understanding how to find and shake the "money tree" is critical for future growth and development.
Jessica Arsenault and Graham Thoem, owners of Hard Winter Bread Company, a wood-fired sourdough bakery in Lakefield, understand the challenges and hurdles that businesses can face on their way to reaching their goals.
A year and a half into their venture, which the couple started in 2014, demand for their handmade baked goods — including their popular sourdough breads, pastries, and Montreal-style bagels — grew quickly beyond their expectations.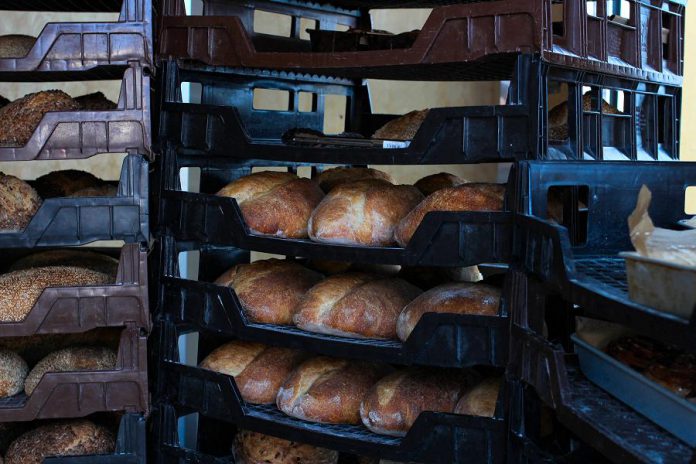 Their products are not sold to the public from their bakery, but at farmers' markets and selected restaurants and specialty food shops in the Kawarthas year-round.
"It kind of organically happened," says Arsenault of the bakery's popularity. "We were quite happy to see that we were growing, but we weren't prepared for it. The demand kept getting bigger and bigger and we thought, we're going to need some help and hire someone."
Arsenault and Thoem also wanted to increase the supply of wood-fired bagels, but realized that their home-based bakery kitchen didn't have the capacity to meet that demand.
"Of all the products we rotated through, our bagels were the most popular," Arsenault says. "We wanted to be able to have them at the farmers' market for our customers, but we knew at that point that it would be quite the project."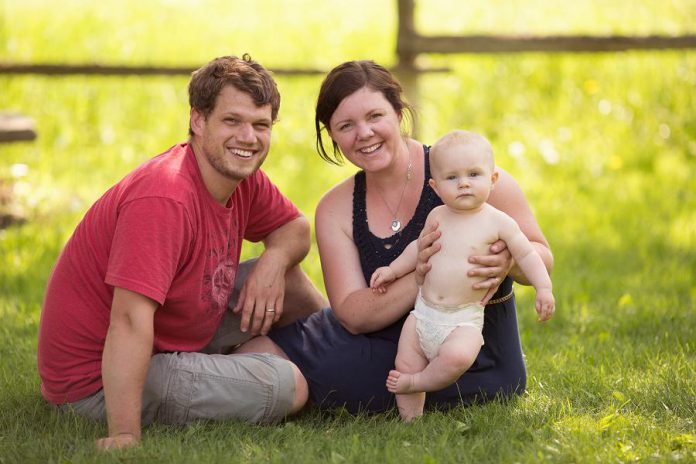 Their time spent living in Montreal is when they truly discovered the makings of a perfect bagel: they need to be handmade and wood-fired.
A wood-fired oven — specifically designed for baking at an ultra-high heat — makes all the difference, she explains.
"In order to have people work for us and have this enormous homemade oven, we needed financial help. So, we started looking at what was available to us in the community to help us grow our business."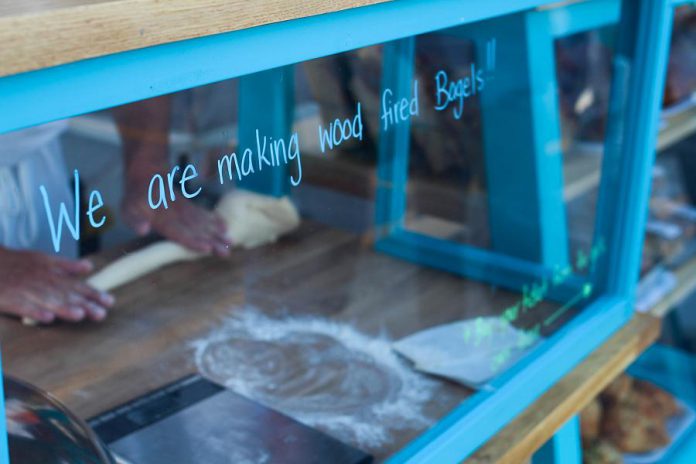 With a handful of business challenges in tow, they reached out to Community Futures Peterborough (CFP), a source for financing new business startups and expanding small businesses. They applied for funding through the Eastern Ontario Development Program (EODP).
Pat Peeling, Community Futures Peterborough's Client Services Coordinator and EODP program administrator, says she often sees local businesses and organizations seek support from CFP to expand geographically or economically.
"The aim of the EODP is to support rural Eastern Ontario communities," Peeling says. "The program is effective for community economic development. It's helping businesses create jobs. We want to keep skilled workers here in Peterborough and the Kawarthas."
The criteria? Applicants should be in business for a few years and working towards completion of a specific project. The project can't involve daily operating expenses and must enhance the business (or not-for-profit) in a specific way that translates into an increase in sales or employment. Applicants must also provide 50 per cent of matching cash funds.
Eligible recipients are not-for-profit organizations, commercial enterprises, Aboriginal organizations, and post-secondary institutions.
Managed by the Federal Economic Development Agency for Southern Ontario and delivered by 15 Community Futures Development Corporations in Eastern Ontario, EODP funding is non-repayable contribution, so accountability on the part of recipients is a key component of the program.
"It's not free money," notes Peeling. She says the recipient is required to deliver on what they committed to do and report, including signing a contribution and partnership agreement, reporting monthly financials, and acknowledging Community Futures and the Federal Economic Development Agency of Ontario.
Having loaned $28 million to more than 700 businesses since its inception in 1985, CFP uses the $500,000 they get each year through the EODP to help companies or organizations with innovation projects, expansions or job creation. While that alone is outstanding, the program has invested $6.7 million in the region through 557 initiatives over the past 14 years.
As of 2017, more than $80 million has been invested in more than 7,600 businesses and community development projects in eastern Ontario.
For Hard Winter Bread Company, the funding through EODP has had a large impact on its business.
Arsenault and Thoem put the money towards a solid business plan created by a professional, to ensure increasing bagel production and hiring additional staff was financially viable. Funds also went towards half the cost of building a super unconventional oven which took three local tradespeople to complete.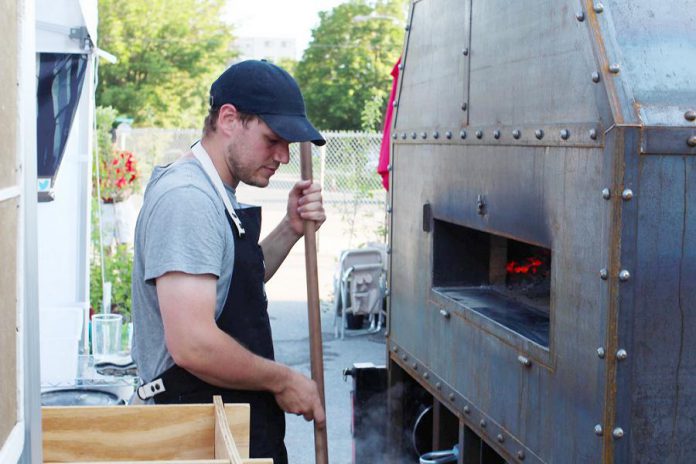 As for the application process, Arsenault says it was straightforward.
"Community Futures was behind our business idea and very helpful with answering our questions and offering us assistance," she says, praising their support. "We were able to show them that with the money they gave us, we were able to hire more staff. We have some temporary workers and a permanent full-time employee. All of that is possible because we could build that oven."
"These programs are more accessible than people think. It's just many entrepreneurs don't know it's available to them. If you're a business owner and your project qualifies for funding, or you're looking to expand or grow, it absolutely makes sense to apply."
Community Futures Peterborough is currently accepting applications for business development or community innovation projects between April 1, 2018 and October 31, 2018.
The EODP is scheduled to end on December 31, 2018.
All program guidelines and the application are available for download on the Community Futures website. Are you an entrepreneur looking to access funding to grow your business? For more information about how the Community Futures EODP program can help you, visit communityfuturespeterborough.ca/eodp.
Community Futures Peterborough is located at 351 Charlotte Street in Peterborough. For more information, please call 705-745-5434 or email info@cfpeterborough.ca. You can also follow them on Facebook, Twitter, and Instagram.
Eastern Ontario Development Program Quick Facts
Eligible recipients:
Not-for-profit organizations including municipalities and municipal organizations, corporations, community economic development organizations
Commercial enterprises including individuals, corporations, partnerships, cooperatives or trusts
Aboriginal organizations
Post-secondary institutions
Maximum contributions:
Funding contributions to all eligible project recipients, either for-profit or not-for-profit, will be non-repayable contributions, up to 50 percent of total eligible costs, of the approved funding amount, to a maximum of $100,000 per eligible project recipient.
A cash contribution of 50 percent is mandatory for all projects.
Eligible costs may include:
Labour: salaries, wages and employer expenses
Expertise: consultant and other professional services. Consultants must operate at arm's length of the eligible recipient and should be experienced, professional and recognized as providing high-quality work
Non-capital expenses
Capital expenses, such as equipment