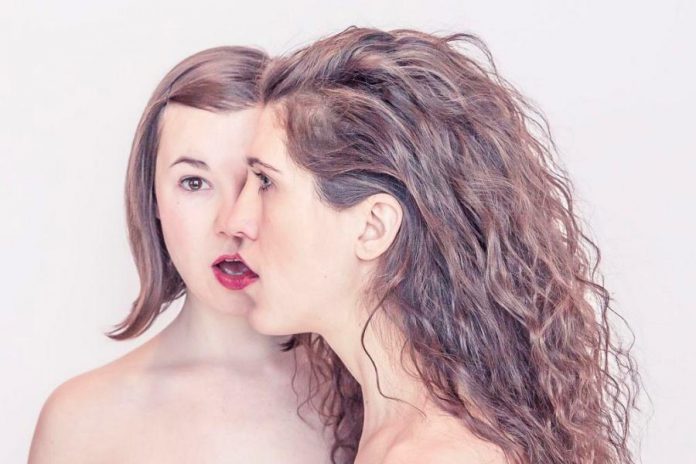 Hollywood actor Jodie Foster was so impressed after seeing Mouthpiece in Toronto that she brought the show to Los Angeles.
And now Public Energy is bringing one of Canada's most successful international theatre hits of the past year to Market Hall Performing Arts Centre on Friday, February 23rd, featuring the original cast.
Co-created and performed by Norah Sadava and Amy Nostbakken of Quote Unquote Collective in Toronto, Mouthpiece is a harrowing, humorous, and heart-wrenching journey into a woman's psyche.
Interweaving music, a cappella harmony, dissonance, text, and physicality, Mouthpiece follows one woman — played by two performers — for one day, as she tries to find her voice.
"It's about a woman who wakes up and discovers that her mom's dead, and she has to do the eulogy the next day and she wakes up with no voice," Nostbakken says in an interview with Public Energy's Performance Curator Victoria Mohr-Blakeney.
"Her mother's death causes her to reflect on her own generation, and who she is, and where being a woman stands in that generation compared to her own — and she has a massive feminist awakening."
Directed by Nostbakken with movement direction and dramaturgy by Orian Michaeli, the critically acclaimed Mouthpiece has been performed in Edinburgh, Los Angeles, and in cities across Canada. It is the winner of three Dora Mavor Moore Awards, The Toronto Theatre Critics Award for Best New Canadian Play (2017), and the Stage Award for Best Performance at Edinburgh Festival Fringe (2017).
The play's script has also recently been published by Coach House Books, with an introduction by journalist, feminist, and social activist Michele Landsberg.
"The story of Mouthpiece — a woman finding her voice — could not be more relevant at this moment in time, as women everywhere are speaking up and speaking out against harassment and abuse," Mohr-Blakeney says.
"It really is an astounding theatrical performance, an exploration of contemporary feminism that couldn't be more timely. We're very lucky to them here in Peterborough."
When Hollywood actor Jodie Foster and wife Alex Hedison were vacationing in Toronto, they went to see a performance of Mouthpiece. After the show, Foster and Hedison approached Sadava and Nostbakken and proposed bringing the play to Los Angeles. The play's two-night run at the Odyssey Theatre was attended by Hollywood celebrities including Jennifer Beals, Sandra Oh, Mark McKinney, Kimberly Peirce, Helen Hunt, Nia Vardalos, Phyllis Nagy, Jeremy Podeswa, and more.
"When we first saw Norah and Amy's breathtaking performance we were speechless," Foster says. "Mouthpiece touches on every part of the female experience from birth to death using dance, music, and wicked humour with just a bathtub for scenery. The result is a new kind of feminist language which ignites pure, intravenous emotion. It's impossible to describe and truly unforgettable."
After its Peterborough performance — which includes a post-show reception and question-and-answer session with Sadava and Nostbakken — Mouthpiece will travel to Sheffield and London in the UK, Victoria BC, and then back to Toronto.
VIDEO: "Mouthpiece" Trailer

In addition to the February 23rd performance, Public Energy has partnered with the Elizabeth Fry Society and the New Canadians Centre Women's Group to host two "Storytelling the Body" community workshops that will be taught by Nostbakken and Sadava. The workshops will take place on Friday, Feburary 22nd.
"It's important to us at Public Energy that artists spend time in the community while they're here," Mohr-Blakeney says. "We're really thrilled about the workshops that Amy and Norah will be giving."
For more information about the workshops, contact Public Energy at admin@publicenergy.ca or 705-745-1788.
Tickets for Mouthpiece are $23 general admission ($15 for students or the underwaged) and are available at the Market Hall Box Office, by phone at 705-749-1146, or online at markethall.org.