Can I just have one more moondance with you, my love? — Van Morrison
Never has one thrown dart proven to mean so much to so many.
Living in Vancouver when the 1970s dawned, a young Mike Taveroff, his passion for popular music off the charts, made the decision to open a record shop with a friend.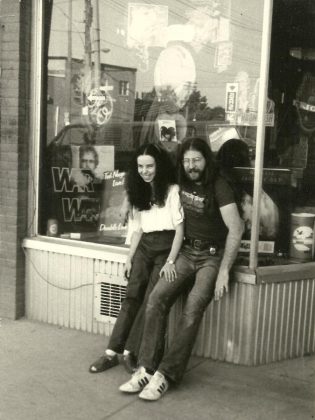 The duo wanted to move east — Taveroff was born in Montreal — but couldn't decide where to launch their new venture. A map and a random dart throw settled the issue, its tip impaling itself close to Peterborough.
Taveroff's friend never made it to The Liftlock City but he did, finding work at Stop 222, a downtown record store, before making the jump to Sam The Record Man.
In the meantime, on a whim, he place a bin containing some 250 albums for sale at Moondance, a George Street clothing store owned and operated by his wife Cheryl.
Now, close to five decades after customers lined up to rifle through that bin, Taveroff, 68, is preparing to close Moondance. With its closure, the downtown Peterborough landscape will lose a landmark that's arguably as beloved as the iconic Market Hall clock tower.
"I never really expected to be around at this point," says Taveroff. "I was one of those guys, you know, who did the hippie trip. I went to Vancouver and had a good time. When I opened the record store, I figured I would probably do it until I was maybe 60.
"Who wants an old bugger walking around the store who's almost 70 years old? Well, here I am. So it's time. That plus Cheryl passed away about a year ago. That kind of slowed me down. You realize that life is short."
To walk into Moondance — the store took its name from Van Morrison's 1970 song of the same name — is to take a trip back in time to when independent record stores were king.
Row upon row of vinyl albums, CDs and DVDs greet customers, lined up neatly in hand-made wooden bins. Then there are the numerous posters, band T-shirts and music industry magazines, all serenaded by a non-stop soundtrack of hit music, new and old.
As such, a visit to Moondance was, and still is to some degree, an escape from life's daily demands as much as it is a music shopping opportunity.
"Right at the start, I made it very clear to people — 'Come in, hang out. If you don't buy anything, it doesn't matter.' A lot of the fun of this place was a result of the people that came in and the amazing conversations that took place."
For a self-described music addict, Moondance has been nothing short of Heaven on earth for Taveroff.
"How could you ask for more? Here's your love and now it's your job."
But as anyone who has opened his or her own business will attest too, passion on its own doesn't pay the bills. Since day one, Taveroff has consistently worked 10 to 14 hour days, including weekends.
"Anybody starting a store should not say 'OK, I'll hire a bunch of people and they can do the work.' It's only as good as the person who owns the store. You've got to be prepared to put the time in. I loved it. It wasn't like working but it has become like that.
"(Being downtown) was fantastic when I opened back in 1972. Up until 1985, when the malls started to open, walking downtown was like walking in a mall. That many people were out. Now there's a stigma about downtown; that it's not safe. I can honestly tell you, having been here since 1972, downtown is as safe as it ever was but the perception is it isn't."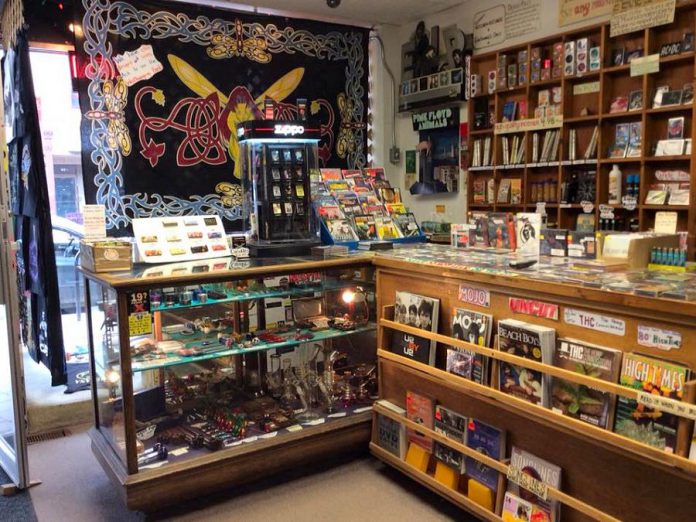 While business is slower, and has been for some time, a niche carved out by Taveroff — an uncanny ability to seek and find next-to-impossible-to-get albums and other music-related items for his customers — continues to serve him well.
"I think there could be a little bit of a shock in this town when people realize it's not going to be so easy to find product. That's kept a lot of people very happy, including me. But it has been a lot of work. It's a worldwide search. And of course you've got to find the best price or people aren't going to buy it. I'd say I've been 99 per cent successful in finding stuff.
"The chain stores were good stores but they couldn't come up with some of the stuff I could. I was one of the first people to start importing. That really made a difference. Of course, everyone else jumped on the bandwagon soon after, but imports really helped make my store. When I opened, I only had imports.
"The main thing for me has always been being out on the floor and talking music with people. I will definitely miss that, but I've already been missing it for the last 10 years. That has been less and less. There aren't that many collectors left. The kids, they want one song. If they really get into an artist, they will buy an album but generally it goes on their phone for a couple of weeks and then see ya later."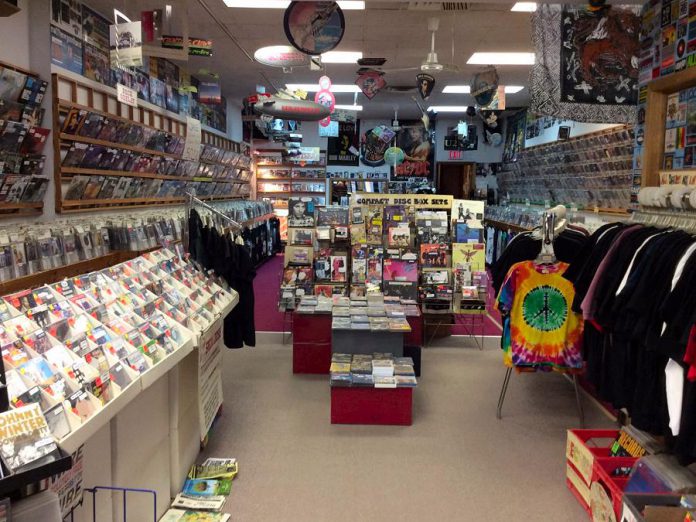 Taveroff opened Moondance with a $3,000 loan from his mom. Business was so good "right off the bat" that he paid that back in 60 days.
"If I had opened in Toronto, I'd be a multi-millionaire. No regrets. I'm very happy I opened here. Moondance is known worldwide. I used to go to a lot of the record shows and conventions and, even over in Europe, people knew about Moondance."
Starting on Thursday (February 1), a sale of all in-store inventory will begin. Vinyl is 30 per cent off and most other regularly priced merchandise is 40 per cent off, with 20 per cent off on all Zippo lighters and Zippo products. Items already on sale will get an additional 20% off the red sale tag price. Moondance will continue to take special order requests until Saturday, March 31st, with the store closing for good on Saturday, April 28th.
"I'm going to sell some of the collectables. See that Led Zeppelin balloon (hanging from the ceiling)? That's been online for $1,500. That's from the 1970s. There's a U2 Joshua Tree thing hanging up there too. Someone offered me a thousand bucks for it and I said no."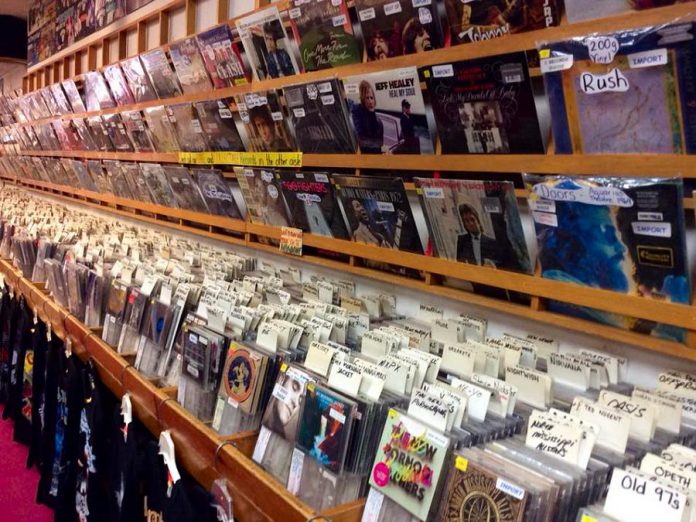 As the clock ticks towards Moondance's closing, Taveroff admits to having "a rough time" with it.
"It's like losing a child. It's pretty heavy. It has been my whole life. I was 22 when I started. It's emotional. It'll hit home when this place starts to empty out. Right now it's sort of like 'Is this really happening?'"
Still, while he struggles with his emotions, Taveroff is excited for what's ahead.
"I'm going to relax. Take it easy. Read books. I'm a great relaxer. I have a beautiful property on a river. I'll be spending a fair amount of time in my backyard. I have a canoe that will take me all over the place. I'm really looking forward to doing nothing. I'll do some traveling too. The first place I'll be going is Vancouver to visit my two girls."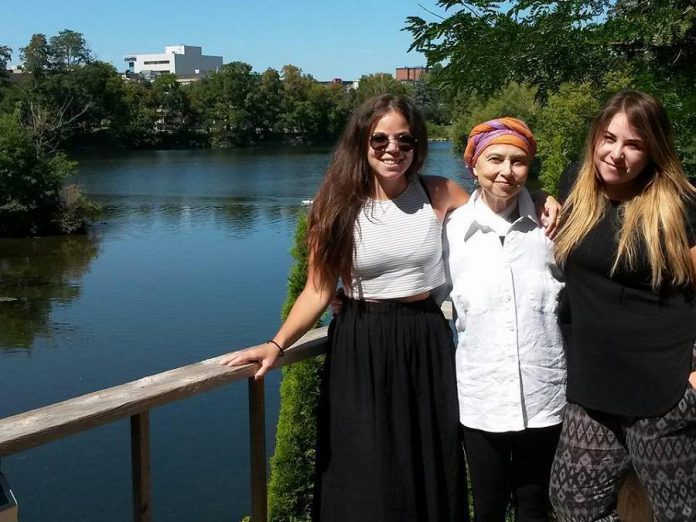 He's convinced his late wife Cheryl would be "really happy" he's finally putting his feet up … for now.
"Down the road, I might end up sitting in front of the computer and putting stuff online. I'm thinking of keeping the Moondance website going. I have a lot of collectables. There's no reason why I have to close that part of my life. But I'm ready to do nothing first.
"I thank anybody that ever walked through the door, whether they purchased something or not. The whole thing was my life and I thorough enjoyed it. I'm a very lucky guy."