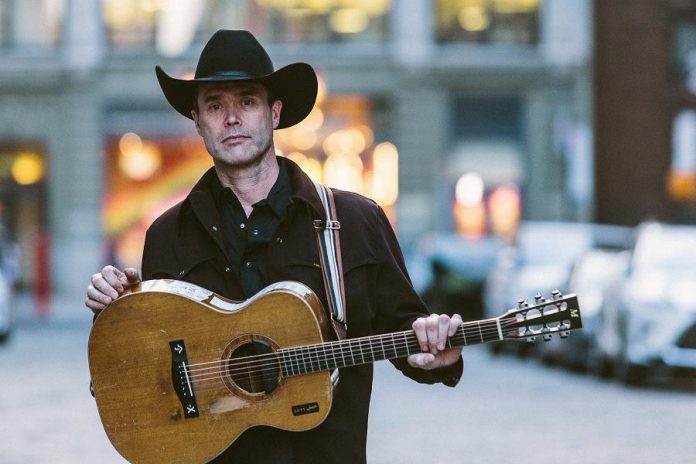 If you're a fan of country and western music, you won't want to miss award-winning Albertan singer-songwriter Corb Lund when he performs a solo acoustic show at the Market Hall in Peterborough at 8 p.m. on Tuesday, February 13th.
Tickets are still available for what is billed as the "B.S. with C.L." tour, which Lund describes as "an evening of western conversation, songs, and stories."
"Playing with my band is great, but doing solo shows is a totally different experience," Lund says. "It allows me to be more creative and interact with the audience in a whole new way. I've had a lot of fun doing these solo shows."
Lund has just completed a tour across western Canada, and the Peterborough show is his first stop on a short Ontario tour.
All Lund's other shows in Ontario (Bayfield, London, two shows in Toronto, and Burnstown) are now all sold out, and there are only 45 tickets remaining for the Peterborough show as of the date of this story.
The "B.S. with C.L." will see Lund play songs, tell stories, and "B.S." with the audience in an intimate and interactive format. Fans are encouraged to submit questions before the show for Lund to answer on stage, which can be done on the Facebook event page for the Peterborough show.
VIDEO: "The Truth Comes Out" by Corb Lund with Ian Tyson

Best known for his band Corb Lund and the Hurtin' Albertans, Lund has received multiple music awards and nominations. He received several JUNO nominations for Roots & Traditional Album of the Year, winning the award in 2006 for his album Hair in My Eyes Like a Highland Steer.
He's also won multiple Canadian Country Music Association Awards both for his band and as a solo artist, as well as English Songwriter of the Year at the 2008 Canadian Folk Music Awards.
In 2015, Lund released his ninth and most recent album Things That Can't Be Undone. Produced by Grammy-nominated producer Dave Cobb (Jason Isbell, Chris Stapleton, Sturgill Simpson), the critically acclaimed release prompted Rolling Stone to declare Lund among the "10 New Country Artists You Need to Know," while NPR called it "a high mark of a long career."
"Five Dollar Bill" – Corb Lund

Lund is also known for his charity work, including the United Nations Children's Fund, Young Artists for Haiti, the Canadian Red Cross 2010 Flood Relief campaign for southern Alberta, the Centre for Family Literacy in Edmonton, and the "Fire Aid" benefit concert supporting victims of the Fort McMurray wildfire.
Most recently, he donated all the proceeds from his fall solo shows in Texas to Hurricane Harvey relief.
Tickets are available in advance for $38 (or $43 at the door if the show isn't sold out), at the Market Hall box office, by phone at 705-749-1146, or online at markethall.org. All tickets are assigned seating.