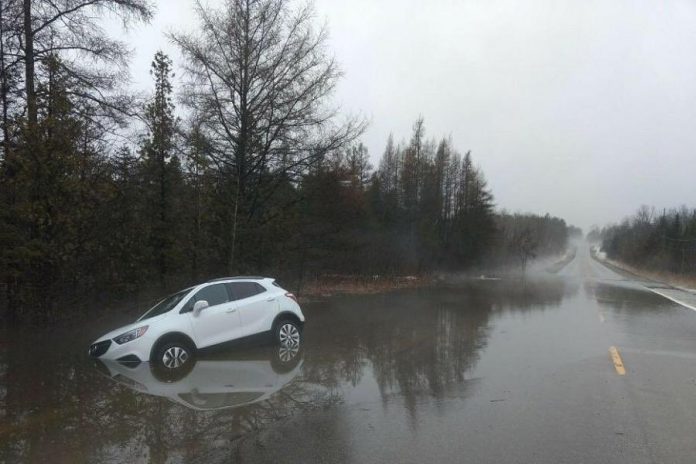 A flood warning is now in effect for the Kawartha Conservation watershed jurisdiction.
Precipitation gauges around the Kawartha Conservation watershed have recorded an additional 10 to 15 mm of rain since Tuesday morning. More rain (up to 5 mm) is forecast for today (February 21), and remnants of snow cover where existing will continue melting, contributing to the run off.
As predicted, water levels and flows in local rivers and streams within the watershed have increased significantly. Many watercourses have exceeded their bankfull levels.
Flooding has been reported in floodplains, low-lying areas, and areas with poor drainage and road ditches across the watershed — in some places causing flooding of private dwellings and properties. Exceptionally high water levels are occurring at Mariposa Brook.
Ice jams have been observed yesterday. Numerous instances of road flooding have been observed or reported.
In these watershed conditions, local watercourses will continue to run very high and fast. As precipitation moves out of the watershed this afternoon, it is expected that water levels will stabilize and start declining overnight. Furthermore, some smaller watercourses, especially in southern portion of the watershed have already peaked and started decreasing. However, it will take longer for larger rivers to respond and peak.
Under these circumstances, all local watercourses and water bodies should be considered extremely dangerous. Kawartha Conservation is warning all residents to stay away from all water bodies, as well as water structures such as bridges, culverts, and dams. Children should be warned of dangerous conditions and caregivers should maintain a close watch on children who are outside.
Municipalities are advised to monitor areas historically known for flooding and be prepared to respond to high water situations as they occur. Residents are advised to contact their municipalities should a flood threat develop. Local municipalities are first to respond to and assist with flood emergencies.
Trent-Severn Waterway officials are monitoring situation closely and are prepared to adjust flows through water control structures accordingly.
Burnt and Gull River levels are monitored by staff from the Ministry of Natural Resources and Forestry (MNRF). Residents along these two rivers are requested to direct any questions concerning water levels to the MNRF Minden office at 705-286-5207 or 705-457-6434 (cell).
For assistance in the event of a flood, and to obtain sandbags, please call your municipal emergency contact.
The flood warning will remain in effect until Friday, February 23rd. Kawartha Conservation will continue monitoring water levels and watershed conditions and notify the public and municipalities within its watershed jurisdiction of any changes. If you are aware of or have concerns about flooding, please contact Kawartha Conservation at 705-328-2271 (705-344-0155 after hours).