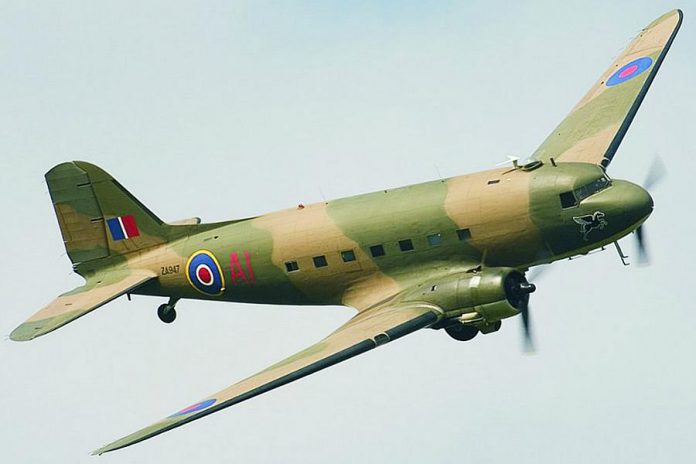 Erik Wieman, co-founder of a German historical group, is seeking the descendants of a Peterborough-area man who died during a military airplane crash during the Second World War.
Corporal William Howard Campbell was one of 23 airmen (including 20 Canadians, one Australian, and two British airmen) who were on C-47 Dakota KG653 when it was shot down on September 24, 1944 over Neuleiningen, Germany.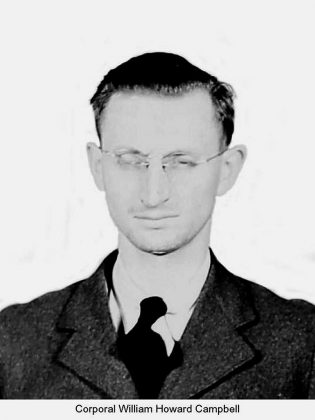 The plane was one of 15 Dakotas on a special flight from the RAF Pershore base in England to transport 300 troops to Cagliari on the Italian island of Sardinia, with an ultimate destination of Karachi in Pakistan.
En route to Cagliari, Dakota KG653 went off course and ended up flying over Germany, where it was shot down by German fighters. All 20 passengers and three crew died.
"From England it should have flown down south over the free French countryside to Sardinia, then to India to help build up two new squadrons in the fight against Japan," Wieman tells kawarthaNOW.
"It lost its way and, due to bad weather and navigational problems, flew into Germany in broad daylight, alone, and was shot down."
Wieman leads a volunteer research group called IG Heimatforschung Rheinland-Pfalz which recovers remnants from crash sites and provides the families of airmen killed in action with keepsakes of the wreckage. Wieman, who is originally from the Netherlands and whose grandfather fought against the Germans in Rotterdam, has been living in Germany since 1992.
"As with all our research and crash site excavations, we plan to contact descendants, tell them about our findings, and plant a memorial at the crash site after the excavation is over," Wieman says. "Often descendants do not know where exactly the crash occurred and what happened exactly."
William Howard Campbell was born on February 2, 1918 in Keene, Ontario, and was the son of Robert Henry Campbell and of Jane Ann (nee Humphries) Campbell of Peterborough. He enlisted on September 6, 1940 in Toronto and his service number was R/72053 Royal Canadian Air Force.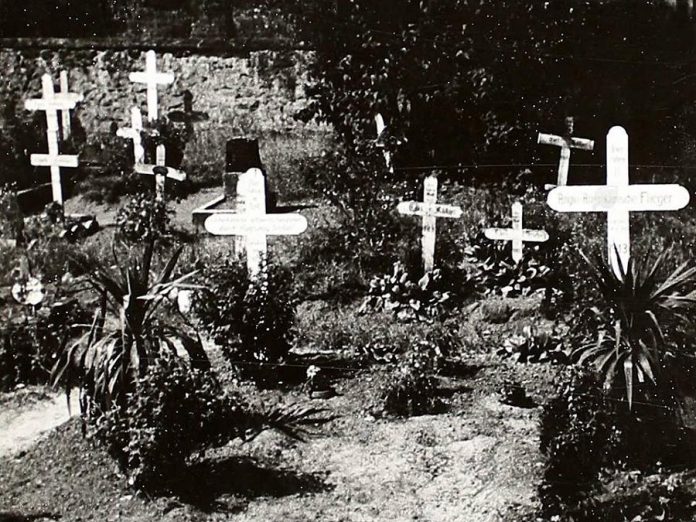 Wieman had already researched the crash and read a book by the Luftwaffe fighter pilot, Julius Meimberg, who claimed he had shot down the aircraft. He also knew the approximate area of the crash site in Neuleiningen, which is not far from where he lives. After reaching out to a local German newspaper that published a story about the crash, 15 eyewitnesses of the crash contacted Wieman, allowing him to pinpoint the exact location where the plane went down.
Wieman has visited the site, recovering several remnants of the plane from the ground's surface. His group is applying for a permit to search the entire site with metal-detecting equipment to discover what may be under the surface of the ground. According to Wieman, the bodies and remains of the airmen who died in the crash were buried in 16 graves at the Neuleiningen cemetery, with some airmen buried in the same grave. The graves were later exhumed and the remains are now resting in Rheinberg in northern Germany.
The goal of Wieman's group is to contact all 23 families of the men who died in the crash.
"They gave their lives for their country, and we should remember them," Wieman says. "People walk by this crash site, where so many people died, without knowing. It should, in our opinion, have a memorial to remember them. This crash site and the fates behind it should not be forgotten."
If you are one of William Howard Campbell's descendants, or have any information about Campbell or his family, you can contact Wieman via email at erik.wieman@gmail.com or kontakt@ig-heimatforschung.de .