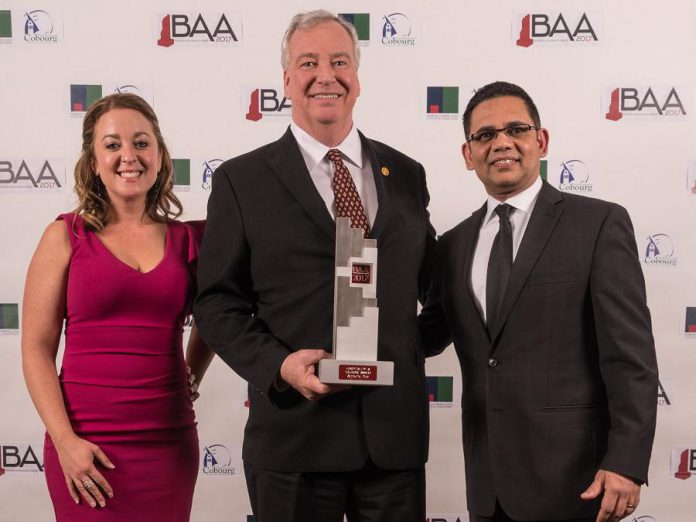 This week we feature the winners of the Northumberland Central Chamber of Commerce 2017 Business Achievement Awards, free cigarette receptacles for businesses in downtown Peterborough, a lease agreement between the City of Peterborough and Trent University for the new Cleantech Commons business park, and local mortgage agent Grace Reynolds selected as finalist in 12th annual Canadian Mortgage Awards.
Upcoming business events over the next week include the Win This Space finale on March 1st, the FastStart Peterborough E-Connect featuring four female entrepreneurs on March 5th, and more.
---
Northumberland Central Chamber of Commerce 2017 Business Achievement Award winners
The Northumberland Central Chamber of Commerce held its 17th Annual Business Achievement Awards on Friday (February 23) at the Best Western Plus Cobourg Inn & Convention Centre in Cobourg.
The Chamber received almost 300 nominations in nine different business categories. A panel of judges selected the winners, who were announced at the celebration: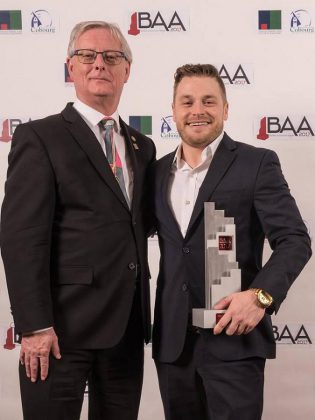 Nourish Boutique Spa – Business & Consumer Services
Ste. Anne's Bakery – Retail Business
Sage Relocation Services – New Start-Up
Arthur's Pub – Hospitality & Tourism Award
Stadke Plumbing & Heating – Skilled Trades
Structural Panels – Manufacturing & Agribusiness
Creative Collective – Communications & Technology
Absolute Therapeautics – Health & Wellness
Beyond the Blue Box – Non-Profit Sector
In addition to the business awards, the Chamber presented the James Crossen Lifetime Achievement Award to the Burnham family of Cobourg, the Chair's Award to the Council of Alnwick Haldimand, and The Mayor's Award to Al Rose of Stalwood Homes.
Congratulations to all the nominees and winners.
Free wall-mounted cigarette receptacles available for downtown Peterborough businesses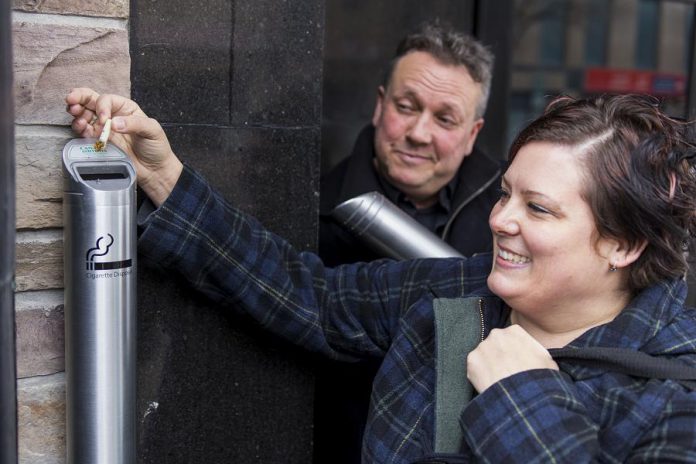 As part of its efforts to make downtown Peterborough cleaner and greener in 2018, the Peterborough Downtown Business Improvement Area (DBIA) is giving away free wall-mounted cigarette receptacles to downtown businesses.
The cigarette receptacles are free to all DBIA members, with the condition that the business is responsible for installing and emptying the receptacle.
"Too many people are littering their cigarette butts downtown," says DBIA Executive Director Terry Guiel. "The DBIA has already given 20 urns away and, due to popularity of the program, we have to order more. Soon we will have more than 50 new cigarette urns downtown, so there's no excuse for throwing a butt on the ground."
Many people are not aware of how significant an impact discarded cigarette butts have on the environment. Although smoking rates have been decreasing, cigarette butt litter continues to be a major problem. Worldwide, it's estimated that over 4.5 trillion butts, amounting to 1.69 billion pounds, are discarded into the environment every year.
The butts are not biodegradable — they contain a plastic called cellulose acetate that lasts up to 25 years — and they contain all the toxic and carcinogenic chemicals (like arsenic, benzene, lead, and toluene), heavy metals (like cadmium), pesticides, and nicotine that make tobacco use the leading cause of preventable death worldwide.
Besides being unsightly, discarded cigarette butts also have huge implications for for the health of our ecosystems, our wildlife (animals consume the butts), and our own health. There's also an economic impact on taxpayers, as between 25 and 50 per cent of all collected litter items from roads and streets are cigarette butts.
Research shows that, for every cigarette receptacle, the littering rate for cigarette butts decreases by nine per cent.
Volunteer Donna Reid will collect the discarded cigarette butts for recylcing trough TerraCycle, with proceeds donated to charity (one pound of butts generates $1). Reid is also the coordinator for the annual "Butt Blitz" in Peterborough, which takes place this year on May 5, 2018.
Supply of the cigarette receptacles is limited and will be given out out on a first-come, first-serve basis. To request a free cigarette receptacle, DBIA members should contact Guiel at 705-748-4774 or terryguiel@peterboroughbia.com.
City of Peterborough to enter into head lease agreement with Trent University for Cleantech Commons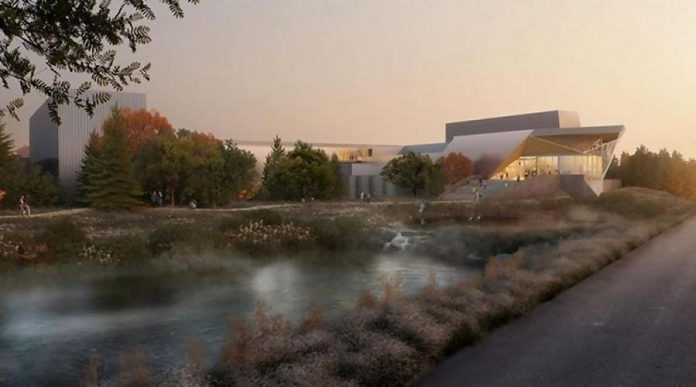 At its general committee meeting tonight (February 26), Peterborough City Council is expected to endorse a head lease agreement with Trent University for Cleantech Commons.
The business park, previously called the Trent Research and Innovation Park, is to be located in an industrial zone on 85 acres of Trent lands, 46.25 of which is suitable for development. Construction of the park, located on the northeastern side of the Trent campus, is expected to begin in 2018.
The vision of Cleantech Commons is to become Canada's premier green technology research and innovation site, hosting a cluster of companies and start-up enterprises in environmentally focused fields including clean technology, environmental services, advanced material sciences, biotechnology, agri-food, and agri-business. Biomaterials company Noblegen is the featured tenant of the business park.
VIDEO: Cleantech Commons at Trent University

A head lease is a lease to an entity that will subsequently grant leases to sub-lessees, who will be tenants in possession. Under the head lease agreement, Trent University will be the landlord and the City of Peterborough will be the tenant.
Trent University will retain ownership of the land, but the 85 acres will be leased to the City based on a 110-year term. This will allow the City to offer 99-year subleases to tenants for the first 11 years. Each tenant will pay an annual "rent" for the land exclusively occupied, with the rent payment shared between Trent and the City.
For the first nine years of each sublease, the City will receive 80 per cent of revenue and Trent University will receive 20 per cent. Over each subequent nine-year period, the City's share will decrease and Trent's share will increase. By the 40th year of each sublease and onward until the end of each 99-year term, the City will receive 20 per cent and Trent will receive 80 per cent.
By signing the head lease, the City is committing to be the developer of Cleantech Commons. The capital budget forecasts a total cost of $10.1 million for internal servicing, lot preparation, and landscaping, to be expended in phases in response to market demand. Depending on how quickly development occurs in the 46.25 developable acres of the research park, the City estimates its $10.1 million investment plus carrying costs could be recovered between 45 and 50 years.
Mortgage agent and WBN board member Grace Reynolds selected as finalist in 12th annual Canadian Mortgage Awards
Grace Reynolds, a licensed mortgage agent based in Peterborough who is also the Secretary of the 2017-2018 Board of Directors of Women's Business Network of Peterborough, has been selected as a finalist for "Best Newcomer Individual Agent/Broker" for the 12th annual Canadian Mortgage Awards, the longest-running and only independent awards in the Canadian mortgage industry.
Canadian Mortgage Professional (CMP) is the leading mortgage-focused resource with more than 40,000 readers across North America. CMP readers voted in their thousands to select finalists in 21 categories, chosen for their stand-out services, employee focus, and corporate social responsibility.
Winners will be selected by a panel of industry experts and announced at a black-tie event on April 20, 2018 at The Liberty Grand Toronto. Hosted by Jessi Cruickshank of CBC television' Canada's Smartest Person and the co-host of the network's new daytime talk show The Goods, the event will be attended by more than 600 of Canada's top brokers and mortgage professionals.
For more information about the Canadian Mortgage Awards, visit canadianmortgageawards.com
Bill 148 and the construction industry breakfast session on February 27
The Great Peterborough Chamber of Commerce and the Peterborough Construction Association are hosting a breakfast session about the impact of Bill 148 on the construction industry.
The session takes place on Tuesday, February 27th at Holiday Inn Peterborough Waterfront (150 George St., Peterborough).
Experts from Sherrard Kuzz LLP will discuss changes to employment law resulting from Bill 148 and what they mean to the construction industry.
This presentation will go beyond changes to minimum wage to address all aspects of the new law and how it impacts business.
The breakfast buffet opens at 7 a.m. with speakers presenting from 7:30 to 8:30 a.m. There will be time for questions after the presentation.
The cost of the session is $20+HST. Register here.
Tax preparation seminar for startups on February 28
The Innovation Cluster Peterborough and The Kawarthas is hosting a "Hands-ON" session with Adam Crowley of Gauvreau & Associates on Wednesday, February 28th.
The seminar will cover the tax differences between sole proprietorships and corporations, the tax return for sole proprietors including the Statement of Business Activities, special rules for deductible business expenses, how to record capital assests, filing deadlines and more.
The session takes place from 12 to 1:30 p.m. at the Innovation Cluster (270 George St. N., Peterborough). There's no cost to attend, but you must register in advance at www.eventbrite.com/e/hands-on-tax-prep-for-startups-tickets-42239792356
2018 Win This Space competition finale on March 1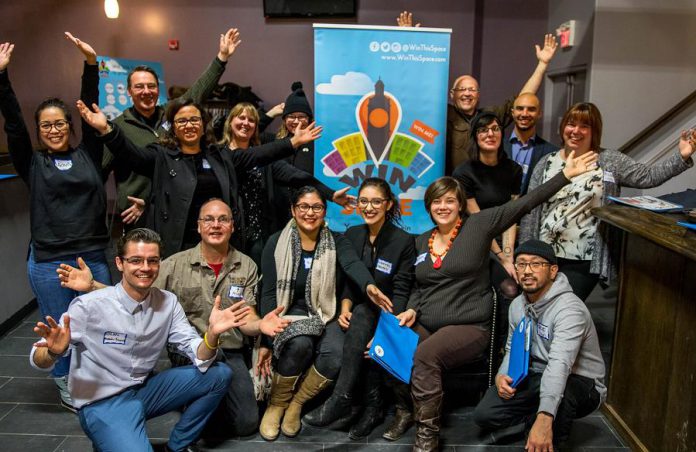 The finale of this year's Win This Space entrepreneurial competition takes place on Thursday, March 1st at The Venue (286 George St. N., Peterborough).
Ten businesses are competing to win a storefront for one year lease-free in downtown Peterborough, along with other prizes.
The 10 finalists are The Bicycle Museum by Dandyhorse Media, Bonita's Ballroom & Latin Dance Studio, The Willow's Bark, StayFit LifeStyle, Argania Natural Health Clinic, Alexander Frames, Best Wishes in a Basket, Baby Bop Teething Accessories, Escape Maze, and Scars and Strops Ltd.
The evening will begin with a cocktail hour and networking from 5:30 to 6 p.m., followed by the finale from 6 to 8 p.m.
For more information, visit winthisspace.com.
Hello, Baby! officially opening in downtown Peterborough on March 2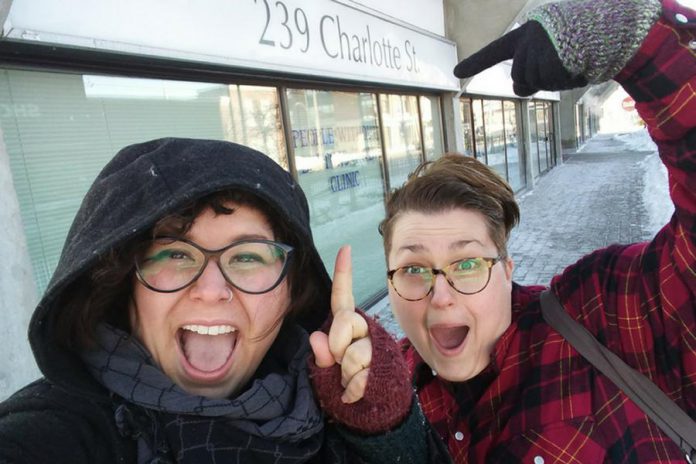 Hello, Baby! is hosting the official opening of its new pregnancy and parenting hub in downtown Peterborough on Friday, March 2nd.
Located at 239 Charlotte Street at Alymer, just across the street from the Shoppers Drug Mart, the hub includes "The Gathering Space", a safe and inviting place or you to feed babies, take a workshop, or join a club or group, and "The Wellness Studio", which will host speakers, yoga and fitness classes, and mini-retreats.
Before opening their first brick-and-mortar location, owners Jennifer Avis and Stephanie Hayes were previously renting space for classes and events at Peterborough Living Yoga and The Monocle Centre for the Arts. In December 2017, they received a grant under the Starter Company Plus program administered by the Peterborough & the Kawarthas Business Advisory Centre.
The baby and toddler friendly official opening will include a ribbon-cutting ceremony at 7 p.m., followed by a celebration featuring music, cake and refreshments, and goody bags.
FastStart Peterborough presents "E-Connect! Female Founders" on March 5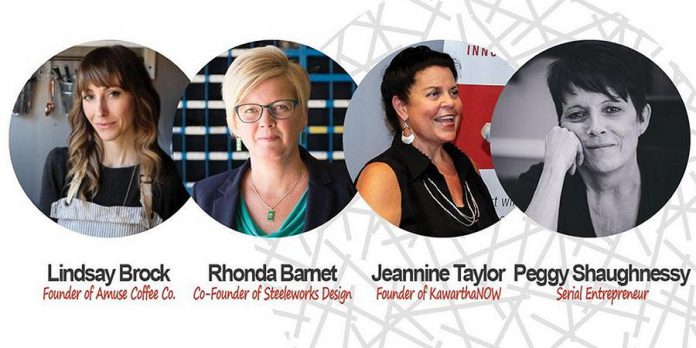 FastStart Peterborough's March E-Connect! forum features a panel discussion with four local female entrepreneurs: Lindsay Brock (founder of Amuse Coffee Co.), Rhonda Barnet (co-Founder of Steeleworks Design), Jeannine Taylor (co-founder of kawarthaNOW.com), and Peggy Shaughnessy (serial entrepreneur).
The forum takes place from 6 to 8 p.m. on Monday, March 5th at The Venue (286 George St. N., Peterborough). Appetizers and a cash bar will be available.
The event is free, but you must register in advance at www.eventbrite.com/e/e-connect-female-founders-tickets-37220379156.
"Bridges Out of Poverty" workshop for employers on March 7
The City and County of Peterborough Social Services, along with Agilec, Employment Ontario, Employment Planning & Counselling, Fleming Crew Employment Centre, and the Canadian Mental Health Association Haliburton Kawartha Pine Ridge, are hosting a free workshop for employers on "Bridges out of Poverty".
The Bridges out of Poverty framework, which originated in the U.S. and has been adopted by other communities in Canada, aims to help people who grew up in poverty and educate the agencies who assist them. The workshop will provide information on the framework as well as the variety of financial incentives available for employers in the community. It will also provide information on understanding and retaining employees.
The free workshop takes place from 4 to 6 p.m. on Wednesday, March 7th at Agilec Peterborough office (Brookdale Plaza, 863 Chemong Rd, Unit 20-A). Refreshments will be served.
Space is limited. Register at bridgesforemployers.eventbrite.ca.
Kawartha Chamber of Commerce & Tourism B.O.S.S. Seminar on March 20
The Kawartha Chamber of Commerce & Tourism continues its B.O.S.S. (Business Owners Sharing Solutions) seminar series on Tuesday, March 20th with a focus on young professionals.
So far, the seminar features Erin McLean of McLean Berry Farm and Matt Logan of Logan Tree Experts.
The seminar takes place from 7:30 to 9:30 a.m. at the Royal Canadian Legion Branch 77 (10 Nicholls Street, Lakefield), with a hot breakfast provided by Jack's Family Restaurant.
The cost to attend is $15 for Chamber members and $25 for non-members. To register, visit kawarthachamber.ca.
Lindsay & District Chamber of Commerce Annual General Meeting on March 21
The Lindsay & District Chamber of Commerce is holding its Annual General Meeting (AGM) from 5 to 7 p.m. on Wednesday, March 21st at the Kawartha Art Gallery (190 Kent St. W., 2nd Floor, Lindsay).
At the AGM you can find out about the Chamber's activities and successes of the past year, learn about Chamber initiatives for the coming year, review the financial statement, and pass a motion to accept the slate of Board members as presented.
There will also be an opportunity to view the Annual Student Juried Art Exhibit, featuring the talents of Lindsay secondary school students.
Chamber Members should RSVP to Colleen Collins at 705-324-2393 or colleen@lindsaychamber.com.