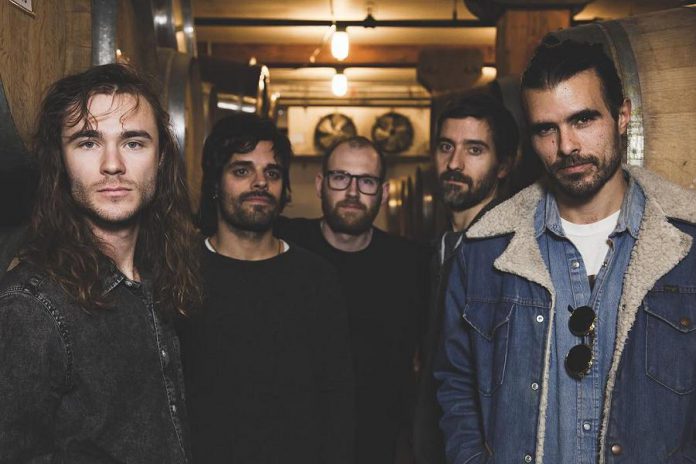 When it comes to music, 33-year-old singer-songwriter Reuben Bullock was a late bloomer.
The front man for Calgary-based folk-rock band Reuben and the Dark, performing at the Market Hall in Peterborough on March 15th, only began writing music in his early twenties and admits he didn't even sing as a child.
"I didn't sing along with the radio," he tells Meredith Dault of SOCAN. "I couldn't sing around a campfire."
In fact, Bullock's first passion as a child was skateboarding, which he took up when he was 11 years old. By the time he was a teenager, he was competing at a semi-professional level — but then he started writing poetry.
"I went nuts with it like any 16-year-old that gets obsessed with something," he says in an interview with Jen Zoratti of the Winnipeg Free Press. "I filled journals and journals with poetry that resembled lyrics. But I never shared them with anyone."
Those journals would come in useful when Bullock was 21 years old and his brother gave him an acoustic guitar. He learned to play a couple of chords, and immediately wrote 20 songs.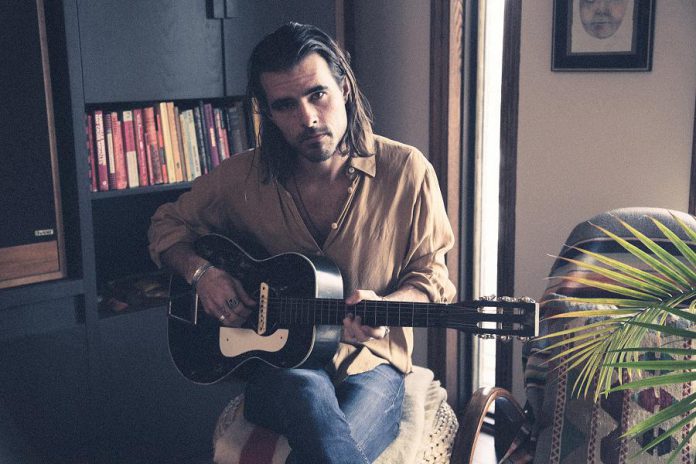 "I picked the guitar up out of necessity, to get words off of paper," he says. "Once I figured out how to play two chords, it gave writing a completely different meaning."
To overcome his shyness about singing and performing in front of people, Bullock spent two years performing at open mics in venues around Calgary.
"I did it over and over and over again until it started feeling right, but it was a huge source of anxiety for me."
In 2009, he recorded his debut solo album Pulling Up Arrows, followed by Man Made Lakes in 2012. In both cases, he was backed by a band, with the second record featuring current Reuben and the Dark member Shea Alain and Bullock's brother Distance Bullock.
VIDEO: "Alberta Canada" featuring "Bow & Arrow" by Reuben And The Dark

That album caught the attention of Mairead Nash, manager of the U.K. indie rock band Florence and the Machine, who heard one of Bullock's songs while she was at a coffee shop in Mexico.
Bullock ended up performing with Florence and the Machine drummer Chris Hayden at a number of shows in Mexico, and then travelled to London where he and Hayden worked on demos that would end up on Funeral Sky, the debut album under the newly named Reuben and the Dark, which was released on the Arts & Crafts label in 2014.
The band went on to tour Canada and the United States in support of the album, and got a big boost when its first track "Bow & Arrow" was used as the soundtrack for a tourism video by Travel Alberta in 2014. That video has since racked up over one million views on YouTube.
VIDEO: "Heart in Two" – Reuben And The Dark

Reuben and the Dark returns to Peterborough three months after opening for Serena Ryder at Showplace Performance Centre on December 15, 2017. Their energetic performance earned them quite a few new fans in the audience, prompting Market Hall to bring them back to town.
Now that the tour with Ryder is over, the band is embarking on an eight-date Ontario tour with the first show in Peterborough at the Market Hall on March 15th. As well as some of the band's older tunes, the audience can expect to hear the new singles "Heart In Two", "Hurricane", and "All Or Nothing" from their sophomore album, Arms of a Dream, which is set to drop on May 4, 2018.
Both singles "Heart In Two" and "Hurricane" have done well on commercial alternative radio and CBC Radio 2.
VIDEO: "Hurricane" – Reuben And The Dark

VIDEO: "All or Nothing" – Reuben And The Dark

Arms Of A Dream finds Reuben and the Dark working outside its comfort zone, both musically and lyrically.
"This album is about love and the inner war that can exist when the heart and mind are torn," Bullock says in a media release about the new album.
"It is about family and intergenerational trauma. It is about holding your darkest secrets and truth from the people you love the most, and it is about dreams. Making this album was a journey to find a place where I can live my own truth, where there is a congruency of body and spirit."
Reuben and the Dark performs at Market Hall Performing Arts Centre (140 Charlotte St., Peterborough, 705-749-1146) on Thursday, March 15th at 8 p.m. General admission tickets are $18, with assigned cabaret table seats $23, available at the Market Hall box office or online at tickets.markethall.org.
Tickets are also available (cash only) at Moondance (425 George St. N., Peterborough, 705-742-9425).
Ottawa-based singer-songwriter Kalle Mattson will be opening the show. His music video "Avalanche" was nominated for Video of the Year at the 2016 Juno Awards, and won the 2016 Prism Prize.
VIDEO: "Avalanche" – Kalle Mattson