Artists make an invaluable contribution to Peterborough's quality of life, and it's time they receive the recognition they deserve.
That's the message the Electric City Culture Council (EC3) and its supporters shared today (March 15) at the Art Gallery of Peterborough, as they announced the inaugural Peterborough Arts Awards.
Championed by Bill Lockington of LLF Lawyers, the $2,000 awards will be presented to six individuals who have shown outstanding achievement in the arts.
The awards will be presented during the Mayor's Luncheon for the Arts on May 25, 2018, with special guest speaker Wanda Nanibush, curator of Indigenous Arts at the Art Gallery of Ontario.
Lockington led the sponsorship campaign, raising $60,000 to support each of the awards for five years. Awards will be given to Indigenous, emerging, mid-career, and senior artists of any discipline, as well as an arts champion, and an arts catalyst.
"It's one of those things our community was missing," said Lockington, whose firm is sponsoring the award for outstanding achievement in Indigenous art.
"We spend so much time on economic development, yet the cultural community makes a huge contribution, not only economically and in driving tourism, but there's a feeling, an important cultural aspect it brings to our community. It is so important to promote this, and then sustain that promotion.
"There wasn't a recognition of the arts and what it means for this community. That was my motivation. If an artist wins one of these awards from their peers in the community, it will mean something for their career."
Lockington said his personal interest in the arts is very eclectic.
"Musically, I'm a big Willie Nelson fan. Artistically, locally, I love Peer Christensen's work. I'm a Georgia O'Keeffe fan on a bigger scale, because I do macro photography and love big florals."
The other sponsors for the Peterborough Arts Awards are: Shelley and Tim Barrie of Merit II Realty Limited (Outstanding Emerging Artist); Betty and Bill Morris of The Stewart Group (Outstanding Mid-Career Artist); Paul Hickey of BrandHealth (Outstanding Senior Artist); Paul Bennett of Ashburnam Realty (Arts Champion); and Kate and Alex Ramsay (Arts Catalyst).
Honourary Patron Mayor Daryl Bennett, who could not make it for the announcement today, said that Peterborough's thriving arts community "contributes to the exceptional quality of life in our region."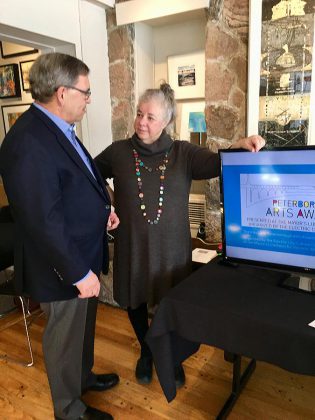 EC3 Executive Director Sue Ditta said this is the first time that artists in the community have been recognized with awards like this — but that the seed was planted over a decade ago with her friend Liz Bierk, wife of world-famous Peterborough-based artist, the late David Bierk.
"The original idea to do an arts awards program was something Liz and I talked about as part of the City's centennial celebrations," Ditta said.
"We did a lot of arts projects as part of those celebrations, but never did an award. Then, when the City did its Municipal Cultural Plan in 2012, it set up EC3 and said it wanted a council to support arts in the community, and one of the priorities was an arts awards program.
"Liz was a great inspiration, but these awards are an EC3 project and it's something that Bill Lockington has managed."
Ditta said another great thing they'll be doing at the Mayor's Luncheon for the Arts is handing out four bursaries for students.
"The Bierk Art Fund at the Community Foundation of Greater Peterborough is sponsoring the bursaries for students pursuing post secondary education in visual arts," she said. The Bierk Art Fund was established to honour the memory and celebrate the life of Liz Bierk and to support arts and culture projects in Peterborough)
Winners of the Peterborough Arts Awards will be chosen by a jury of peers. Ditta said the jury would include "other artists, curators, critics, and champions — and people who will obviously have agreed not to be nominated."
She added that the jury has not been chosen yet and won't be disclosed until the day of the awards.
Nominations are open until 5 p.m. on Monday, April 23, 2018 ecthree.org and can be made by (or for) any resident of the City or County of Peterborough. EC3 will be hosting a workshop to provide support and advice on the nomination process at 7:45 p.m. on Tuesday, April 17th at The Theatre on King (159 King St., Peterborough).