Should Jeremiah Brown one day find himself onstage accepting a Juno Award, the least surprised person in the room will be Jeremiah Brown.
For sure the lifelong musician would be thrilled, no question, but surprised? Not even close. But then should we expect anything less from someone who learned how to row competitively from scratch and, just four years later, brought home a silver medal from the London 2012 Summer Olympics as a member of Canada's men's eights team?
If that's not impressive enough, the Hamilton-born Peterborough resident can now add 'author' to his resumé.
The 4 Year Olympian, Brown's recounting of the determined journey that took him from novice rower status to the Olympic podium, will be released in Canada on March 24th with the U.S. release to follow in mid-April.
However, in Peterborough, his book is now available at Chapters (873 Lansdowne Street East) and Hunter Street Books (164 Hunter Street West).
"After the Olympics, I had the time to reflect on the experience," recounts the 32-year-old Brown.
"My plan was to self-publish an ebook for college rowers — part memoir, part how-to. The early draft was pretty bad, but I sent it to 100 rowers asking for feedback. What I heard back was 'we want to hear more about your story and the motivations that drove you'.
"In the same way I decided I'm going to go the Olympics, I decided I'm going to write a book."
Such lofty ambition could be interpreted as cockiness, but that would sell short what motivated Brown then (and still does) to aspire to and attain goals that would seem well out of reach for the rest of us. To help us understand that, Brown points to a serious "run in with the law" when he was 17 years old and living in Cobourg — "A stupid prank that went too far."
"I went through a process where I thought 'I'm not a bad guy. I'm a good kid. I just made a stupid mistake'," he recalls. "At one point I was facing eight months in youth penitentiary. That never happened but it was close. That kind of scared the shit out of me, but it also made me determined to prove to myself — and others — that I could achieve whatever potential I wanted to achieve."
While Brown had no rowing experience prior to his beginning his journey to the Olympics, he was active athletically, playing minor hockey and later (at McMaster University in Hamilton where he attained a business degree) playing football for the Marauders.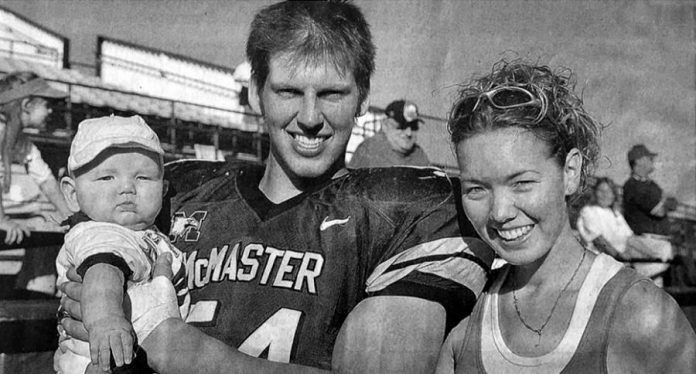 It was at McMaster, while the 19-year-old Brown was trying to make the varsity football team, that he learned Amy, his girlfriend of four years, was pregnant.
"An atomic bomb blasted through my ambitions, my future … our future," he writes in his book. "The feeling was like anticipating being behind bars, only this was much worse. This was a life sentence."
"I thought 'Is this it? I've got to get the job, the mortgage and the car payments. Am I settling down? Is this the rest of my life?'," Brown says, explaining his initial reaction to the news. "I'm very goal-oriented. To me, it was death thinking about everything being predictably predictable."
After the initial shock, he regrouped and refocused his priorities.
"We're going to do this together," he says of his new plan at the time. "We're going to raise this kid and we're going to do a damn good job."
While he and Amy looked after their new son Ethan, Brown continued to study at McMaster and play football. But then he suffered a serious shoulder injury, requiring surgery and eight months of rehabilitation, that shattered his dream of playing for the CFL.
During that final football season at McMaster, Brown had his first taste of rowing at a fundraiser organized by the university's rowing team. He discovered the shoulder injury didn't prevent him from rowing, but he wasn't really interested in the sport. "I never thought I'd sit on a rowing machine again," he writes in his book.
A couple of years later, he watched television coverage of the Canadian men's eights gold medal performance at the 2008 Olympics in Beijing.
"I thought, 'Man, they look a lot like me. Maybe I should do that. What's to stop me from being up on that podium?'"
Together with Amy and their now three-year-old son, Brown moved to British Columbia where he found work as an analyst with TD Bank in Victoria, where the national men's eights rowing team trains. Before long he hooked up with rowing coach Doug White who, Brown says, "was keen to go on the journey with me."
"When you think about the lofty goals we have for ourselves, I get the sense a lot of people wait until people show a belief in them," he says. "To begin on your own, it's got to start from within. It's your responsibility to start; to take the first step.
"When you begin, that's when people recognize your conviction, your intensity, and your desire. It'll come through if you're genuine and really want to get after that goal. I made the promise to myself that I was going to do this; no matter how hard it gets, I'm going to stick with it."
Under White's guidance, Brown did just that and, remarkably, was named to the national rowing team in January 2011. Just three weeks before the 2012 Olympics got underway, he was named to the men's eights team.
"The experience was a roller coaster," Brown says. "We went in as the third-ranked crew in the world, so the expectation was to at least win bronze.
"In our first heat, we went at a higher stroke rate than we had ever done before, and came last by 13 seconds. In that event, that's a disaster. We were distraught."
But Brown and his teammates rebounded in a big way from that setback, earning a place in the men's eights final and finishing second to three-time reigning champion Germany, earning the silver medal.
"My memories are of training with the guys and what we went through together. I'm proud of how we kept our composure and got through that. But at the end of the day, things become the past pretty quickly. A recipe for depression is to try to live forever in a moment in time you experienced."
That understanding serves Brown well in his current position at the Canadian Olympic Committee as the national manager of "Game Plan", an athlete wellness and transition program supporting 3,000 Olympic, Paralympic, and national team athletes across more than 54 sports.
"Situational depression strikes a lot of athletes. It's a whole identity crisis thing: 'Who am I now? The thing that I was chasing, it's gone now.' Our program is designed to try to make that transition smoother."
VIDEO: "The 4 Year Olympian" Book Trailer

Like rowing, putting pen to paper in a purposeful way was a leap of faith for Brown — but early reviews of The 4 Year Olympian have been very positive. Ken McQueen of Maclean's describes the book as "gutsy, unflinching and ultimately inspiring." He could very well have been describing its author.
"My hope is people who read this book will be inspired and feel like it's up to them and, if they take that first step, then they're on their way," says Brown.
"Things don't always work out but sometimes they do. You don't know until you try. I started rowing when I was 23. Most rowers at that level would have begun in high school. I can't tell you I'm going to achieve every goal I set, but I know how to go about it. I've figured that out. I've demystified what it takes to achieve goals.
"There's nothing to it other than being focused and consistently working at it every single day. I don't care if it's writing or rowing or being a musician, that's a fundamental truth."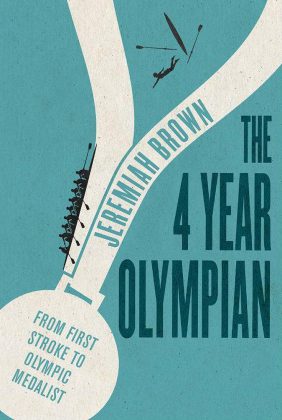 Admitting his Olympic medal and now a published book are "tough acts to follow," Brown is excited to further pursue another lifelong passion: music. He took classical piano as a youth for 10 years and has been playing the drums since he was seven.
"Music is something you can do all your life. And you can always improve. It's such a joy to play with other musicians, so I'd like to become a better musician."
Bottom line? We'd be wise to not rule out that Juno Award one day coming Brown's way.
You can meet Brown — and try on his Olympic silver medal — at his Peterborough book launch at Chapter's (873 Lansdowne St., Peterborough) from 11 a.m. to 4 p.m. on Saturday, March 31st.
Brown will be donating 15 per cent of all book sales during the event to the Peterborough Rowing Club, to fund the purchase of a new rowing shell from Hudson Boat Works.
For information about Jeremiah Brown and The 4 Year Olympian, including where to buy the book, visit www.the4yearolympian.com.