On Saturday, March 31st, a new chapter in Peterborough's love affair with comedy begin with its newest comedy troupe, LLAADS, performing for the first time at The Theatre on King in downtown Peterborough.
An acronym of the first names of its six members (Luke Foster, Lindsay Unterlander, Adam Martignetti, Adam Wilkinson, Dan Smith, and Sarah McNeilly), LLAADS is bringing sketch comedy back to the Peterborough stage.
"There hasn't been sketch comedy in Peterborough for a long time," points out co-founder Dan Smith. "I think it's going to be a chance for an audience to see something that is hopefully laugh out loud funny."
"We have people who have experience in both sketch comedy and improv and serious theatre, and who are familiar with The Theatre on King," he adds. "We've all seen and done some very funny shows in that space. We're backstage and we hear the roar of laughter and your nerves and adrenaline are already peaking because the audience is so invested already."
LLAADS is the brainchild of Dan and Luke Foster who, seeing an opening in the current local comedy landscape, finally formed the group after years of talking about it.
"Luke and I were in a group called The Shrimps together, and we used to write weekly sketch shows with improv at the end," Dan says. "Luke especially has kept the constant bug in my ear that we need to do sketch comedy again. Now that some time has come where we could do something, Luke just started to make it happen.
"He suggested the people that he wanted to work with, and he talked to myself and Adam Wilkinson, and we both wanted to work with Sarah, and Luke mentioned Lindsay and I said yes. And later on it was better that we got another Adam."
"This is like a dream team for me," Luke Foster says. "There is no ego. There is no drama on or off stage. It's a great group of people that we trust."
"It's all about trust and comfort," Dan agrees. "We've all worked together before and have had very special moments together on the stage."
"Actually, I don't know how much I trust Luke," Lindsay Unterlander quips. "His goal is to make me a corpse on stage."
LLAADS has come during an interesting time in the local theatre scene, with a lull in live comedy shows. Two summers ago improv shows were a trend in Peterborough, with popular improv team The Citiots leading the charge.
But now that The Citiots is on an extended hiatus, paired with the ending of Andrew Root's popular Crime City series, live comedy has gotten sparse. As a result, LLAADS has a clean playing field to create its own audience and something new in comedy.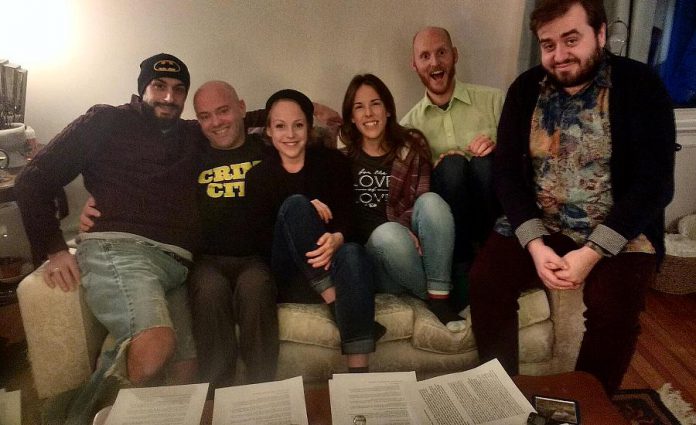 "Some of the smaller groups seemed to have stopped with some people moving away," Dan points out. "With The Citiots, people just got busy. Some people went solo, some people had to focus on their jobs and life and family. So that's on a break, but people still want to perform."
"Speaking as a fan and friend perspective, now that the Citiots are essentially on a hiatus, looking back there are fond memories," Adam Martignetti adds. "But now, everyone involved with that has the ability to do something different."
"It gave us an opportunity to say let's do this, have a meeting and get a group together," Dan says.
Although there will be a small element of improv in LLAADS performances, the group is veering away from that form of comedy to go into a more traditional vein of sketch comedy.
"I think Canada popularized the whole industry of sketch comedy," Dan says. "I remember watching SCTV when it first got started, and watching reruns over and over again when I was in high school. Then Kids in the Hall came out, and it was like they made an SCTV for our generation.
"Since then there really hasn't been a group to take that mantel in the mainstream market. But then, online there are groups doing incredible material."
With the majority of LLAADS being made up of local theatrical favourites who have all appeared in productions together, this is the first time that the members of LLAADS have worked together as a group. While Adam Wilkinson hasn't done much theatre in the area, he has his own solid ties to the foundations of LLAADS.
"I met Adam when I went to Humber for comedy," Luke says. "We were in the same group. We finished in 2003, and I've known him since then and have wanted to work with him again."
"I moved to Millbrook two years ago, and now I've been able to become a part of this group," Adam Wilkinson explains. "It's been amazing to come to Peterborough, because I used to work in the Durham area doing improv and touring shows through Northumberland. But I haven't been close enough for me and Luke to work together again, until now."
To me, the biggest appeal of LLAADS is that it contains some of my favorite performers in Peterborough, coming together for the first time to try something new.
"We're not out to redefine comedy," Dan explains. "We're doing this because we enjoy working with each other."
Lindsay agrees.
"I said yes when Luke asked me because I am going to be working with great people," she says. "It's a challenge and something that is out of my comfort zone, but I figured it'd be fun."
"Everybody involved is a great performer," Adam Martignetti adds. "No matter what material is brought forth, we are going to perform to the height of our ability. It's just a matter of finding out if our performance matches the material."
Sarah points out that, despite the members of LLAADS all being "incredibly busy", they are dedicated to making it work.
"The effort that everybody is putting into this makes it just that much more cohesive," Sarah says. "It gives me a good feeling that we are onto something really great here."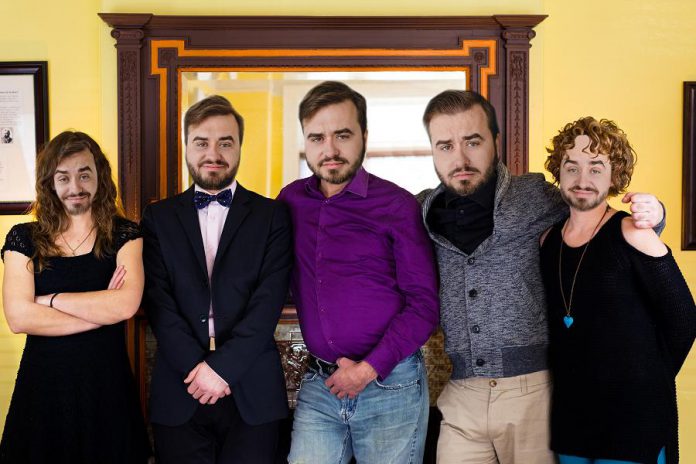 Adam Martignetti is looking forward to the opportunity to share the troupe's work with an audience for the first time and on a regular basis.
"We could write these sketches, perform them in someone's living room, and then just go home," he says. "But we get to share them with people. If we can make you laugh, or make you think, or make you enjoy what we are doing, then I don't see why we shouldn't do that every day."
"With everything going on, not only in Canada but in the world, and especially the States, it's a chance for people to get out and enjoy themselves," Luke adds.
Peterborough audiences loves their comedy shows, and LLAADS is taking something old and creating something brand new with it. I predict LLAADS is going to be something really fun.
Along with the collective talent and experience of the group coming onto play, the popularity of the individual members should also bring in a healthy audience for the debut performance.
Get on the ground floor of this new and dynamic group by joining them at their inaugural show at 8 p.m. on Saturday, March 31st at The Theatre On King (159 King St., Peterborough). Tickets are $10 at the door.