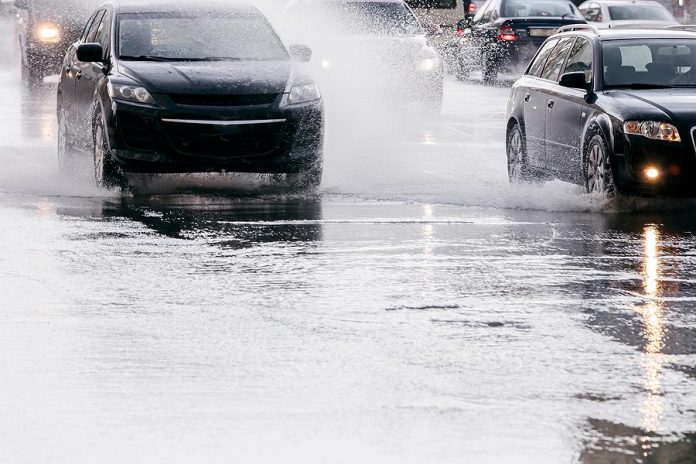 Update April 3, 2018 at 3:17 pm – Environment Canada has now issued a wind warning for Peterborough, Kawartha Lakes, and Northumberland, with wind gusts up to 90km/h developing on Wednesday, which may cause power outages and damage to buildings. Environment Canada has also issued a freezing rain warning for northern Peterborough, northern Kawartha Lakes, and Hastings, with freezing rain developing overnight and into Wednesday morning.
A spring storm is on its way to the Kawarthas later today (April 3), bringing significant rain and strong winds overnight and into Wednesday.
A Colorado low pressure system is expected to intensify into an early spring storm as it races across southern and central Ontario tonight.
The weather system will bring a rainfall of 15 to 30 millimetres, most of which will fall tonight, to the southern Kawarthas including Peterborough, Kawarthas Lakes, and Northumberland. Thunderstorms are possible in some areas.
Freezing rain or snow is likely in northern Peterborough County and northern Kawartha Lakes, with significant snowfall (15 to 30 cm) possible in northern Haliburton County.
A sharp arctic cold front associated with the Colorado low will blast across the region early Wednesday morning with strong southwesterly winds. Wind gusts of 80 to 85 km/h are possible early on Wednesday morning.
Isolated power outages may be issues to deal with due to the strong winds.