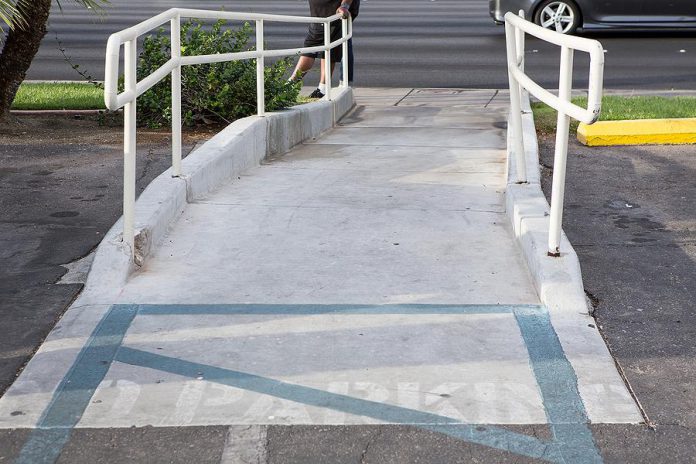 Peterborough-Kawartha MP Maryam Monsef was at St. Joseph's at Fleming in Peterborough earlier today (April 9), where she announced a total of $357,364 in federal funding for 11 projects to improve accessibility for people with disabilities in the Peterborough area.
Monsef made the announcement of the funding, which comes from the federal government's Enabling Accessibility Fund (EAF), on behalf of Kirsty Duncan, Minister of Science and Minister of Sport and Persons with Disabilities.
"At each of the community town halls I have hosted over the past two and a half years, and particularly at my Accessibility and Inclusion Town Hall, I have heard from individuals about the access barriers to employment, transportation, education, and housing that exist," Monsef said. "This funding is an important step for our communities to move forward and meet the needs highlighted by Peterborough-Kawartha residents."
The EAF funds projects that fall under one of two streams, community or workplace accessibility, and includes renovations, retrofits, construction, and the provision of accessible information and communication technologies.
The 11 organizations and projects receiving funding are:
Alternatives Community Program Services – The Braidwood Neighbourhood Project – $30,849
Peterborough Communication Support Systems – Improving safety for Deaf staff – $2,481
City of Peterborough – Assistive Listening Device Kits – $33,559
YWCA Peterborough Haliburton – Renovation of Accessibility Ramp – $31,236
CCRC (Community Counselling & Resource Centre) – George Street Accessibility Project – $21,380
Peterborough Communication Support Systems – Automatic Door Opener – $3,413
St. Joseph's at Fleming – Installation of Automatic Door Openers and Doorway Renovations – $49,868
Offices That Work! – Common Area Accessibility Upgrades – $45,000
Five Counties Children's Centre – Enabling Accessibility Fund; Community Accessibility Stream – improving accessibility of client/reception area – $39,078
Lakefield Baptist Church – Renovation Project – installation of automatic doors, ramp and lift, accessible washroom – $50,000
The City of Peterborough – City of Peterborough Park Upgrades (playground surfaces, park walkways & benches) – $50,000.
Since the creation of the EAF in 2007, the Government of Canada has funded over 3,000 projects to improve accessibility to community programs, services, and workplaces.
Eligible organizations can submit funding applications through an annual EAF call for proposals. The Government of Canada is currently accepting applications to EAF for mid-sized projects until May 24, 2018. Interested organizations can apply at canada.ca.