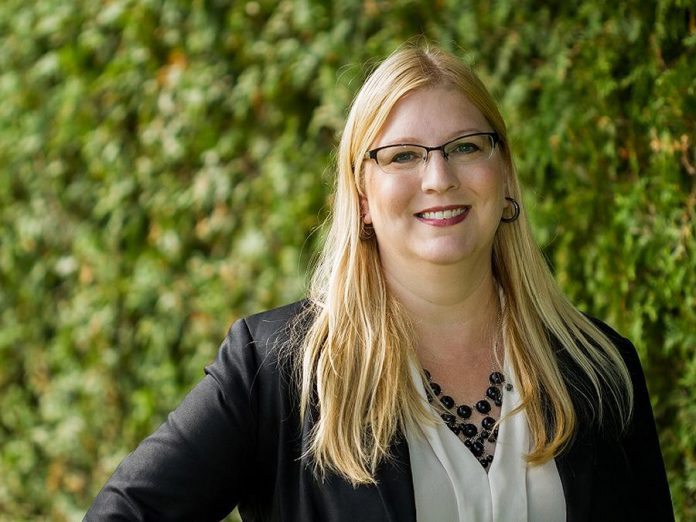 ---
President's Notes – April 2018
Welcome Spring!
This is my favourite season. As a gardener, I am grateful for the #WealthOfChoice of garden centres & greenhouses in our area.
With spring arriving, so do our new volunteer Board members. I want to thank Garry Douglas, Chair of the Nominating Committee for working so hard to get a wonderful mix of volunteers from a wide range of industry sectors to represent the members for the 2018-19 year.
We calculated the average age of our Board members and it is 43 — young for any organization, especially a nonprofit. We are very proud to have well over 50% female representation on our Board of Directors, I follow a long line of female Presidents. Cindy Windover has been a terrific role model and I am so pleased that she has chosen to remain on the Board as our Past President. Thank you, Cindy!
Meet the Chamber's 2018-19 Board of Directors
Board Executive
President: Tonya Kraan, Strexer Harrop & Associates
1st Vice President: Mike Walker, Agilec
2nd Vice President: Tracy Logan, Logan Tree Experts
Secretary/Treasurer: Kevan Herod, Herod Financial Services
Past President: Cindy Windover, Windover Plumbing
Directors at Large
Casey Kidd, Savage Arms
Chris Wilson, Let's Get Digital
Garry Douglas, North Kawartha Design, and Kawartha Lakes Construction
Jillian Harrington, Clearview Cottage Resort
Leslie Nunes, Kinetic Therapeutics
Lynn Woodcroft, Lynn Woodcroft, Sales Representative, Royal LePage Frank Real Estate
Penny Wilson, The Cozy Home
Scott Matheson, CIBC
Sheri Hockaday, Salon Sorella & Day Spa
Tom LaBranche, Village Pet Food & Supply
Read more about each member of the board.
Chamber Update
The Chamber is hiring the following summer staff:
The application deadline for summer staff positions is Friday, April 13th.
Upcoming Events
April 18th – Volunteer Appreciation Breakfast with Guest Speaker Sarah Burke, Habitat for Humanity Peterborough & Kawartha Region, 7:30 – 9 a.m., Burleigh Falls Inn & Suites
May 9th – BOSS: Mental Health in the Workplace, 7:30 – 9:30 a.m., Lakefield Legion
May 23rd – Provincial All Candidates Meeting, 7 – 9 p.m., Lakefield Legion
June 13th – Woodview Hop, 5 – 7 p.m.
Employment Standards Act Information Session
At the beginning of 2018, Bill 148 brought changes to the Employment Standards Act that many small business owners are still trying to navigate through to ensure their business is compliant. Learn more about what has changed.
The province-wide Ministry of Labour blitz will focus on the construction industry this year. Additionally, Eastern Ontario will also pay particular attention to independent grocery stores. Be sure you are prepared for these visits.
The Chamber hosted an ESA Information Session with guest speaker, Kelly Howe, Regional Program Coordinator with the Ministry of Labour. Kelly discussed aspects of the ESA that business owners often have questions about, and the recent changes as a result of Bill 148.
Young Professionals Enjoy Working in the Kawarthas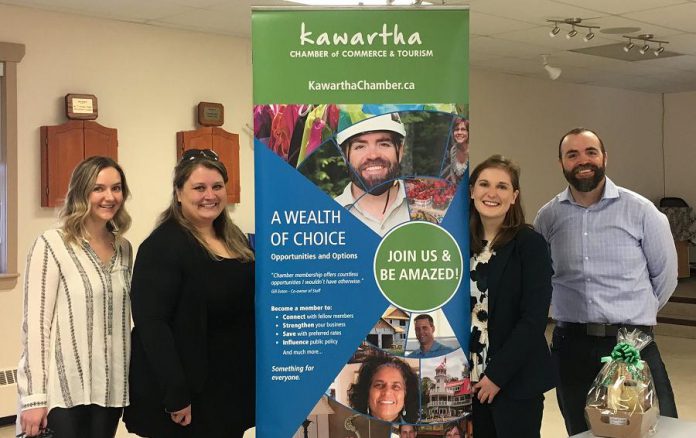 The Kawartha Chamber hosted a Business Owners Sharing Solutions (BOSS) session in March with a panel of local business owners, who also happen to be recipients of the Chamber's Young Professional Award of Excellence.
Erin McLean, Lisa Besseling, and Matt Logan, made up the panel and Julia Wood of Peterborough & the Kawarthas Economic Development moderated the discussion.
Ontario Budget 2018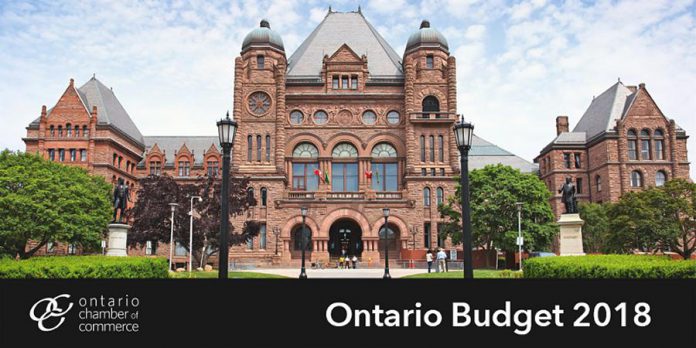 The Government of Ontario has released its 2018 Budget, A Plan for Care and Opportunity.
The Ontario Chamber of Commerce (OCC) cautioned that while the Budget proposes new spending for economic development, it does nothing to alleviate rising input costs or tangibly address low business confidence. In fact, the Ontario Government has chosen to follow the federal government's lead on changes to the tax code that will result in significant new taxes on Ontario's employer community. Read more.
Read a summary of key highlights from the perspective of Ontario's business community.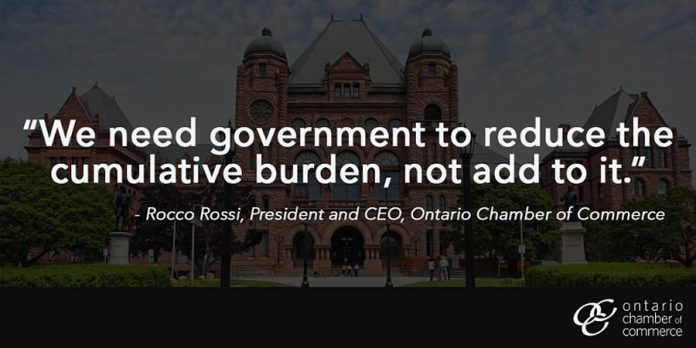 The Ontario Chamber of Commerce is rallying the province's Chamber Network in 135 communities to call on the Ontario Government to remove two proposed tax reforms that will cost employers nearly half a billion dollars in new taxes from the 2018 Budget.
The Ontario Government announced in the 2018 budget that they will harmonize with the federal government's eligibility criteria leaving over 20,000 employers paying $100 million more in Employment Health Tax over the next three years. In addition, businesses will be phased out of the small business deduction if they earn between $50,000 and $150,000 of passive investment income in the taxation year, resulting in an additional $350 million in new taxes for Ontario businesses over the next three years. Read more.
Small Business Access
Get support, information and advice to run your small business.
Get funding
Get business advice
Grow your business
Learn about the laws that affect your business
The Ontario Chamber of Commerce and Ontario Government have partnered on Small Business Access, a new single point of access that will make it easier for small businesses to access government services to get the support they need to run and grow their business.
Small business owners will be able to access resources such as hiring and training incentives for employers and information on permits or how to expand their business globally.
Discover more at www.ontario.ca/smallbusiness.
Please take 10 minutes to complete this survey so the Ontario Chamber of Commerce can effectively advocate on your behalf and help shape improvements to the resources available for small businesses.
A Small Business Access workshop was hosted by the Peterborough Chamber on March 23rd. View the presentation slides from this workshop.
Standard Member Spotlight
Increase your chance of success by 30 to 50%
Add the tools of Strategic Planning, Enterprise Risk Management (ERM) and Key Performance Indicators to your business arsenal. Contact Kelland Sewell at 705-917-3375 or ksewell@rpm3solutions.com.
See more information on rPm3 Solutions' YouTube Channel.
Earn your Chamber membership for free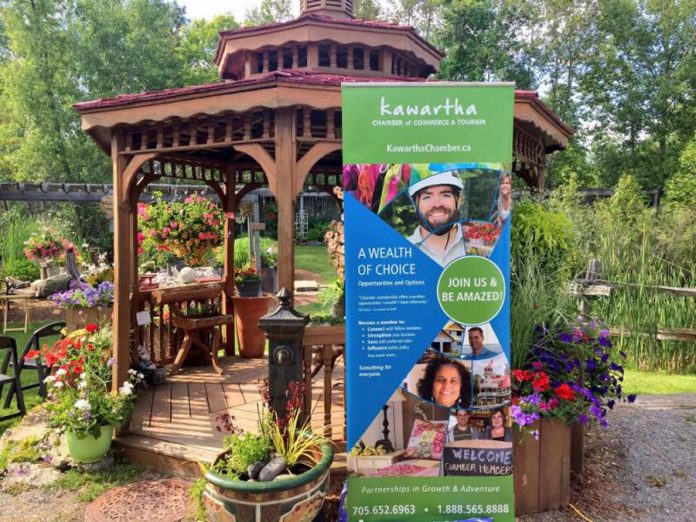 Did you know you could earn your Chamber membership for free?
Here's how:
Pay your membership dues within 30 days of the invoice date and be entered into a draw for a free membership next year (to be drawn at the AGM).
Refer a new member and once they have paid, you will earn 10% off next year's membership dues. Refer 10 new members and yours is free!
For more information, contact the Chamber office at 705-652-6963 or membership@kawarthachamber.ca.
Let's Connect
The Kawartha Chamber has over 3,300 followers on its social media platforms. Mention the Chamber in your posts or use the hashtags #KawarthaChamber and #WealthofChoice.
The Chamber will help increase your engagement by liking, sharing, or retweeting.
Send your member news to info@kawarthachamber.ca to be shared on the Chamber's social media pages.
For more information about the businesses and events listed above, please visit the Kawartha Chamber of Commerce & Tourism website at kawarthachamber.ca.
All photos supplied by Kawartha Chamber of Commerce except where noted.