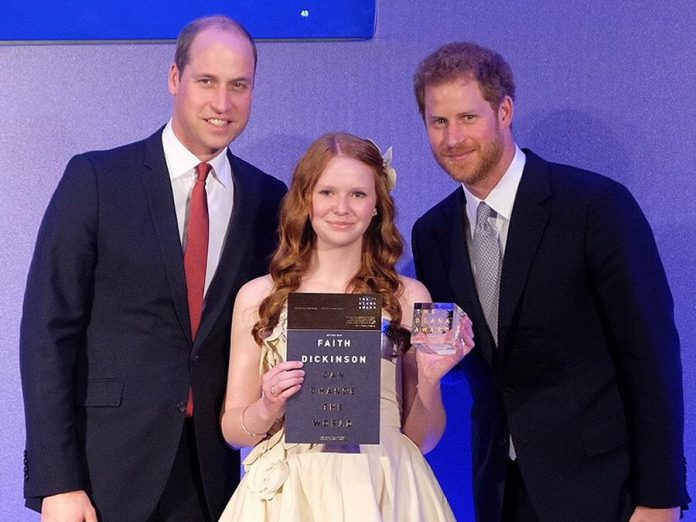 Peterborough's Faith Dickinson has received an invitation to the Royal Wedding.
The 15-year-old Dickinson is one of 1,200 members of the public invited to Prince Harry and Meghan Markle's wedding at Windsor Castle on May 19th, including young people who "have shown strong leadership, and those who have served their communities" according to an April 10th media release from the Royal Family.
In 2017, Dickinson was one of 20 young people honoured with the inaugural Diana Award, presented to her by Prince William and Prince Harry. The Diana Award is a charity legacy to the belief of the late Diana, Princess of Wales, that young people have the power to change the world.
Dickinson is one of seven of the Diana Award recipients who have been invited to the wedding, according to a media release from The Diana Award.
#ICYMI seven of the incredible young people we work with have been invited to the #RoyalWedding next month!

One of them is Faith, who received her Legacy Award from HRH Prince Harry almost exactly a year ago.

Read the full announcement at https://t.co/QADiTorU6B#DianasLegacy pic.twitter.com/wJXDg1wfkp

— The Diana Award (@DianaAward) April 10, 2018
Dickinson was honoured for her "Cuddles for Cancer" charity. She started the charity, which provides fleece blankets for people living with cancer, when she was nine years old. She's now made more than 3,500 personalized blankets for people around the world.
Dickinson will interviewed by CBC Radio's Ontario Morning guest host Mary Ito on Friday (April 13) where she will share more information about her invitation.