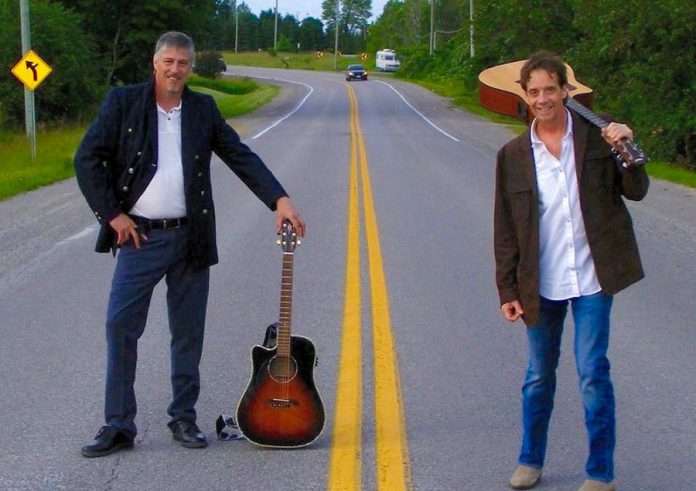 Special are those times when one is able to do something he or she loves to the great benefit of others.
For Lindsay natives Dennis Carmichael and Brooks Robinson, the love interest here is their lifelong performance of music, which over the last few years has manifested itself in the form of Boots of Hazard, a four-piece country music band that also includes guitarist Craig Stacey and drummer Gavin Gartshore.
What's new is 21 Charities, an ambitious community outreach initiative that will see Carmichael and Robinson perform their two-person acoustic show for 21 consecutive days beginning Saturday, August 25th — with each performance hosted by an organization or community group looking to raise money for, and awareness of, their specific cause.
The music marathon of giving will culminate Friday, September 14th at Lindsay's historic Academy Theatre, bringing together representatives of each of the involved charities for a grand celebration.
"A lot of times we have had turn down charity shows because we're booked or we're doing a video shoot … we've had to say no and we've felt bad about it," notes Robinson, a guitarist who lives in Oshawa.
"What we decided was why don't we take it (performing for charitable causes) into our own hands. Let's try to come up with an idea that's a real community builder, something that helps a bunch of small charities that might not have the time and raise the funds that a big charity would make."
When the two first discussed the idea, they considered a 100-performance schedule — "I just about got sick to my stomach," says Carmichael of his thoughts on that prospect — but they eventually settled on 21 performances in 21 days as the perfect scenario.
To date, five charities have signed on, and have specific dates and show locations in place, but Carmichael notes they expect to be over the halfway mark soon. The only requirement of each group is it provides a $100 donation to The Academy Theatre, which is the duo's charity of choice.
To book your charity or cause for one the 21 show dates, visit 21charities.com.
"This whole thing is based on a pay-it-forward kind of philosophy," Carmichael explains.
"There are so many people who I honestly believe are like closet fundraisers: they want to be involved but don't know how. We're just the ringleaders giving you an excuse and a conduit to get involved in your community, raise a few bucks, and get to know your neighbours and friends. We're giving you a span of 21 days that we're going to promote this in the media and online — everywhere."
Without doubt, any two people organizing and undertaking an initiative of this scope couldn't do so without complete trust in each other, not just musically but as friends. Carmichael and Robinson have that covered and then some, having first met in their late teens when the latter saw the former perform.
"He wanted to play," Carmichael recalls. "He was learning how to play, the band sold him on the idea and he said 'Ya, a I really want to do this too.' We ended up playing together and here we are. We had a separation for seven or eight years. We both needed to be apart for a little while because we had already spent over 20 years together. We've now been back together for about four years.
"When we were separate, we both got into country unbeknownst to each other, so then when we got back together it was through country rock. That was a kind of oddity. We got a lot of strange looks. We love it though. It's much easier on our ears, there's a lot more opportunity to play, and we can write our own stuff."
In their previous band, called rhubard, Carmichael and Robinson released a six-song EP titled Iron Bridge before issuing Mad Urban Cow, a full-length album. Although they were playing a lot of rock music, Carmichael notes "We were writing what probably were better country songs than rock songs."
"How we become Boots of Hazard as it is now, with Gavin and Craig, is we really wanted to write some songs and take this from a country rock dance band to an original act," says Robinson, noting the July 2017 release of the Boots of Hazard single "Muddy Water", recorded at Toronto's Phase One Studios, took the union to a whole other level.
"The song is about the Scugog River, fishing on that river with my dad, being given a fishing pole that I still have," Robinson says. "For the first time in my life, we are writing songs about who we are, what it is that's real to us. I think it's the most honest writing and arranging that we've ever done. We're sitting on a dozen songs that we think are as good, if not better, than that song."
They'll be releasing a video for "Muddy Water" soon and, although they are aiming now toward the release of a full-length Boots of Hazard album for release next year (and possibly an EP release prior to year's end), 21 Charities is currently the duo's central focus. Both see the project as not just an added line item for their musical resume, but as a prerequisite for any success moving forward as a performance and songwriting duo.
"If you want to make money doing music and you want to survive, you need to get involved and touch as many people as you possibly can," says Carmichael, who plays bass with the band.
"This is an amazing way, a completely positive way, to touch as many people as we can using the best gift we have, which is our musicianship and our songwriting."
When all is said and done, what success will look like, according to Carmichael, is someone picking up the charitable torch and going forth with an initiative of his or her own design.
"If we can plant a seed, even just one, that somebody walks away from this and is inspired enough to try to do something, take the same amount of risk and time to do something else, that would be a success. We have three weeks to try to get one person to do that."
"Obviously we love to see a full house (on September 14)," adds Robinson. "We want people that do this to be able to say I was involved; I did something that I wouldn't have done unless these guys said 'Here, come on and try this.'"
As for anyone who suggests 21 Charities is self-serving, the benefactors being only the two musicians bringing it to fruition, well, Robinson has an answer for that.
"We talked about that (perception) and looked at each other and said 'I don't give a shit.' Get off your ass, do 21 days for a charity of any kind and I will come to your house, shake your hand and say 'Way to go.'"
VIDEO: Brooks Robinson and Dennis Carmichael

Carmichael adds both he and his partner acknowledge they're not re-inventing the wheel here — musicians in communities across Canada have given freely and often of their time to help others — but rather they are also trying to create a model that can, and will, be duplicated by others.
"We would love to see this whole thing happen all over the country," says Robinson.
"It (giving back) is in our hearts as musicians. It's one of the only professions that is continually asked to do things for free. We've always given as much of our time as we could to charity. It's always been good for us.
"If we can put our name on this and people say 10 years from now 'You guys founded 21 Charities, it's gone on to raise $50 million' I would cry on my living room couch for days. The music is great but if we can make that kind of an impact, that's really our goal.
"We know the likelihood of our becoming the next big thing is very slim. I think Dennis and I are the best-kept secret in Ontario. We work every day at music because we love to do this. To have success at something you love to do and tie that in to help somebody else, that's a dream for us."
At the wrap-up gala at The Academy Theatre, charities and causes involved in the project will also have the opportunity to put one item in a silent auction, with all proceeds from the sale of their item going back to them.
For more information on Boots of Hazard, visit bootsofhazard.com and to learn more about 21 Charities or to register your charity, visit 21charities.com.