It's the 85th anniversary of the drive-in theatre this year and, despite decades of challenges that have put many drive-ins out of business, the idea of watching outdoor movies from your car has endured.
Many people still relish driving out to a rural area, parking their car, heading to the concession stand for popcorn, getting comfy with some blankets and pillows, and tucking in for an evening of watching two (or more) movies.
Advertisement – story continues below
For the older generation, it's partly nostalgia (how many Baby Boomers were conceived at a drive-in, we wonder?). But even young people born during the internet age of on-demand video are discovering the drive-in experience.
That's good news for the three drive-in theatres operating in the Kawarthas, including the Lindsay Drive-In (229 Pigeon Lake Road, Lindsay) which opens for the season tonight (April 27).
The Port Hope Drive-In (2141 Theatre Rd. S., Cobourg) — Canada's oldest continuously operated drive-in — has already been open for a few weeks, and the Havelock Family Drive-In (800 11th Line, Hastings) opens for the season on the Victoria Day weekend (May 18).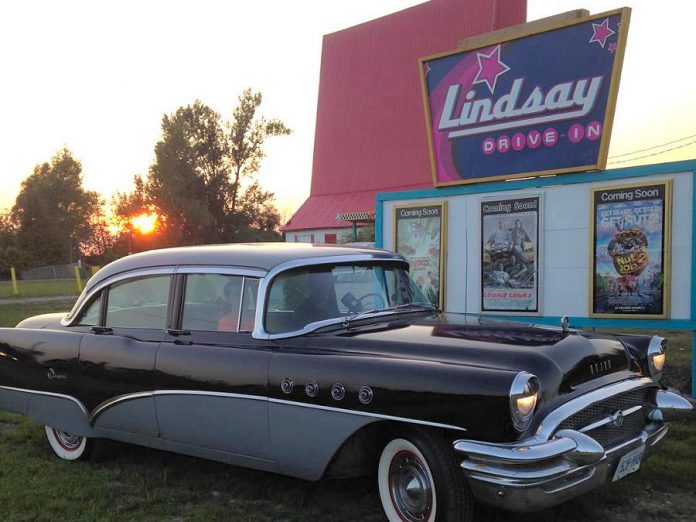 That's not to say that the drive-in theatre industry isn't continuing to face challenges. The Owen Sound Twin Drive-In Theatre at Springmount, which opened in 1950, closed permanently this year. Toronto's only drive-in at The Docks will also not be opening this season.
Back in 2012, the Mustang Drive-In in Peterborough — with the largest screen in Ontario at the time — closed for good, when the owner was unable to afford the switch to digital projection (more on that later).
And the Port Hope Drive-in was reluctantly forced to raise its prices this season for the first time in five years, to deal with increasing costs.
Even so, 18 drive-in theatres continue to operate in Ontario, with drive-ins located in Fonthill, Grand Bend, Gravenhurst, Guelph, Hanover, Havelock, Kingston, Lindsay, London, Midland, Oakville, Oro-Medonte, Pembroke, Perth, Picton, Port Hope, Sharon, and Tilbury.
A brief history of the drive-in theatre
The concept of the drive-in theatre was invented in the late 1920s by Richard Hollingshead of Camden, New Jersey. The story goes that his overweight mother couldn't get comfortable in regular movie theatre seats, so Hollingshead came up with the idea of an open-air theatre.
He mounted a 1928 Kodak movie projector on the hood of his car, projected the film onto a screen made of two sheets nailed between two trees, and placed a radio behind the screen for sound. Eventually he developed a ramp system so cars could park at different heights to see the screen without being obstructed by other vehicles.
In 1933, Hollingshead received a patent for the concept, formed Park-In Theatres, Inc. and opened "Automobile Movie Theater" — the very first drive-in theatre. He charged 25 cents per person and 25 cents per car, with a maximum cost of $1. Park-It Theaters later licensed the concept to Loews Drive-In Theaters, Inc. (the origin of the phrase "drive-in theatre"), but drive-ins didn't become popular until the advent of in-car speakers in the early 1940s. In 1946, Skyway Drive-In in Stoney Creek, Ontario (since closed) was the first drive-in theatre to open in Canada.
After some legal issues between Park-In Theaters and Loews Drive-In Theaters, Hollingshead's original patent was overturned in 1950, and drive-ins began popping up everywhere. They were popular because they offered affordable family entertainment. People could bring their babies and kids and amorous teenagers could find some privacy from their parents in what became known as the "passion pit".
During the drive-in peak of the late 1950s and early 1960s, there were more than 4,000 drive-in theatres in the U.S. and 250 in Canada. Today, there are fewer than 350 drive-ins left in the U.S. and fewer than 50 in Canada.
The decline of the drive-in began in the 1970s, with the rise of home entertainment options — colour television, cable, VCRs, and video rentals — that encouraged families to stay in the comfort of their homes. The energy crisis of the 1970s also had an impact, as did the widespread adoption of Daylight Saving Time (which forced movies to start an hour later, making them less family friendly).
To supplement their declining revenues, some drive-ins (which were already showing B movies rather than first-run movies, due to restrictions from movie studios) began screening mature films and adult films. However, this created a negative image and further discouraged families from attending.
The growing real estate market and increasing property taxes also affected the viability of drive-in theatres, many of which were located in the suburbs or in rural areas. Theatre owners ended up selling to developers who built shopping malls or residential housing developments on the properties.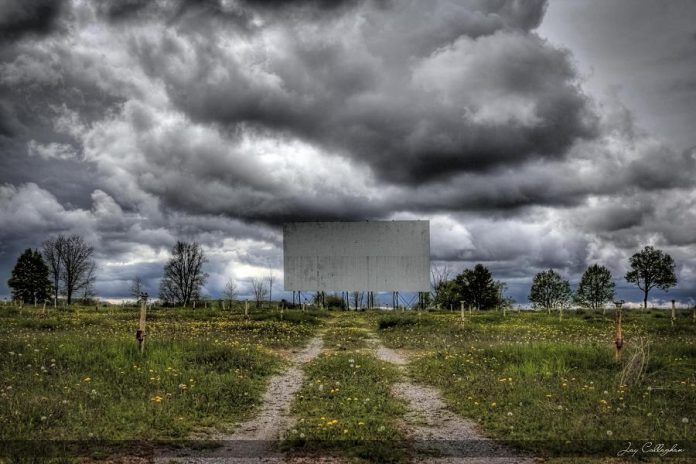 Despite the decline in attendance that shuttered many theatres, the quality of the drive-in experience continued to improve. In the 1970s, the original sound system used for drive-in theatres (an external speaker hung inside a car's window) was replaced by low-power AM broadcasts to car radios and, in the 1980s, by higher-quality FM radio broadcasts.
In the early 1990s, movie studios began offering first-run movies to drive-ins, and the drive-in theatre had somewhat of a resurgence. People could now see new and popular movies at drive-ins instead of going to a regular movie theatre.
The resurgence was short lived, however. In the 1990s and the 2000s, even more home entertainment options became available, including DVDs, larger and cheaper high-definition flat-screen televisions, and streaming internet video including Netflix. The final nail in the coffin for some drive-ins came when movie studios began to move away from producing 35mm film prints to digital, with an ultimatum issued to theatres to switch to digital in 2013.
This meant that drive-ins had to purchase high-definition digital projectors if they wanted to screen new movies. The conversion cost was $75,000 to $100,000 per screen — a difficult expense for drive-in theatres to justify with a limited number of daily screenings, and particularly for Canadian drive-in theatres that only operate for part of the year.
Still, even facing all these obstacles, drive-ins continue to make a go of it. But if you want to keep your local drive-in in business, make going to a drive-in movie a regular outing during the season.
What's playing at local drive-ins
During drive-in season, kawarthaNOW.com publishes movie listings every week for the Lindsay, Port Hope, and Havelock drive-ins on our Movie Listings page.
This weekend (starting April 27, 2018), Lindsay Drive-In is screening Sherlock Gnomes and A Quiet Place on Screen One, and Avengers: Infinity War and Black Panther on Screen Two. The movies run nightly from Friday, April 27th to Sunday, April 29th and on Tuesday, May 1st. For more information, including ticket prices, visit www.lindsaydrivein.ca.
From Friday, April 27th to Sunday, April 29th, Port Hope Drive-In is screening Avengers: Infinity War and Black Panther. For more information, including ticket prices, visit www.porthopedrivein.com.
Both drive-ins will open seven days a week in early summer, when school is out.
The Havelock Family Drive In opens for the season on Friday, May 18th (the Victoria Day weekend). For more information, visit www.havelockdrivein.com.