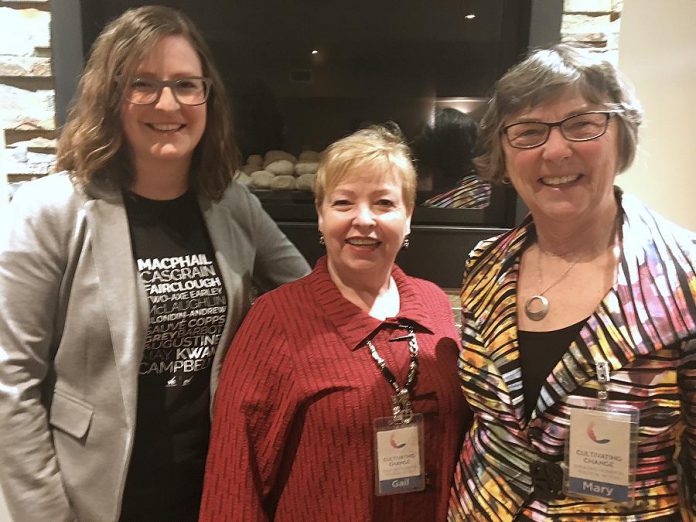 Besides representing Peterborough politically, what distinction do current MP Maryam Monsef and former MPP Jenny Carter share?
If you answered they are the only two women to ever represent the city at the provincial or federal level, step to the front of the line. (Editor's note: Gillian Sandeman also represented the riding of Peterborough as a New Democratic member of the Legislative Assembly of Ontario from 1975 to 1977.)
That revelation was just one of several brought to the attention of a sold-out audience of around 80 women who gathered Thursday evening (April 26) at the Ashburnham Reception Centre for "Cultivating Change: Engaging Women In Political Action".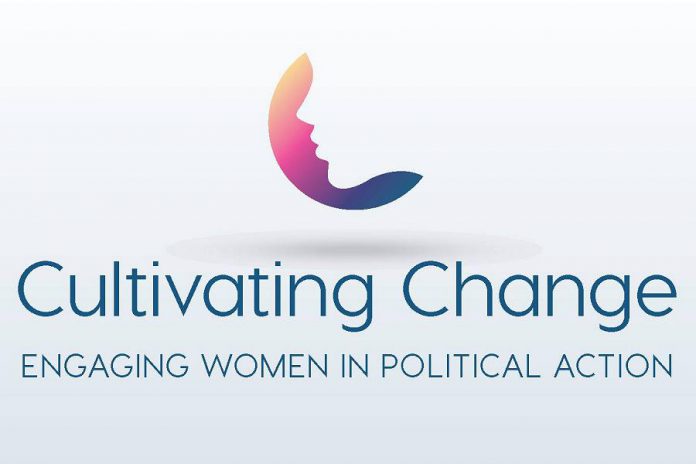 With the central message being that when women get involved in the political process, communities change, the non-partisan event featured a panel of three women with different political experiences: longtime local municipal politician Mary Smith, veteran election campaign organizer Lauren Hunter, and former Cambridge municipal election candidate Gail Moorhouse, who now lives in Peterborough.
The presentation and ensuing discussion, co-moderated by Devon Girard and Jocasta Boone, urged women to get involved politically in their communities.
Boone pointed to the 1995 endorsement of the economic and social councils of the United Nations which set a target of 30 per cent female participation at all decision-making levels. While that target has come close to being met at the municipal politics level across Canada (28 per cent), it's been a far different story locally.
"When we look at the last five (municipal elections) in Peterborough, only 19 per cent of candidates have been women and only 18 per cent of those have been elected," said Boone.
"Why does this matter? When we achieve gender equity, we know our communities change. Gender equity impacts every aspect of our communities. It's currently estimated that if we achieve gender equity it would add $150 billion to the Canadian GDP. This isn't small stuff. We'd have a thriving economy."
Saying "We need to lead by example, to have the viewpoints of women heard and matter," Boone urged the audience to get involved, noting change will be the result.
"The minute there are women sitting around the table, the minute we achieve that 30 per cent, the culture (of politics) will change. Women are more inclined to collaborate. They are more inclined to work across party lines. It would not be the way it is right now if we achieve equity."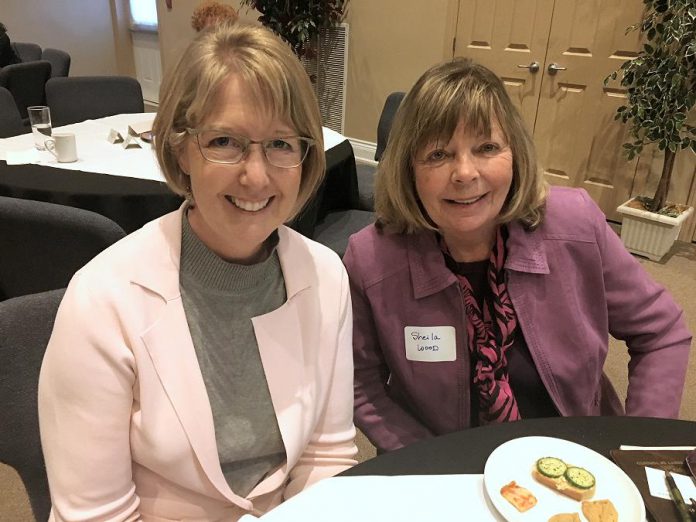 Earlier, Smith, Hunter and Moorhouse shared their experiences as major players in the male-dominated political sphere.
Mary Smith, the current second-term mayor of Selwyn Township, echoed the notion that more women in elected positions would prove to be a game changer.
"From what I've seen in local government, women are more willing to follow process and work collaboratively through that process," said Smith, whose political career began in 1998 when she was acclaimed deputy reeve for Lakefield.
"I respect that. I think that brings us to a better place in the decision-making process in government. The more women we have on council, the more open council is to gather information to put in front of the public."
Asked by Girard what needs to be done to motivate more women to seek elected office, Lauren Hunter said an awareness of potential candidates is key, followed by encouragement.
"We are seeing more women in positions of leadership … the more we have that, the easier it will be for the younger generation to see herself sitting around the table," Hunter said.
"We each need to take it upon ourselves to find women in the community in non-traditional places. There are a lot of politicians who are lawyers or have a business background and that's great, but that doesn't mean that it's only those professions that make great politicians.
"Great politicians come from all walks of life. We need to start seeking them out. Ask her to run, and then ask her to run again, and over and over until she says 'Yes, you're right, I do have the qualifications, I am capable and I deserve to be there.'"
Referring specifically to audience member Diane Therrien, a relatively youthful Peterborough city councillor serving her first term, Gail Moorhouse said she's a role model for younger women to consider running.
Hunter, who worked for a time for MP Monsef, said much the same about her, noting young girls look to her with awe.
VIDEO: Devon Girard & Lynn Zimmer talk about "Cultivating Change" on CHEX

Boone, meanwhile, left the audience with several ways they can bring about change, leading to more empowerment for women while inching that gender equity percentage higher, not just in political circles but in all male-dominated scenarios.
"The first is you've got to show up and you did tonight," she said. "You came out. You made the commitment of time. You made it a priority. We have to keep showing up. We can't do this work while sitting at home. We need to show up."
Boone also listed voting, sharing a talent with the community, volunteering with a campaign, donating cash to candidate, run for elected office, getting involved with a voter or citizen engagement initiative, advocating on an issue that matters to you personally, and engaging your network
"We can get to 30 per cent, just 30 per cent is all we're asking for," said Boone.
"We are 53 per cent of the population. We have networks. We can do this. It's important that we're having this discussion. It's important that we're sharing with our neighbours and our sisters and our daughters and our co-workers. It is important that this not end at nine o'clock tonight."
Along with Boone, Girard, and Moorhouse, other organizers of the event were kawarthaNOW.com founder and publisher Jeannine Taylor, acorn30 founder and CEO Heather Watson, YWCA Peterborough Haliburton executive director Lynn Zimmer, and Louise Racine, founder of Thirteen Moons and the Peterborough International Women's Day Conference.