Danny Michel, who's performing at Peterborough's Market Hall on Thursday, May 24th, is another one of those amazing Canadian musicians you may have heard of.
Perhaps you've heard his 2017 song "24,000 Horses" which he wrote and recorded on a Russian icebreaker in the high Arctic at the invitation of retired astronaut Chris Hadfield.
Or maybe one of his David Bowie covers from his 2004 album Loving the Alien, or maybe you heard him performing on the late Stuart McLean's The Vinyl Cafe.
Maybe you've donated to one of many worthy causes Danny supports, such as The Danny Michel Ocean Academy Fund or The Isaac Foundation.
Possibly you've been to one of his School Night Mondays shows, with musical guests like Jim Cuddy, Oh Susanna, Whitehorse, Tom Cochrane, and Amelia Curran. Or maybe you've seen his web series "Dan's Space Van" featuring a Star Trek themed van that travels the world and features interesting people and musical guests.
VIDEO: "24,000 Horses" – Danny Michel

Or you might have read Danny's plea on social media last summer, after he accidentally left one of his favourite guitars at a Tesla charging station in Barrie, where it was found and returned to him by an Innisfil baker — who then found himself with a load of new customers grateful for his good deed.
Even if none of this sounds familiar, you'll want to read on — because Danny Michel is one of the most creative and adventurous Canadian singer-songwriters and music producers you're likely to discover.
We're certainly not the first to say this. The Winnipeg Sun wrote he's been "criminally overlooked" and The Toronto Star wrote he "must be a bit weary of being ranked as one of this country's undiscovered musical treasures. But it's true."
Of course, that's not a surprise to Danny's devoted fan base. They already know about his thoughtful lyrics and his earnest performances, and the way his music so effortlessly crosses genres from folk, pop, rock, and even classical. Danny's been nominated for three Juno awards and the Polaris prize, and he won two Canadian Folk Music Awards just last year.
Danny Michel was born on January 31, 1970 in Kitchener-Waterloo, Ontario, where he also grew up. He was interested in music from a young age.
"When I was tall enough to reach up and bang the keys on the piano I was doing it," he says in a 2015 interview with Catherine Bird in the Canadian environmental magazine Alternatives Journal.
"I loved the technical part of music too. My dad used to have the old reel to reel machines and I used to love playing with them when I was a kid. I would record my voice on it and play with it and change the speed of my voice. Then I would put the tape on backwards and play it backwards."
VIDEO: "Nobody Rules You" – Danny Michel

"I didn't do well in school because my head was in a cloud of music stuff and everyone was telling me 'you can't do that' and my guidance counsellors were saying 'you've got to get serious Michel' and I never did. I just ignored everyone and kept my eye on the prize."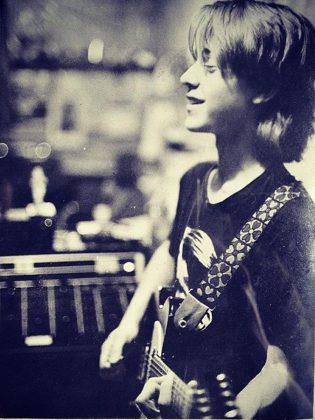 And that he did. By the time he was a teenager, he was already performing. In 1986, at the age of 16, he played his first gig at The Level 21 in Kitchener-Waterloo (he had to sneak in).
A couple of years later, he joined The Rhinos, an eclectic rock band from Kitchener that disbanded in 1995. He then moved to Ottawa where he joined power-pop band Starling, and also performed his own material as Danny Michel and The Wedding Band with Starling members Ian LeFeuvre and Peter von Althen.
Four years later, he split from Starling and went solo, releasing his first record Fibsville in 1999. This was followed by 2001's In the Belly of a Whale, Tales from the Invisible Man in 2003, and then Loving the Alien in 2004, cover album of David Bowie songs (Danny has been a huge Bowie fan from a young age).
Danny released Valhalla in 2006, Welcome Home + Danny Michel and the Black Tornados Live DVD in 2007, Feather, Fur & Fin in 2008, Live in Winnipeg and Sunset Sea in 2010, Black Birds Are Dancing Over Me in 2012, Matadora in 2016, and Khlebnikov in 2017.
The last album brought Danny a measure of well-deserved attention from mainstream media for several reasons, not the least of which was that he wrote and recorded all the songs on the album in the cabin of an icebreaker in the arctic.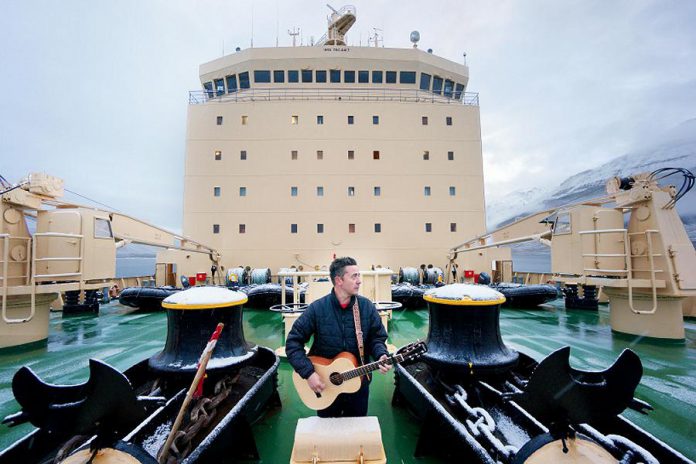 In 2016, retired Canadian astronaut Chris Hadfield, along with his son Evan, invited a small group of 10 scientists, photographers, writers, and musicians — including Danny — to join "Generator Arctic", an 18-day arctic expedition through the northwest passage aboard the legendary Soviet-era Russian icebreaker Kapitan Khlebnikov. The Hadfields conceived of the journey as an extension of their famed science-based variety shows aimed at blending knowledge, music, and comedy.
Danny wrote and recorded all the songs on Khlebnikov in a makeshift studio in Cabin 712, using only a Larrivée parlour guitar, a couple of microphones, and a laptop.
Back in Canada, brass and string arrangements written by Danny's childhood friend and celebrated film and TV composer Rob Carli were added to the recordings Two tracks on the record are sung in Russian, including one featuring the voice of Chris Hadfield.
"I fell in love with that ship," Danny says in a February 2017 interview with Ben Rayner of The Toronto Star. "I've never liked a machine so much. I mean, I like old cars, but you know what this was like? It was like the Millennium Falcon. You know the love that us boys had for that thing? It was like the Millennium Falcon meets the Grand Budapest Hotel."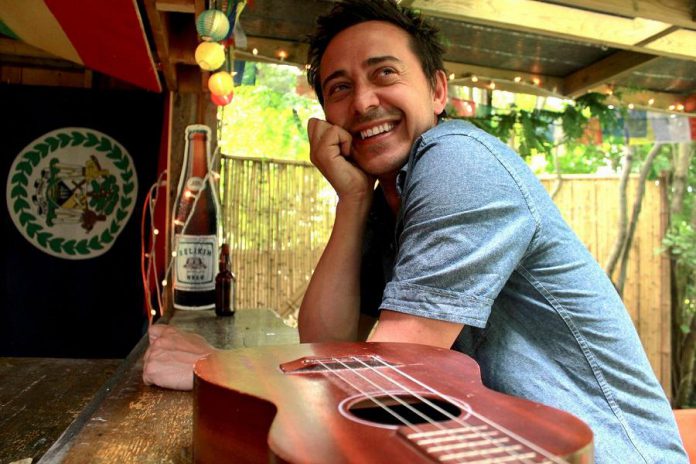 "When you go down into the engine room and the control rooms, it's astonishing. As a guy who loves gear — like, old gear in a recording studio — all the machines and dials and these old vintage consoles, it's gorgeous."
"Our job was to absorb the experience and bring it back and share it with the world in whatever way we wanted to. There were no rules. It was like 'Let's just all go experience this together and see what comes out of it from each of you.' It was nuts. It was just overwhelming.
"For me, to be able to go to see this corner of the planet that so few people get to see. Like, literally: I felt like I got to go to the moon or something."
VIDEO: "Sad And Beautiful World" – Danny Michel with The Garifuna Collective

His arctic journey was only Danny's latest foreign adventure. After visiting the Central American country of Belize for 15 years, Danny relocated there in 2011 to track down one of his favorite Belizean bands, The Garifuna Collective. He convinced them to record an album together.
Billboard called Black Birds Are Dancing Over Me "one of the finest musical works of our time", and it garnered Danny a "World Music" Juno nod and was longlisted for the Polaris Music Prize, and led to a sold-out summer tour of North America with The Garifuna Collective.
The Belize collaboration also led Danny to one of his many philanthropic pursuits. While in Belize, he also founded the "Danny Michel Ocean Academy Fund", which helps fund scholarships for a small non-profit community high school and has raised over $74,000 for the school so far.
Danny is also a supporter of The Isaac Foundation, which raises funds for research into mcopolysaccharidoses (MPS), a group of rare metabolic genetic disorders including Hunter Syndrome, which causes the progressive loss of physical and mental function; it primarily affects boys, most of whom don't survive past their teenage years.
Danny usually performs at the foundation's annual gala fundraiser, as he did at this year's gala held this past Saturday (May 5) at The Venue in Peterborough.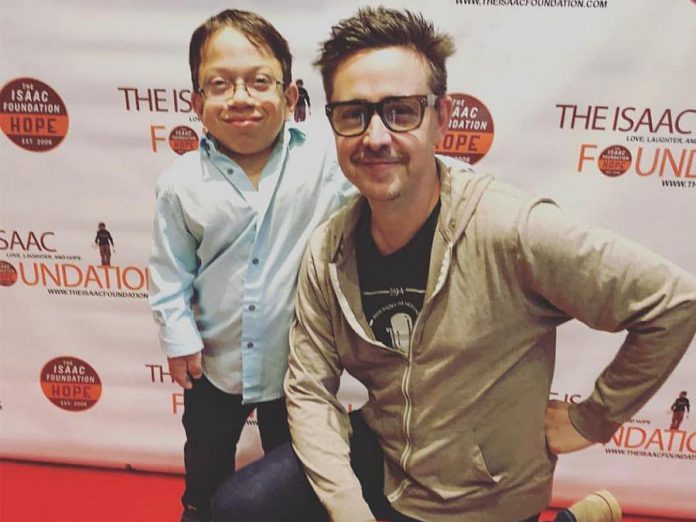 Danny's other charitable causes have included Ghana Medical Help, The Spirit of John (for the Alzheimer Society, named in honour of Spirit of the West lead singer John Mann), The David Suzuki Foundation's Blue Dot tour, and The Andy Kim Christmas concert for charities including The Starlight Children's Foundation.
As if all that isn't enough, Danny also launched his web series "Dan's Space Van" in 2015, after purchasing 1978 GMC G15 Vandura van from the original owner who had commissioned Toronto artist Gordon S. Roy to airbush the van in a Star Trek theme. The van includes portraits of Leonard McCoy, Captain Kirk, and Spock, as well as the starship Enterprise shooting a phaser at a psychedelic moonscape. It has a diamond quilted and crushed red velvet interior.
"I'm a Canadian musician with a crazy idea that could really honour your van," Danny wrote in his pitch to the owner, who was selling the van on Craigslist. "I buy it, fly out west and tour back across Canada to get it home. We do a special show in Vulcan (Alberta) and stop to visit the artist. Maybe we could some Q on CBC Radio coverage? We document the whole thing. I may have completely lost it but life is short. This could be really fun and give the van a real adventure and attention it deserves."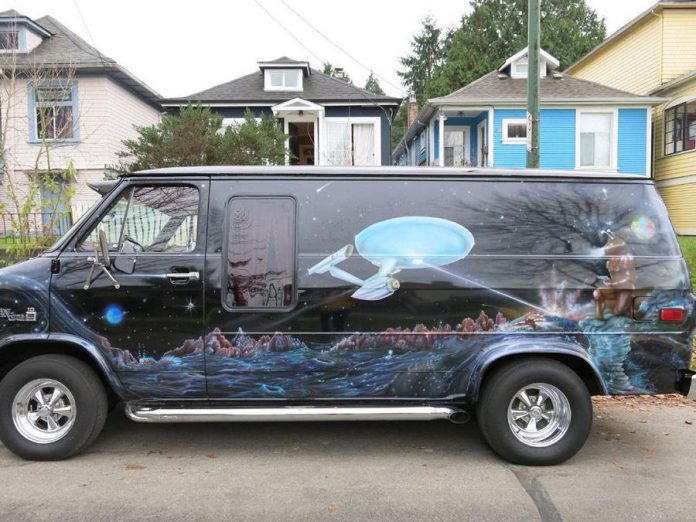 Danny was true to his word, and he travels the world in his van, interviewing people and featuring musical guests who perform in the van, including Alan Doyle, Jim Cuddy, The Milk Carton Kids, Ed Robertson, Hawksley Workman, Chris Hadfield, Matt Mays, and Neil Osborne. Now in its third season, the 21 episodes of "Dan's Space Van" are available on Danny's YouTube channel.
We're exhausted just writing about everything Danny Michel has been doing. Apparently, Danny himself was a little exhausted. Last year, he moved to "the country" — a small community in Grey County, Ontario, close to the Bruce Trail.
As he often records all the instrumentation for his songs, he's set up an extensive studio in his new home (he calls it "Danlandia Gardens Studios"), which looks out onto a rural treed landscape often visited by deer. It's where he's recording his next album.
VIDEO: Danny Michel in his home studio recording a song for his new album

"Without a doubt, it's been the greatest decision of my life," Danny writes on Instagram. "The change in lifestyle, priorities, health, and headspace is profound. Living deep in nature, caring for gardens, wildlife and land has uncovered the best version of me I've known."
He's also an avid skier, so being in close proximity to ski hills, including Blue Mountain near Collingwood, is icing on the cake. If you live in the area, you can catch Danny and his band at School Night Mondays during May 2018 at Crow. Bar and Variety in Collingwood.
For Danny's performance at Market Hall Performing Arts Centre (140 Charlotte St., Peterborough) on Thursday, May 24th, tickets are $25 for assigned cabaret table seats or $20 for general admission, and are available in person at the Market Hall Box Office, by phone at 705-749-1146, or online at markethall.org.