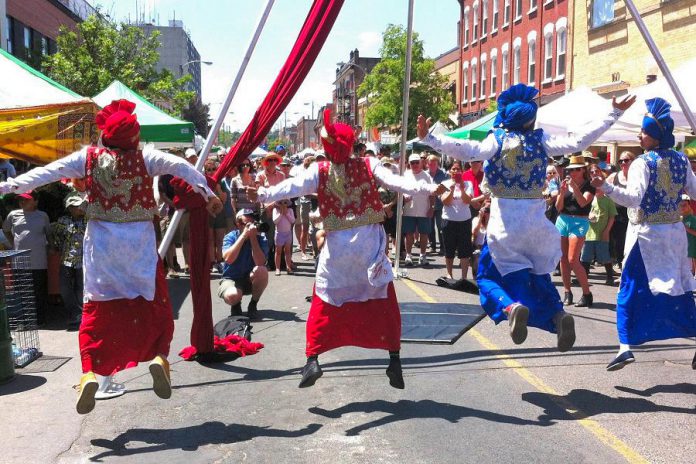 This month, food writer Eva Fisher gets ready for summer with two new ice cream stops in Bobcaygeon and Peterborough, a craft brewery in Fenelon Falls, and the return of downtown Peterborough's food-themed street festival.
---
Taste beer from the Fenelon Falls Brewing Company before it opens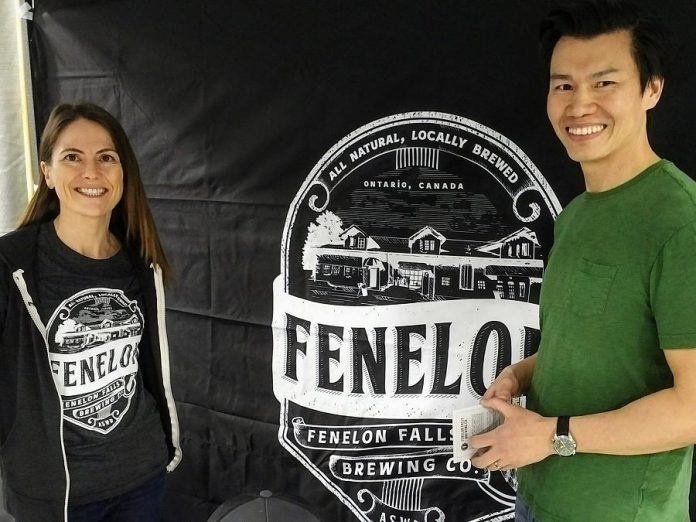 Something new is brewing in Fenelon Falls — and on June 15th from 7 to 10 p.m., you can give it a taste.
Agatha and Vinh Mac are in the process of opening the Fenelon Falls Brewing Company (4 May St, Fenelon Falls, 705-215-9898). The new brewery will be located at the old Livery Stable building, a beautiful stone building across from the locks in Fenelon Falls.
They considered renting the building out, but they realized that by starting their own business they could make a real impact on the town. As Agatha puts it: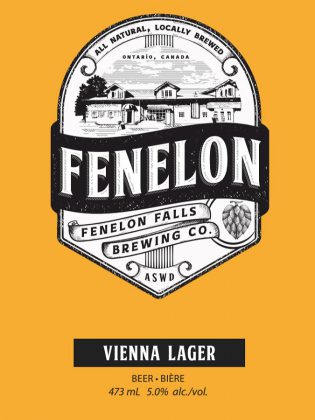 "We could do something that would change Fenelon. We're not brewers, we're not beer connoisseurs; we just enjoy good beer. And we thought that's exactly what Fenelon needs: a place for the community to gather and also to really put it on the map and make it a destination."
Agatha and Vinh first decided to open a brewery two years ago, but they were delayed by the trip of a lifetime.
"We've been planning for eight years to go away for a full year and travel around the world," Agatha explains.
That's not to say that they weren't sampling beer on their journey.
"We were in Poland, the Czech Republic. Amazing beers there. We had some really fresh beer in Vietnam, and in Australia. Some great Pacific Ales."
They expect to open in September, but in the meantime they're throwing a beer-tasting party on Friday, June 15th at the Fenelon Falls Seniors Centre (58 Murray St, Fenelon Falls,) to release their two flagship beers: a Red Ale and a Vienna Lager.
Agatha says that the beer has had a positive reception thus far.
"We had a tasting here in Fenelon Falls and the feedback was really incredible. There seems to be nothing quite like it. And they're also very approachable, that was important to us. They're not too bitter, just nice, easy, and refreshing to drink."
Tickets for the beer tasting are $25, with all proceeds from the beer tasting will go to the Kawartha Lakes Community Foundation. For more information and beer-tasting tickets, visit www.fenelonfallsbrewing.com.
You can also look for Fenelon Falls Brewing Company beer in local restaurants beginning on the May long weekend.
Bigley's Sweet Treats offers ice cream with fashionable flair
"Happiness is ice cream & new shoes."
That's the motto of Bigley's Sweet Treats (55 Bolton Street, Bobcaygeon, 705-738-2522), a new ice cream shop opening on the Friday of the May long weekend (May 18).
Owner Sherry Peel (also the owner of Bigley Shoes and Clothing) says the idea to open an ice cream shop came after she had already bought the building, which had served ice cream previously as Wild Palm.
"The customers seemed to really want that ice cream shop, so we decided to keep it as what it was. It has been an ice cream shop for 20 years at least."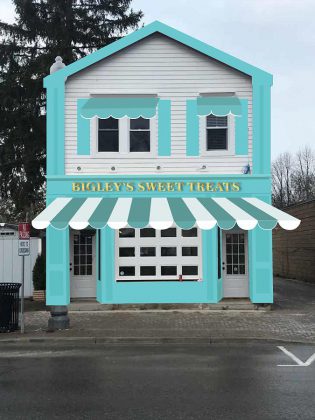 Sherry decided to take that concept and give it a more up-to-date aesthetic.
"We're making it quite modern and fun. We have a pink neon sign for people to take social media pictures with. It's a fun place to come and feel good and enjoy some really great desserts."
With its turquoise, pink, and white colour scheme, the shop's decor is inspired by Florida's Key West — but when it comes to the ice cream, Bigley's Sweet Treats is pure Kawarthas.
Not only will they serve Kawartha Dairy ice cream, they will offer a variety of sundaes inspired by cottage country, including the Lock 32 Warm Brownie Sundae, Kawartha Lakes Pralines with Nuts Hot Fudge Sundae, Pigeon Lake Caramel & Sea Salt Sundae, and the Sturgeon Lake S'mores Chocolate Sundae.
They will also offer soft serve, which can be flavoured with up to three of nine flavour bursts or dipped in one of 12 varieties of warm Belgian chocolate.
You can even have it in a Bobcaygeon Razzle: soft serve ice cream blended with candy.
While you can enjoy Bigley's Sweet Treats beginning on the May long weekend, watch for the grand opening celebration on Canada Day (July 1).
A Taste of Downtown to rock Charlotte Street this June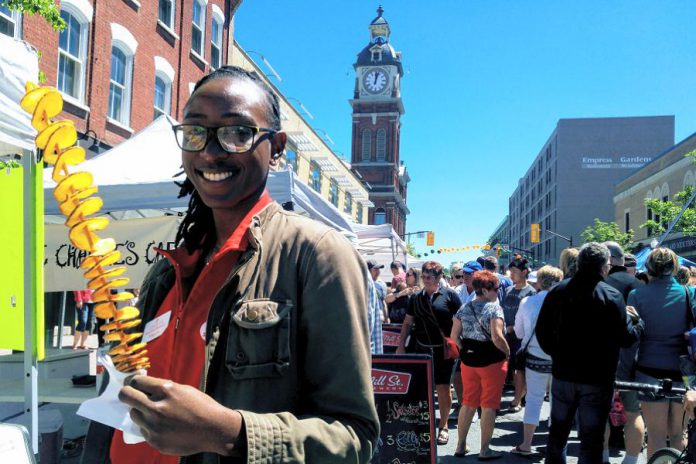 A Taste of Downtown returns on Saturday, June 2nd. From 11 a.m. to 5 p.m., a portion of Charlotte Street will become a pedestrian-friendly food street festival featuring 26 local restaurants.
Terry Guiel, executive Director of the Peterborough Downtown Business Improvement Area, says that this year's event is one to really look forward to.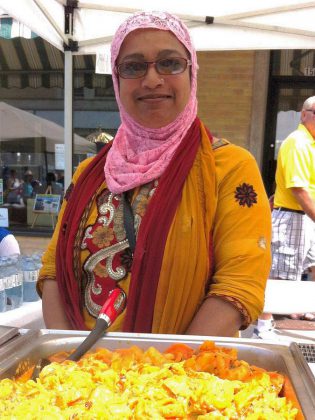 "This is the biggest one we've had. People can expect an incredibly wide variety of culinary expertise, and they all bring their A game to this."
Terry suggests bringing some money and an appetite to try something new.
"Experiment. Check out some of the newer restaurants."
From sample-sized fare to large plates, A Taste of Downtown has it all.
There will be a beer garden offering Publican House beer where you can also enjoy live rock and roll and jazz music. Another stage emphasizes cultural diversity: here you can dance to steel drums or savour the melodies of the Guzheng, a Chinese harp.
Terry says that A Taste of Downtown shows off the best of what downtown Peterborough has to offer.
"With Taste of Downtown, we're showcasing what we do best. The Peterborough downtown is known for its entertainment and its restaurants. We have over 90 places to eat in the downtown, and the variety is incredible."
For more information, visit downtownptbo.ca.
Pedal Parlor Co. to peddle nostalgic ice cream treats throughout the region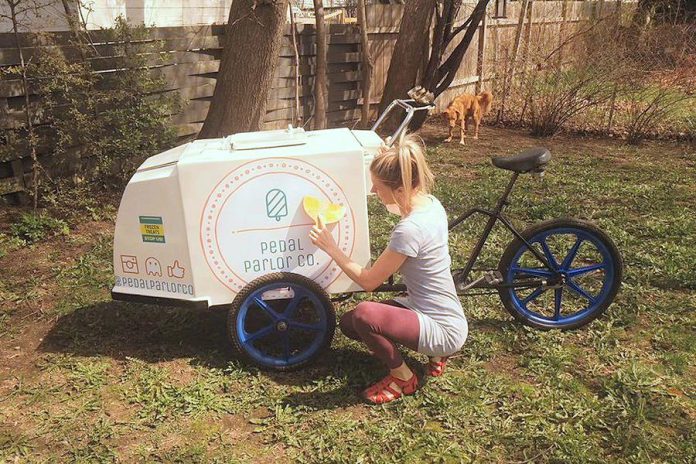 Once upon a time, bicycle ice cream vendors were a common sight — the Dickie Dee bike was a beloved fixture of any summer downtown.
Jesse Guerin and Niki Allday of Pedal Parlour Co. are bringing that tradition back, by peddling ice cream at events, weddings, and on the streets of Peterborough beginning this week.
"It was actually Jesse's idea." Niki explains. "When we first started dating years ago, he had this vision to open up what used to be a Dickie Dee bike."
Niki held off, saying that they should wait until they bought their first house. As if by fate, two months after they bought their first home a refurbished Dickie Dee bike came on the market.
The couple set to work making their nostalgic dream come true. Some of the classic flavours have been discontinued: the ghost popsicle with the gumball nose and the chocolate baseball glove with the gumball ball are no longer manufactured. But you can still enjoy creamsicles, fudgsicles, and the firecracker (previously known as the rocket pop).
Pedal Parlor Co is also bringing in some new treats. They offer healthy popsicles made by local artisanal popsicle makers Peterpops. This will include a new flavour developed exclusively for Pedal Parlor Co: the Hawaiian Colada. This is a blend of pineapple, coconut milk, and oranges with a cherry frozen on top.
In addition to treats for humans, Niki and Jesse have developed "Pupsicles" exclusively for dogs.
"We have two rescue dogs who obviously get very hot in the summer, as do the rest of us!" Nikki explains.
These water and chicken-based treats will come in two flavours: peanut butter and apple.
The grand opening launch of Pedal Parlor Co. will be at Whelan's Flooring on Saturday May 26th.
Watch for Pedal Parlor Co. on the streets of Peterborough, or follow them on Facebook, Instagram, and Twitter.