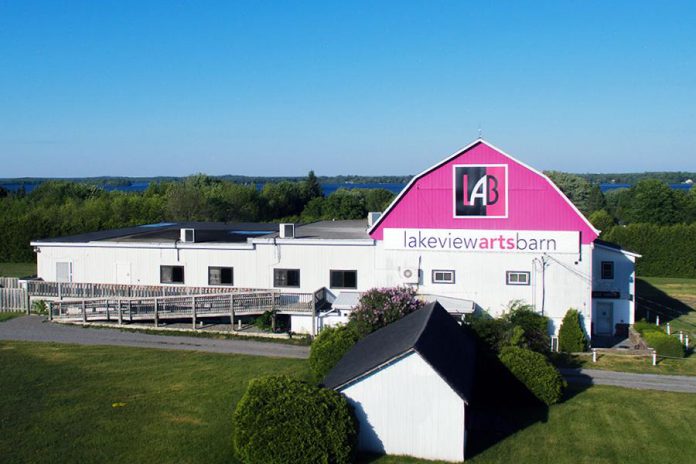 One of the best things about my summer is my annual visits to Globus Theatre at the Lakeview Arts Barn in Bobcaygeon.
Every time I make the scenic drive to this grand old barn, I know that I'm going to have a great night. Not only am I sure to see what is always consistently a good show, but I also am greeted by a warm and welcoming staff, superb performances, and a beautiful and inviting theatrical space unlike any in the area.
Headed by artistic producer James Barrett and artistic director Sarah Quick, this year Globus Theatre enters its 15th season with a series of shows calculated to continue the excellence that brings audiences back to the Lakeview Arts Barn every summer.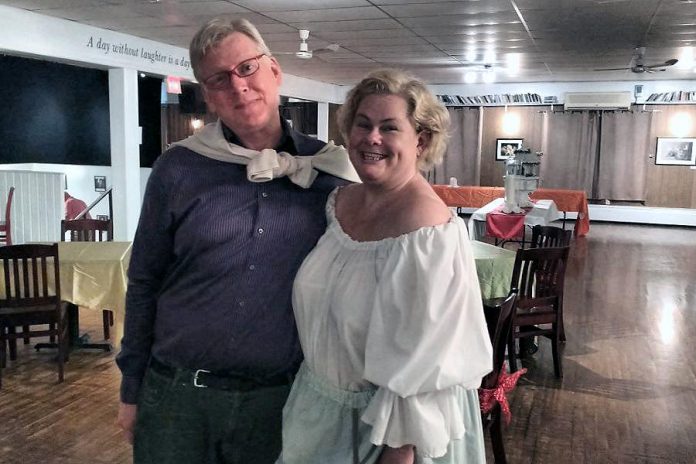 "When you look at the different shows there is risky stuff, new stuff, creative stuff and theatrically different stuff," says Sarah Quick of the 2018 season. "It's going to be a nice mixture."
For more information about Globus, their events, and to order tickets for any of the following shows, visit lakeviewartsbarn.com/globus-current-season.
---
Sunshine Express (June 7th – 9th)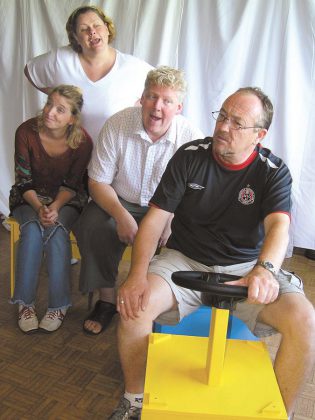 Although Globus' summer season officially begins at the end of June, theatre goers can jump start the season with the presentation of a past favourite, Sunshine Express, which runs from Thursday, June 7th to Saturday, June 9th.
These performances are a short precursor to a mini-tour of the show, which includes a run of performances at the Gayety Theatre in Collingwood from June 12th to 16th. There will also be a one-night performance at the Village Playhouse in Bancroft at 7 p.m. on Wednesday, June 6th (tickets are $25, available at Hospice, Vintage on Hastings, Posies, Harvest Moon on online at www.bancroftvillageplayhouse.ca).
Written by Sarah and featuring her and James alongside Globus regulars Mark Whelan and Anna Silvija Broks, this marks the third time Sunshine Express has been performed at Globus since its debut in 2010.
A show about a young couple who take a seniors' bus trip to Florida, the play features the four performers creating 30 different characters through voice, body language, and characterizations.
"Sunshine Express was written purely to encourage DeNure Tours to be our season sponsor," Sarah explains. "I told them that I would write a show about a bus tour down to Florida that made everybody leaving the show wanting to take a bus tour. So James and I took the bus tour down to Florida — 26 hours straight down — with all the elderly people.
"It's almost entirely biographical. I was worried that I couldn't write a show with enough humour in it, but within five minutes it was writing itself. You'd be sitting there, and all these elderly people are having sing songs and having the time of their life. It was joyous and wonderful because these people who are going on these tours are all saying 'Let's go and do this! Let's travel! Let's experience life!' It was very easy to write in the end."
Across the Pond: The British Invasion (June 26th – July 7th)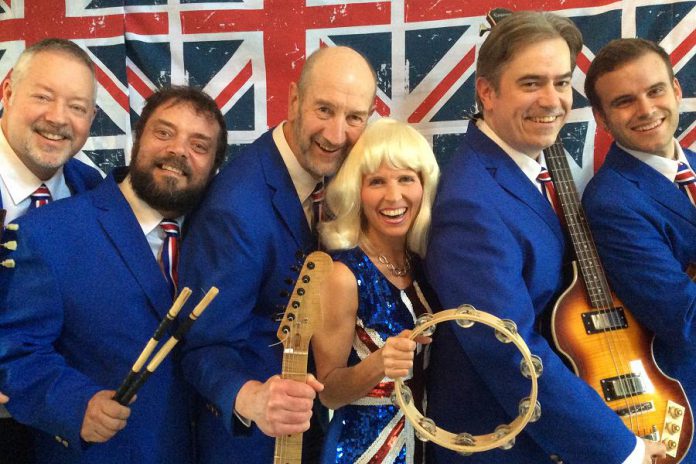 Globus' summer season officially opens on Tuesday, June 26th, when Leisa Way and The Wayward Wind Band return for Leisa's newest musical revue Across the Pond: The British Invasion.
A favourite at Globus Theatre, Leisa has become a fixture each summer with her musical tributes. In the past, she has presented the music of Dolly Parton, Judy Garland, Patsy Cline, as well as a tribute to the history of Canadian music.
For her latest show, Leisa and her group take on the British Invasion featuring the music of The Beatles, Eric Clapton, Annie Lennox, The Hollies, Herman's Hermits, Led Zeppelin, Queen, Petula Clark, Elton John, and more.
VIDEO: Across the Pond: The British Invasion

"Leisa and her band are super talented," James says. "They highlight different music each time they are here. Leisa is incredible but now it's really amazing to see the talent of her band, who are becoming more involved in the show with their singing and performance."
"It's huge when you are producing stuff to know that someone is going to come in that is going to be nice to work with and give a good product," Sarah adds. "There is nobody that can leave this theatre and not be entertained after seeing one of Leisa's shows. It may not be your style of music, and it may not be your cup of tea, but there is no denying the talent that everybody has that is on that stage."
Lunenburg (July 11th – July 21st)
From July 11th to 21st, Globus presents Norm Foster's newest show, Lunenburg, which made its theatrical debut last year at the Norm Foster Festival in St. Catharines.
When Iris Oulette inherits a house that she didn't even know existed, she and her close friend travel from the United States to the town of Lunenburg, Nova Scotia, to have a look at her new property. What follows is a series of world-changing surprises, heart-warming personal transformations, and a fall-down-funny romantic adventure.
"Norm Foster has a large canon of plays, so there is a huge pick to choose from," Sarah says. "So when you talk about a flow of a season to finding the right play to fit in among the rest of our season, you can guarantee that one of his plays will be one that fits in."
"We've had a few seasons without him, but Norm Foster is a good writer," James adds. "He writes some very funny plays with a lot of heart to them. Lunenburg is a lovely play."
Like Father, Like Son? Sorry (July 24th – August 4th)
From July 24th to August 4th, Chris Gibbs — another Globus favourite — returns with his one-man show Like Father, Like Son? Sorry which has been featured at both Just for Laughs and the Winnipeg Comedy Festival.
James and Sarah first had Chris to Globus for their first season 15 years ago, and most recently last year as part of their successful immersive theatrical experience Raising the Barn.
Written after his son Beckett was born, Like Father, Like Son? Sorry is about Gibbs' experience of becoming a new father and about his fears of being a bad one.
"We met Chris twenty years ago on the Fringe circuit," Sarah says. "He's British, and he started as a street performer in Convent Garden, and then came to Canada and was a busker at all the Fringe festivals that James and I were performing. He eventually moved indoors and started doing comedy shows, and was doing a lot of stand up and one-man shows.
"What you get from his shows is a little bit of a theatrical mix. It's a play, it's a story, but he's also riffing on a bit of stand up as well. He's a very naturally funny guy, and I believe there are points in the show where he can say whatever he wants, and talk about whatever's happening around here at that particular time."
Murder for Two – A Musical Comedy (August 8th – August 18th)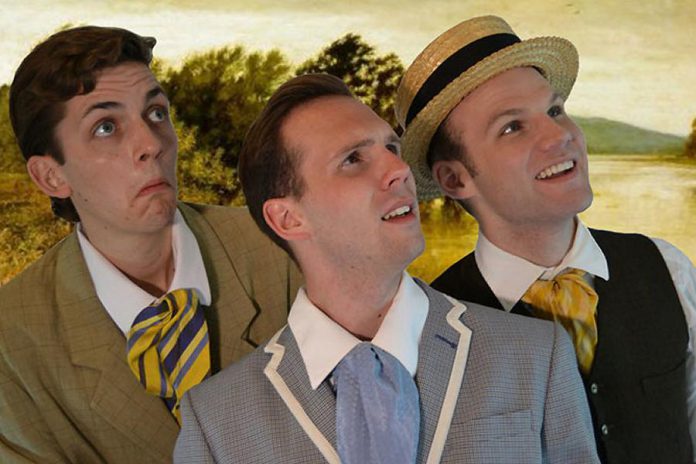 Then, from August 4th to August 18th, Globus presents Murder for Two by Kellen Blair and Joe Kinoshian. A musical murder mystery, Murder for Two features the talents of Matt Pilipiak and Victor Pokinko who delighted Globus audiences in 2015 in Three Men in a Boat.
"It's a musical comedy murder mystery," James says. "It's really funny. What happens is that this author dies and this police officer comes out to investigate it. It's a two hander, where one actor plays the police officer, and the other plays all the suspects that are in the room. It is hysterical."
What makes Murder for Two even more exciting is that the show will unveil Globus' latest acquisition to their space: theatrical legend Colm Wilkinson's personal grand piano. A true treasure for any theatre to own, Sarah and James acquired the piano earlier this year after coming into contact with Wilkinson through James' Toronto production of Marie Jones' Stones in His Pockets in 2015, which prompted the celebrated thespian to visit the Lakeview Arts Barn for the show's revival in 2016.
"When James was directing Stones in His Pocket, Colm Wilkinson went and saw it, and then when we did it here he came and saw it again," Sarah recaps. "A woman who we worked with last year in Funny Farmers, Kelly Holliff, tours and sings a lot with Colm Wilkinson, and at the end of last year she posted on Facebook that he was leaving touring, and he was retiring back to Ireland and he has this grand piano that he is trying to sell.
"Everybody wanted it, and we thought that it'd be great to have the Phantom of the Opera's grand piano! I wrote to Kelly that I'd love it but there was no way that we'd be able to afford it. She wrote me back and said 'Why don't you write him and make an offer, because he wants to make sure it's going to a good home.' So we made him an offer, and he accepted it. He liked the space, and he liked what we were doing. So we have Colm Wilkinson's grand piano upstairs, and he even signed it for us."
However, that wasn't the only gift that Globus received from Colm Wilkinson.
"He gave us a box of CDs to sell over the summer," Sarah adds. "Once we sell all of them, we'll have gotten back the money that we spent on the grand piano. We are excited to have a part of theatre history in our space, and the boys doing Murder for Two are excited to be playing it!"
Sugar Road (August 22nd – September 1st)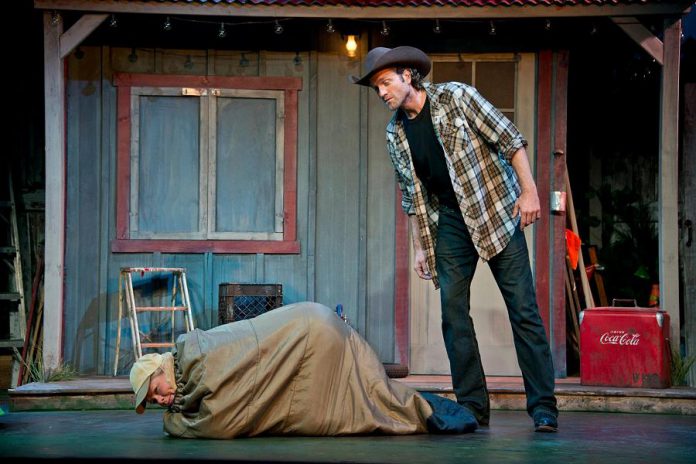 Globus wraps up its summer season with their final show, Sugar Road by Kristen Da Silva, which runs from August 22nd to September 1st. A new play from one of Canada's hottest new playwrights, Sugar Road made its debut last October in Orangeville with Sarah in one of the show's leading roles.
"It revolves around a very handsome cowboy country singer named Jesse Emberly," Sarah says. "When he rolls into town everyone goes a little crazy, especially my character Caroline who has a huge crush on him."
"It's a very lovely play by a very up and coming playwright," James adds. "Kristen has a lot of shows being produced this year. We are very happy to be doing this show."
In the role of Jesse Emberly is Jake Simmons, who originated the role in Orangeville.
"Obviously getting a very good looking cowboy to play the part is very important, and we managed to get him to come to Bobcaygeon," Sarah says. "He's also the actor who played the Patrick Swayze role of Johnny Castle in the Mirvish production of Dirty Dancing in Toronto."
Sugar Road also features the song "Coming Home", which was originally written for the show by Ian Blackwood and found its way onto the Canadian Country Music Charts late last year.
Three children's shows and two more performances of The Great Butter Tart Tour Mystery
Six shows in three months makes a very busy summer schedule, but there are even more events featured in Globus Theatre's schedule through June to September.
Following the success of last year's Saturday morning family events, Globus has another three shows aimed at children throughout the summer. On Saturday, July 14th, Solar Stage comes to the theatre for Memorable Munsch, featuring adaptations of legendary children's author Robert Munsh. On Saturday, July 28th, the Little Red Theatre arrives for their production of Peter Rabbit. Saturday, August 4th sees the return of Toronto's The Dog Pound which presents improv shows for children.
Globus will also be performing two encore performances of The Great Butter Tart Tour Mystery, which made its debut earlier in May. Their annual murder mystery dinner theatre, this wildly funny tale of sweet treats and bitter betrayals was produced in conjunction with the Kawartha Lakes Butter Tart tour. The Great Butter Tart Tour Mystery will be performed on Monday, July 30th and Saturday, September 29th.
One of the truly special places in the Kawarthas, Globus Theatre at the Lakeview Arts Barn is such an important part of my summer.
I can't express enough my recommendation that you make the short drive to Bobcaygeon for one of their wonderful evenings of entertainment.