Carmela and George Mangos, owners of Sugar Dust Bakery & Cafe in Port Hope, wanted to do something to give back to their community.
The couple were introduced to the concept of a pay-it-forward meal program while visiting a friend's restaurant in Oshawa. Taking note of what worked well (and what didn't), Carmela and George decided to approach community outreach groups directly to create a program that is both unique and discreet.
"One of the things we took away from the restaurant in Oshawa was that their program was offered to buy lunch for anyone, not just someone in need," George says. "We saw how that caused a lot of problems."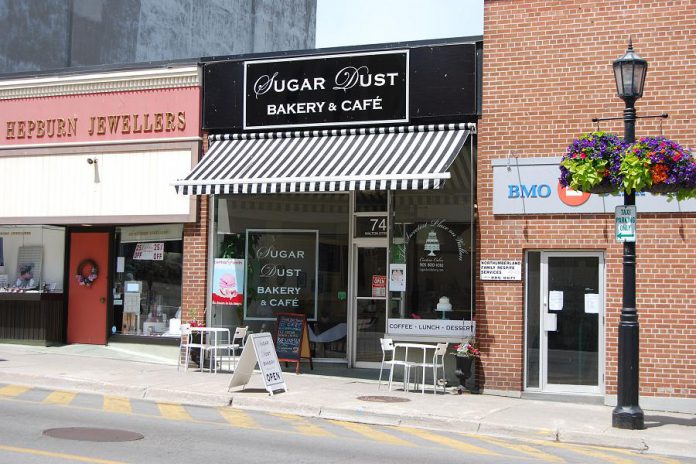 "Because the donated lunches in Oshawa were available to any customer at all, the restaurant had to deal with customers arguing over who would receive a free meal," Carmela explains.
"For us it was easy to set the boundary of offering lunches to a specific group of people, because we want to make sure that our lunches go directly to those most in need. It is important to us that our donors are getting what they paid for — a chance to help someone who really needs it."
Reaching out to local grassroots charity Greenwood Coalition and The Port Hope Food Cupboard (an organization in partnership with the Fare Share Foodbank and Salvation Army), Carmela and George have found the best way to distribute their donated lunches.
"As soon as we have collected a few vouchers, we contact one of our community outreach groups and provide them the vouchers to distribute as they see fit," Carmela says. "When a recipient comes in, they simply exchange the voucher for their complimentary lunch."
"We are open to working with any local outreach organization that has access to people who need the help," she adds. "Any organization that could distribute donated lunches is welcome to contact us and join the program."
The Sugar Dust model offers customers two ways to donate. The restaurant already offers a free lunch loyalty program to regular diners, who can collect six stamps after buying six lunches and get the seventh lunch free. As part of the pay-it-forward program, these complimentary "bonus" lunches can now be donated back to the restaurant.
The second way to participate is to pay a fixed price of $7.00.
Sugar Dust Bakery is an all-butter, fresh-ingredient "from scratch" restaurant and bakery located at 74 Walton Street in Port Hope — not far from Port Hope's biggest tourist attraction, the Capitol Theatre. While the lunch program is geared towards local customers who regularly stop in to buy lunch, tourists can also make donations.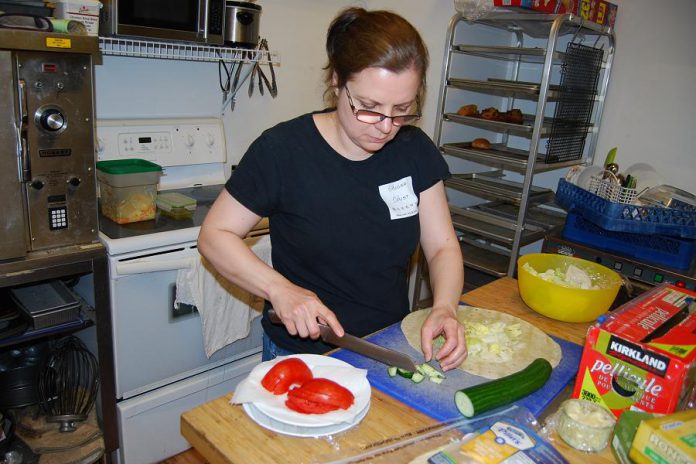 "We wanted to provide a fixed price as an option for irregular customers who love the idea, or for regular customers who want to donate more than their loyalty card," George says. "It's a way for anyone to participate, at any donor level."
Some donors have been very generous to date.
"So far we have had a lot of success," Carmela notes. "Every time we post about pay-it-forward on social media, there is increased interest."
Since launching the program in May, a total of 23 lunches have been donated — and at least one customer has purchased multiple lunches to kick off the program.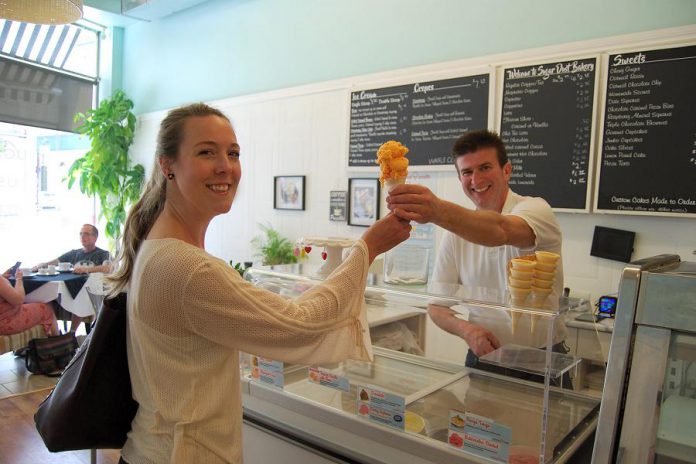 Port Hope resident Glyn Marr was the very first lunch donor and he loves the idea. What made him want to participate?
"I support anything that can help people, and I usually help a little bit if I can."
George believes a program like this is long overdue.
"I think it should have been done a long time ago. When you see someone come in with a big smile on their face, getting a free lunch — that's pretty amazing."
For details about the Sugar Dust Bakery menu, hours of operation, and community initiatives, visit www.sugardustbakery.com or follow them on Instagram @sugar_dust_bakery.
To find out more about Greenwood Coalition, visit www.greenwoodcoalition.com. The Port Hope Food Cupboard is open to the public on Thursday afternoons from 1 to 3:30 p.m. and is located at the Port Hope Community Health Centre (99 Toronto Rd., Port Hope).