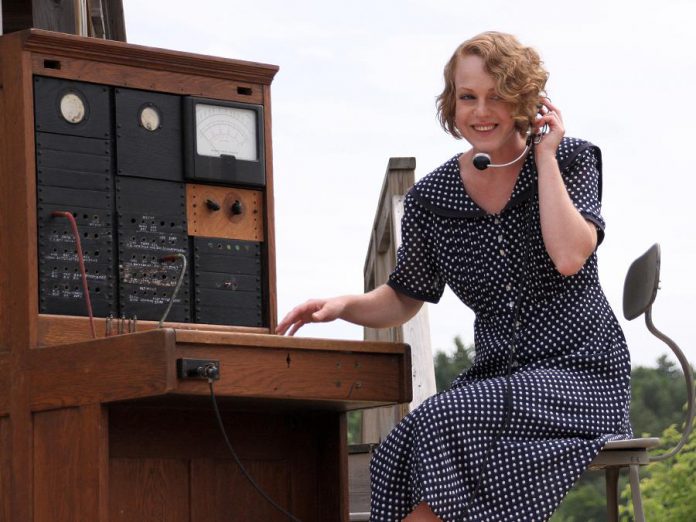 As 4th Line Theatre readies its 2018 season-opening presentation of Crow Hill: The Telephone Play, it would be easy to say, write, or think 'third time's a charm.' Easy but not even close to accurate.
Commonly used as a reference to something that that has been twice unsuccessful but perhaps will be successful the third time around, that phrase needs a minor tweak to better fit this case — something like 'third time's a charm … again.'
Premiered in 1997 at the Winslow Farm near Millbrook and staged again in 2004, Crow Hill: The Telephone Play is billed as "a poignant and humourous look at love, friendship, and community in a world where technological changes can irrevocably alter the fabric of society."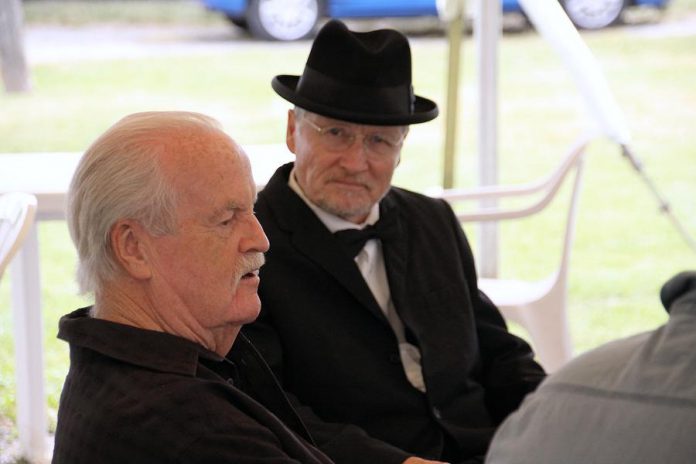 Ian McLachlan, who co-wrote the play with 4th Line Theatre founder and creative director Robert Winslow — in total they've penned six plays together — agrees completely with that synopsis, particularly the community aspect.
"We were thinking about writing a play about storytellers, and the technique and structure of stories … what makes a story effective," says McLachlan.
"Then we found out a lot of people we were interviewing were older women who had been telephone operators in the pre-Bell era. Telephone operators and barbers know the most stories.
"Our focus started to change to a story of how telephones in rural Ontario started largely in doctors' offices.
"The sense of a history of a community that's told through a particular kind of work that's done in a community is something that's quite enduring. It goes on being interesting to people. In a way, this is a nostalgic play."
McLachlan says that, long before the advent of social media, the telephone was "the one way people could come together" and, in that sense, was "a hub of the community."
While capturing that in an entertaining fashion ensures a captive audience, McLachlan adds there's something else at play here.
"It's about two good people (Doc Logie played by Winslow and Alice Cameron played by Sarah McNeilly). It's hard to write about good people. It's easier to be an actor portraying a complicated, evil person.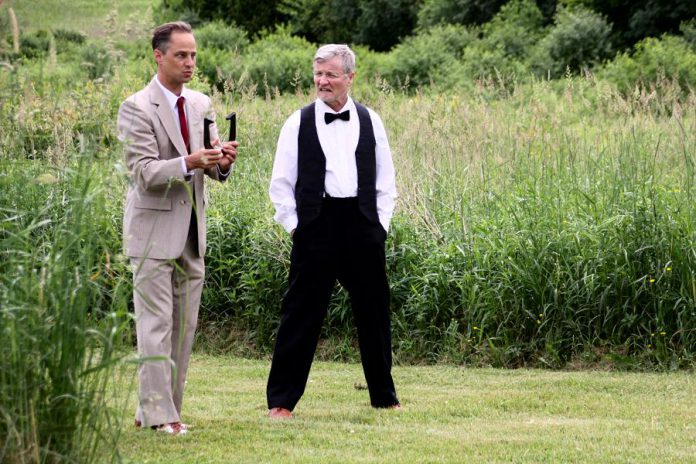 "Doc Logie and Alice are both morally driven people. It's hard to find good people in unsentimental ways. Hollywood is full of sentimentalized good people, but not un-sentimentalized people who have problems like everyone one else. People relate to that."
The storyline of Crow Hill: The Telephone Play follows what happens after Doc Logie opens the first telephone service in fictitious Crow Hill, taking on 15-year-old Alice as the switchboard operator.
Its writing was inspired by the life of Ona Gardner, a switchboard operator for Beatty Telephone System, which was owned and operated by Dr. Alexander Carruthers Beatty in Garden Hill (north of Port Hope) for more than 30 years in the early twentieth century (originally to keep in touch with his patients).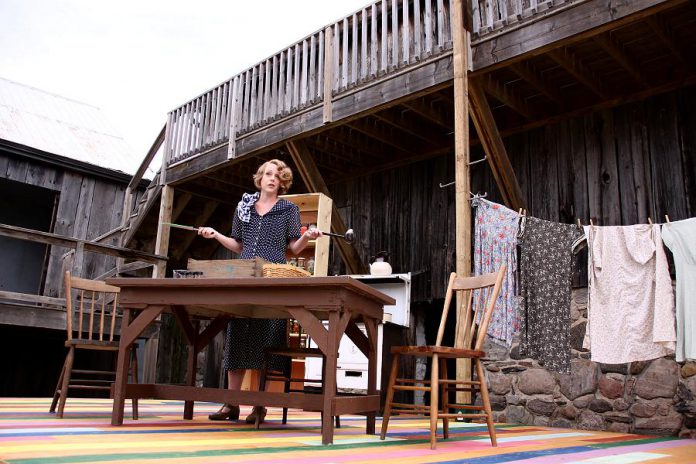 After Dr. Beatty died in 1946, his wife Sophia continued the system until her death in 1956 when it was sold to the neighboring Port Hope Telephone System of Newtonville and eventually to Bell Telephone Co.
In Crow Hill: The Telephone Play, when the potential to make money from the telephone becomes clear, fast-talking salesman Ed Milton (Courtenay Stevens) makes a bid to open a telephone company. That puts him in competition and conflict with Doc Logie and Alice.
Directing is Deborah Williams, an award-winning actress, playwright, and storyteller. She's the third different director of the play, with Susan Spicer having guided the original staging and 4th Line Theatre managing artistic director Kim Blackwell doing the same in 2004.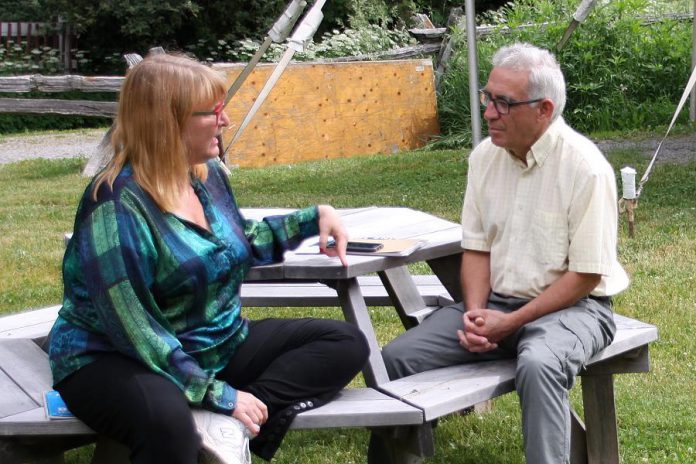 "I haven't had to re-invent the wheel but because there isn't an archival video, there's not much to actually base it on, so it's what I saw the first time I read it," says Williams.
"It really jumped out at me because my dad is a rural physician. He is Doc Logie. Alice is my dad's receptionist. She didn't have time to have her own family. She was so dedicated to the people of Summerland (in the Okanagan Valley). And I think it's also about how we create family. Who is family and how does that happen if you don't have your own direct family?"
"Kim gives me information if I ask, and she just lets me be if I don't ask. She said, 'This is your production.' It's not a remounting in the true sense."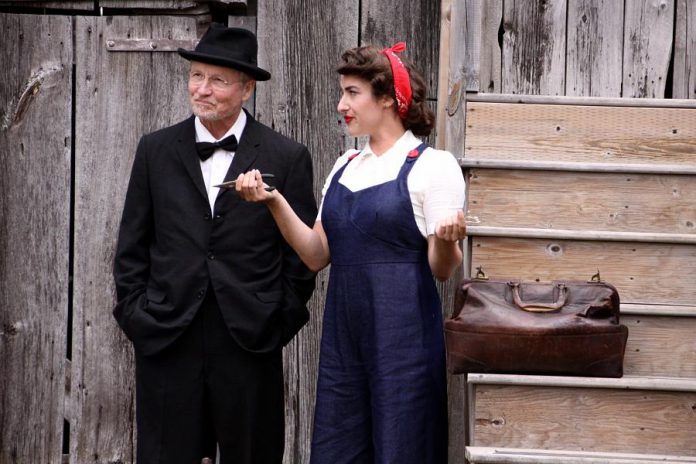 Along with Winslow, McNeilly, and Stevens, Kait Dueck also stars in the play, portraying Grace Dyson, a telephone repair technician who's eventually won over by Stevens' character. It's her third 4th Line Theatre production.
"All of the characters are very human … everyone has their character flaws and their likability," says Dueck in reference to the play's enduring appeal.
"It's nice to see the humanity of people, and flawed heroes are interesting…they have problems just like I do," notes Stevens of the appeal of the play's main characters.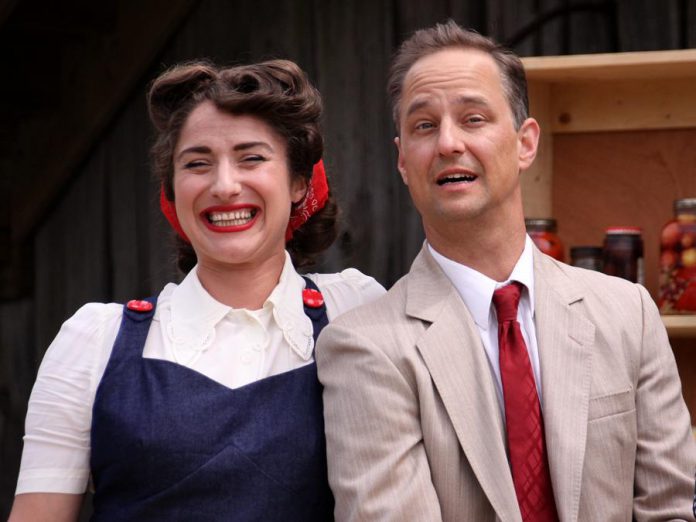 "You cheer for them. You want them to succeed."
Both Dueck and Stevens agree that the opportunity to perform in an outdoors setting was too good to pass up.
"It's just such an unbelievably spectacular vista, it will never grow old," assesses Dueck, adding "There's lot of insects and it gets hot … pretending that it's winter when it's 40 degrees … so there are challenges but, by far, the good outweighs the bad."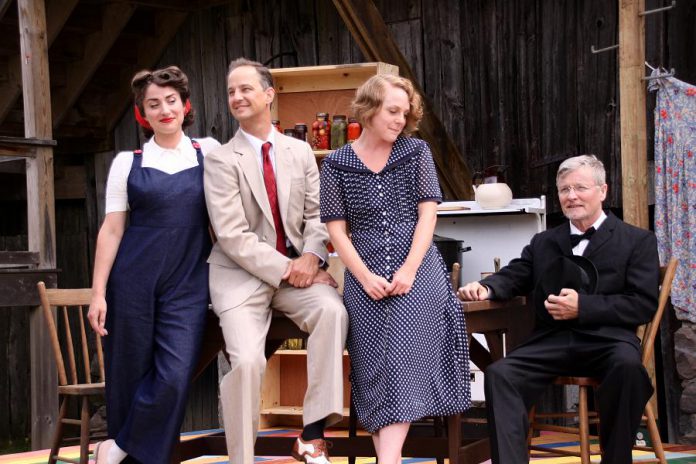 "I love outdoor theatre to bits," adds Stevens, a veteran of fresh-air acting who's making his first 4th Line Theatre appearance.
"For the audience, there's something about going outside and having an experience. You can't cue the chipmunks. The unpredictability is exciting."
Playing Alice from age 15 to 77, McNeilly says that's opened her eyes to "how life changes us. You really need to understand the plot and the arc of the story to think about how that conditions the character."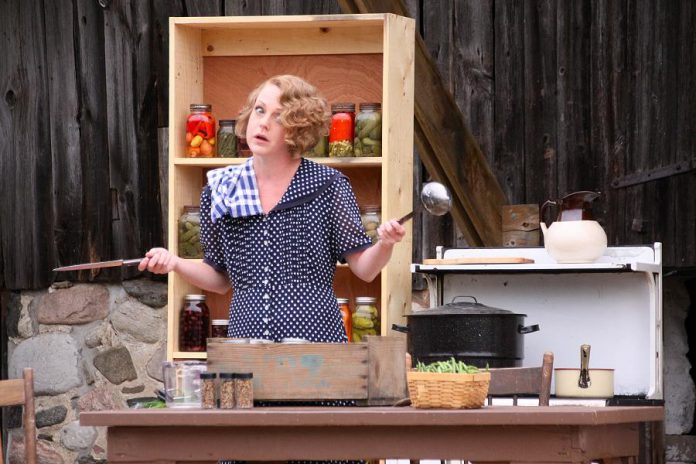 Like Stevens, McNeilly is also making her 4th Line Theatre debut — returning to the stage after being diagnosed in May 2016 with breast cancer at the age of 31.
"I'm thrilled. They sort of have a reputation for only hiring the coolest people ever. Every morning I get here and think 'I am so lucky.' This is bucket list material.
"The characters are so real. It's challenging as an actor because there are so many layers and so many nuances and facets to it, but it's really rewarding. None of the characters are perfect, but they're all trying and I think that's so real."
With original composition and musical composition by Justin Hiscox, choreography by Monica Dottor, costume design by Meredith Hubbard, and set design by James McCoy, Crow Hill: The Telephone Play runs July 3rd to 28th, Tuesday through Saturday, with curtain at 6 p.m. There will be added performance on Monday, July 23rd, also at 6 p.m.
Tickets are $38 adults and $32 youth and can be purchased by phone at 705-932-4445, online at www.4thlinetheatre.on.ca, or at 4th Line Theatre's box office in Millbrook at 4 Tupper Street and in Peterborough at the Peterborough Museum and Archives (300 Hunter Street East, atop Armour Hill).