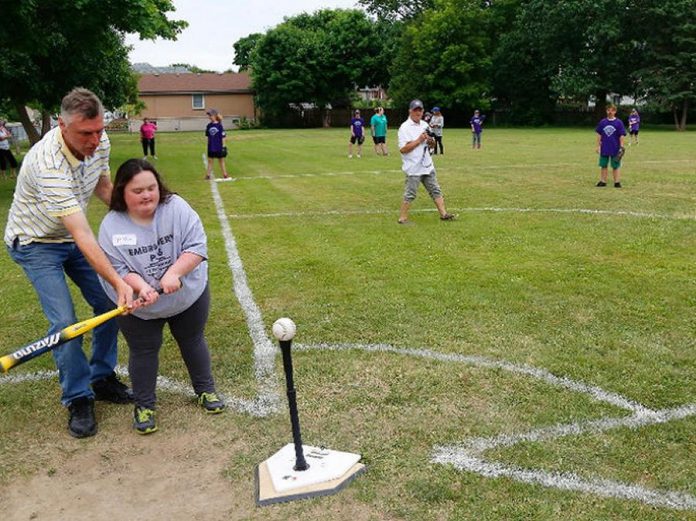 The founder of Peterborough Challenger Baseball, a special needs baseball league, is furious after discovering some of the team's equipment has been stolen and vandalized.
Bernie Daynes discovered last night (June 20) that someone had broken into the team's equipment box at Turner Park at Chamberlain and High streets, where the Peterborough Challenger Baseball Juniors plays every Wednesday night.
Daynes says three brand new batting helmets were stolen, along with the team's seven bats and about a dozen balls. The bats are specially designed for special needs children, with a soft exterior and a harder core. The balls are the size of a regular softball, but are made of high-density soft foam to make them safer for players.
Daynes also says the thief or thieves stuffed an additional batting helmet into the basin of a portable toilet.
To night I discovered that punks and thieves will take anything … The Peterborough Challenger Baseball Juniors play every Wednesday night at Turner Park, and have since 2016. .. They stole all of our bats, balls and 3 helmets from our special needs junior ball teams.

— Peterborough Challenger Baseball (@PtboChallenger) June 21, 2018
Daynes believes the equipment storage bin was broken into between Monday and Wednesday night.
"The theft of this equipment was bad enough," Daynes wrote on Facebook on Wednesday night, "but to make it worse, it was game night tonight and with the theft it looked like my band of happy fun loving ball players would miss out playing a game."
Fortunately, Daynes writes, a young boy who lives in the neighbourhood lent the team three of his own bats. As Daynes carries a demonstration ball with him so show families interested in the game, the team was able to play.
Challenger Baseball, a national organization, is an all-inclusive league designed to give children and youth aged six to 18 who are living with cognitive or physical disabilities the chance to play baseball. There are no outs, no strikes, no ball counts, and no score — it's all about playing the game and being part of a team.
Daynes started a Peterborough league in 2016, which relies on donations and fundraising to operate. It will be expensive for the league to replace the missing equipment.
Daynes says that people or businesses who want to donate to help replace the equipment and show support for the team can drop off their donations at Hobies Sports (186 Charlotte St, Peterborough, 705-745-7770).
If you have any information about the theft, email challenger.peterborough@gmail.com or contact the Peterborough Police Service.