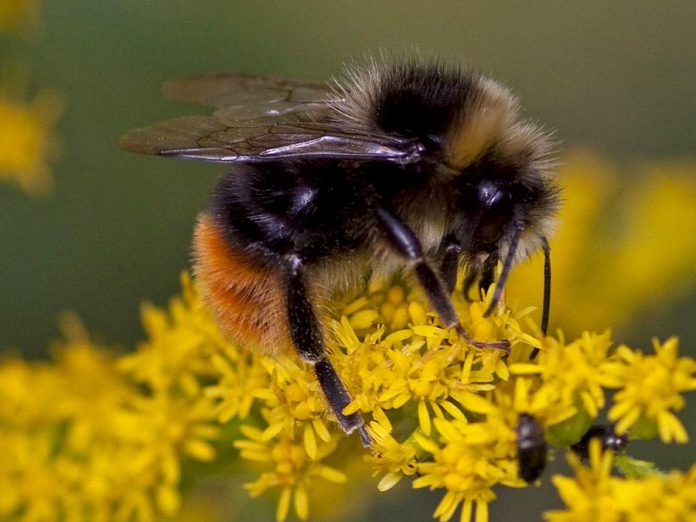 Summer has arrived, and with it comes the familiar sounds of early morning bird calls, leaves whispering in the wind, and cicadas calling in the treetops.
But the once familiar buzz of a bee has become less common these days. Like most pollinators, bees are under threat. The good news is that there are many things you can do to help the bees. Join us in celebrating National Pollinator Week, which runs until Sunday, June 24th.
If you are to conjure up the image of a bee, what comes to mind? Most of us may think of its black and yellow stripes, hear its buzzing sound, salivate at the thought of tasting delicious honey, or maybe even cringe at the idea of a possible sting!
These traditional bee images we think of are all about the honeybee — but if you spend a few minutes watching flowers in your yard, you will realize that there is great diversity in the bee world.
It is estimated that 200,000 animal species pollinate plants, with bees leading the way. There are over 300 different species of bees in Ontario, each of them adapted for our environment here. Their relationship with flowering plants has evolved over the past 100 million years, with 20,000 bee species worldwide now relying on flowers as their buffet.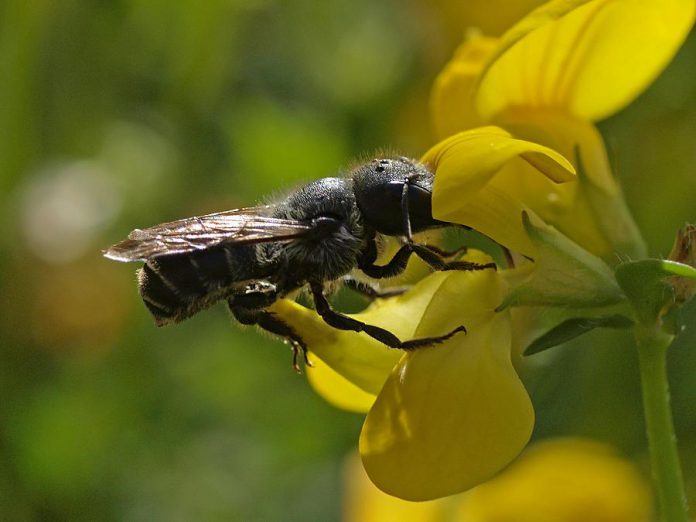 Most native bees are specialists, which means they feed from only one type of flower. Each species has its own tongue length, which suits a specific type of flower. For example, the Hoary Squash Bee exclusively feeds from and pollinates zucchini, squash, and pumpkins. In comparison, honeybees are generalists, which means they can feed from a wide range of flowers.
Approximately 90 per cent of wild native bees are solitary, living in ground nests, reeds, and old logs. For most, it takes between 15 to 35 trips to get enough food for each egg cell. For a Blue Orchard Bee, this means it is likely to visit 1,124 to 2,625 flowers to get enough food for one baby.
All those visits to flowers means that native bees are very skilled at pollination. One acre of fruit trees can be pollinated by 250 to 700 Blue Orchard Bees, when it would take two honeybee hives — each containing 60,000 bees — to do the same job.
From the Mining Bee to the Mason Bee, approximately one out of three bites of the food you eat has been pollinated by a member of the bee family. Honeybees seem to get all the attention but, surprisingly, they are not from around here. Honeybees arrived in North America from Europe with early colonists and since then, honeybees have remained here providing us with their pollination services and sweet honey.
But our world is ever-changing. Bees are disappearing at an alarming rate. This year, beekeepers reported 70 per cent hive losses, and there is no way of knowing how native bees have held up.
Why are bees in trouble? The best response I've heard is bees are dying "by a death of a thousand cuts." There's not just one definitive reason, but rather many reasons why bees are disappearing.
So what is happening to bees and how can you help?
---
Pesticides
Sprayed pesticides and genetically modified seeds are killing bees from the inside out. If a bee visits a flower that has been sprayed, it ingests the poison much like we would.
Contact with a pesticide may not cause death right away. A build-up of pesticides over time, like inside a honeybee hive, has catastrophic repercussions where the build-up is enough to poison the next generation of bees.
What can you do?
Avoid using pesticides and chemical fertilizers. Buy plants that have been grown in a greenhouse that does not use neonicotinoids. These chemicals will exist on the plant and in the soil of the pot that you purchase.
Buy native plants that have been grown in local conditions, are able to survive the local climate, and that will be more likely to feed our local native bees. You can find many species at the Ecology Park Garden Market at 1899 Ashburnham Drive in Peterborough.
Nutritional Deficits
Bees do not have enough food. Fragmented habitats, habitat loss, and fertilized lawns have replaced wildflower landscapes that once existed. New research is emerging suggesting that honeybees and wild native bees are competing with each other for forage.
As managed honeybee numbers are increasing in numbers and their hives are being moved around to respond to agricultural needs, competition for food between honeybees and wild bees is increasing — with wild bees losing out.
What can you do?
Plant pollinator gardens!
Start with removing a patch of lawn and replacing it with local, native species. Remember to consider blooming times.
Ideally, you want to create a garden that is beautiful and blooming all summer long, providing forage for pollinators at different times of the summer.
Climate Change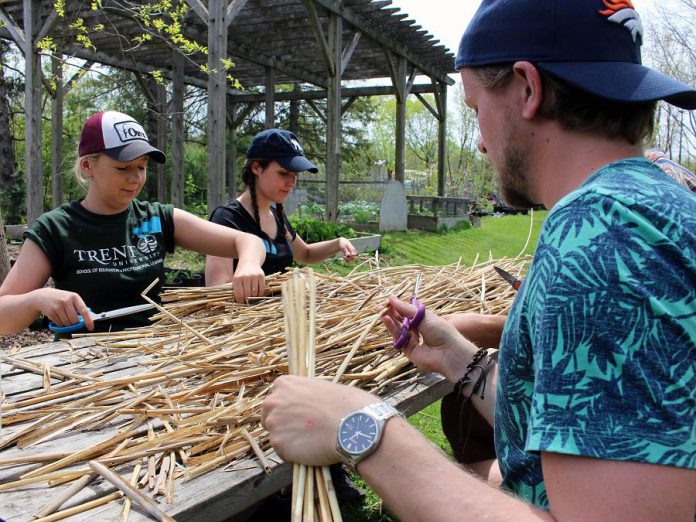 As the climate changes, summers become hotter and winters become colder and longer. Many honeybee keepers reported losses this year due to the extended cold spring. Like wild bees, honeybees depend on spring blooms to feed.
A prolonged cold spring can create bloom/forage deficits. When the temperature fluctuates so much during spring, emerging bees can be left with flowers that have not yet bloomed, or with a shortage due to die off of existing blooms.
What can you do?
To help bees in spring, honeybee keepers provide specialized diets in the form of sugar syrup and pollen supplements to help managed bees stay alive until flowers are in bloom.
To help wild bees, we can help provide habitat. To do so, be mindful while raking old leaves off the garden in spring; a new Bumblebee queen may still be hibernating underneath. You can leave open soil and wet mud for Miner and Mason Bees so they can make nests.
You can also construct native bee houses and place them around your yard. Leave old logs and hollow plants for bees to make nests in, or create a native bee house by drilling holes into a log.
Disease
Disease can be the cause of poor honeybee health and entire colony losses, so with so many other factors impacting bees disease can be the last foot in the grave.
One of the main culprits is the Varroa destructor disease, which consists of a miniscule mite that attaches itself to a honeybee and slowly depletes its fat reserves.
Do these diseases transfer to wild bees? Many beekeepers think so, but the science has not been proven on this topic.
What can you do?
There are many ways that beekeepers combat diseases. Keepers are vigilant with hive treatments to battle against mites. They conduct regular hive checks and keep a hive log to track any changes in the hive.
For wild bees, providing habitat and a variety of forage is helpful to combat disease; the more diversity of bees, the better!
When we plan for a larger variety of species, we can work towards complete ecological health.
It's important for us all to look beyond our yard and gardens at what is out there. The more we know about pollinators, the more we are able to save them. Slow down and check your flowers, you might be surprised at what you find!
To learn more about honeybees visit an Open Hive! at Ecology Park this summer. Open Hive! events take place this summer from 10 to 11 a.m. on Saturday, July 14th and on Saturday, August 18th.
For more information about bees or the GreenUP Ecology Park Garden Market, email danica.jarvis@greenup.on.ca or visit greenup.on.ca.