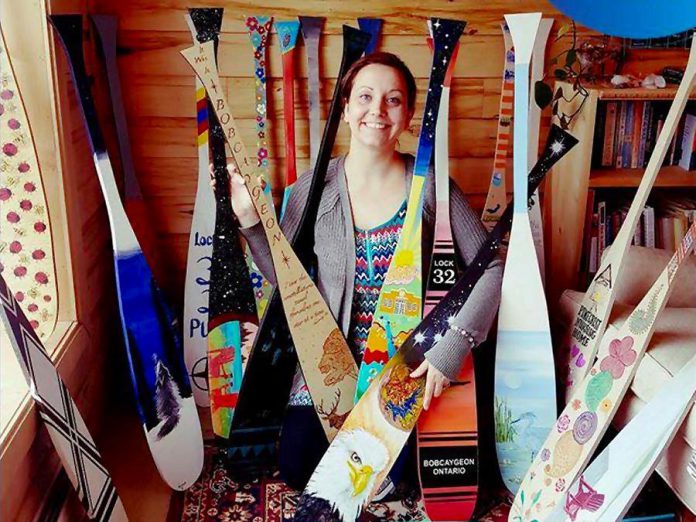 If you haven't noticed, there's been a lot going on in Bobcaygeon over the past couple of months.
Volunteers have been busy making the village fun and attractive for both residents and visitors this summer, as part of the "Vibrant Village" efforts organized by Impact 32, a volunteer steering committee made up of local business owners and community organizers in Bobcaygeon.
First up are the 70 uniquely painted wooden canoe paddles that will be showcased on poles on the main village streets. The canoe paddle was chosen to reflect Bobcaygeon's heritage as a main waterway route for both First Nations and settlers, and local artists made a special effort to create work representing their favourite aspects of Bobcaygeon.
VIDEO: Bobcaygeon canoe paddles being varnished
Kawartha Mediums' on call handy man Ken Kidman varnishing all the paddles to be displayed around town ??
#vibrantvillage #bobcaygeon32 #bobcaygeon #communitylove #paddles #artisit #localartist #paintedpaddle #kawarthamediums #trendinbobcaygeon #kawarthalakes #explorekawartha

Posted by Kawartha Mediums on Tuesday, June 19, 2018
The paddles are scheduled to be installed on the poles on Friday (June 22). At the end of the summer, the paddles will then be displayed at the Bobcaygeon Fall Fair and auctioned off to community members and merchants to raise funds for future Vibrant Village efforts.
While volunteers have also been hanging flower baskets in the downtown core, representatives from local volunteer groups have also joined together to enter Bobcaygeon in this year's "Communities in Bloom" competition.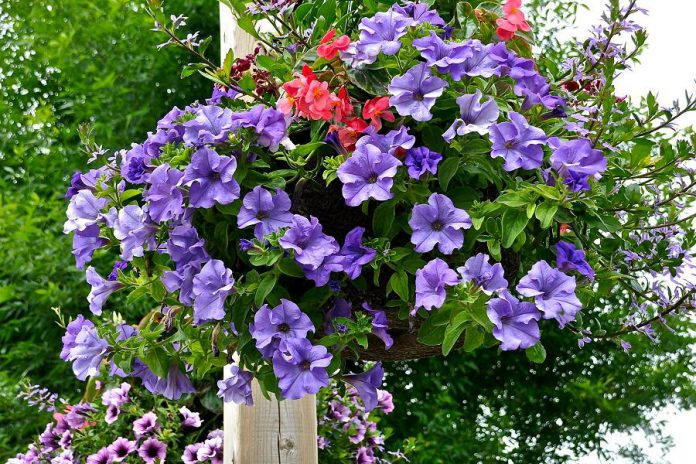 Anyone who wants to help Bobcaygeon win the competition can go to the website www.bobcaygeoncommunitiesinbloom.com for tips, and look for "seed bombs" at any of a dozen merchants around town — these are little gifts you can plant for just $5.
To raise funds for continued beautification efforts in Bobcaygeon, Impact 32 is presenting "Bloom Town Bash" from 6 to 9 p.m. on Friday, July 6th on the expansive patio at Kawartha Coffee Company's new location at The Doctor's Office at 58 Bolton Street. Featuring a Boho "flower child" theme, there will be food, karaoke, a henna artist, and more. Themed attire is encouraged but not required.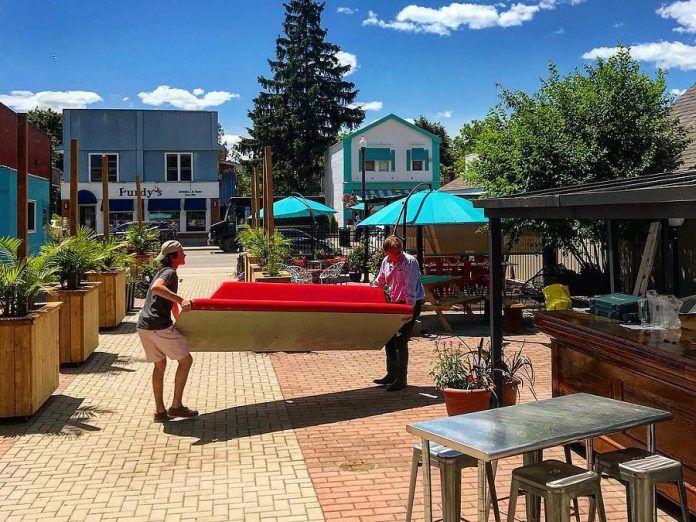 Tickets are $30 each and are available at Kawartha Coffee Company, the Welcome Centre, and online at visitbobcaygeon.com. All revenues will support Vibrant Village initiatives.
Also back for the summer is Bobcaygeon's bike share initiative. To rent a bike, all you need is a cell phone and a credit card. The bikes are located in two handy spots beside the locks, so they're ready for residents or visitors to take for a spin.
And if you're cycling or driving around Bobcaygeon, you'll notice the new paddle-shaped signposts, which were installed in May and designed to complement Bobcaygeon's charming "old-time cottage meets today feel.
The new signposts were a collaboration of Environmental Action Bobcaygeon and Impact 32 with support from the Bobcaygeon Legacy CHEST Fund, Regional Tourism Organization 8, and the City of Kawartha Lakes.