On Wednesday, June 27th, The Theatre on King (TTOK) closes its 2017-2018 season with Ryan Kerr's production of Eugene Ionesco's absurdist comedy The Chairs.
Featuring the talents of Di Latchford and Randy Read, The Chairs also marks an end of an era for TTOK as the final theatrical production performed at their much-beloved performance space at 159 King Street in downtown Peterborough.
Since presenting The Bald Soprano in the fall of 2016, Ryan Kerr has made Eugene Ionesco productions a regular occurrence at TTOK. Filled with clever word play, zany characters ,and politically charged allegories, Ionesco's plays are often difficult shows to produce, but Ryan and his company have risen up to the challenge again and again, making his Ionesco shows not only some of the most memorable productions Ryan has produced but also entertaining, audience favourites.
"The challenge in Ionesco, or any of the writers of the theatre of the absurd, is that it a completely different style," Ryan explains. "There isn't necessarily a through line. There's not necessarily character development.
"It's more about ideas, the situation, and the language. It really highlights the words as opposed to the people or the characters. They are a challenge for the actors, the director, and the audience."
Ryan says he also enjoys Ionesco because he finds the plays "hilarious".
"A lot of the writers in Europe writing plays just after World War Two were very deeply touched and affected by the war, and it's interesting they chose to write with humour as a way to understand what had happened. I think there had to be a certain kind of pressure gauge that had to be released, and these shows acknowledge that they world is indeed absurd — but it can also be funny, and also poignant and touching."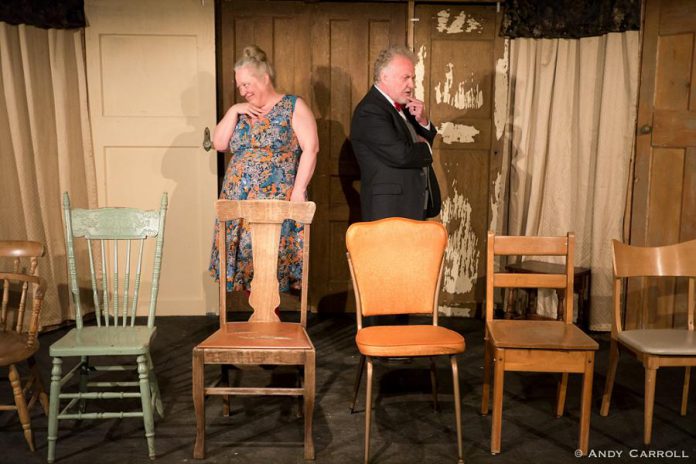 Written in 1952, The Chairs has been described as being "a tragic farce." The show presents an older married couple who, although having been together for decades, retain a loving marriage. Recently the man has come upon "a message" he feels must be told to "everyone" and calls for a great meeting at his home.
Together, he and his wife prepare for their guests, and to reveal the man's message to the world. Of course, there is much more to the story, but in all honesty it is best for the audience to discover the show just as I did. Allow yourself to be surprised and delighted, and buckle up for a very funny and surprising journey.
"It's all about what's real and what's not," Ryan says. "I don't want to give any more away."
Randy Read and Di Latchford bring something very special to this show. Their delivery of the material is much different than that of other Ionesco shows Ryan has produced in the past. In other shows, the actors tend to accentuate the absurdity of the language and situation by creating over emphasized characters with a certain over-the-top tone to the comedy. However, with Randy and Di, a different tone is created by having the two characters played in a much more straigthforward fashion.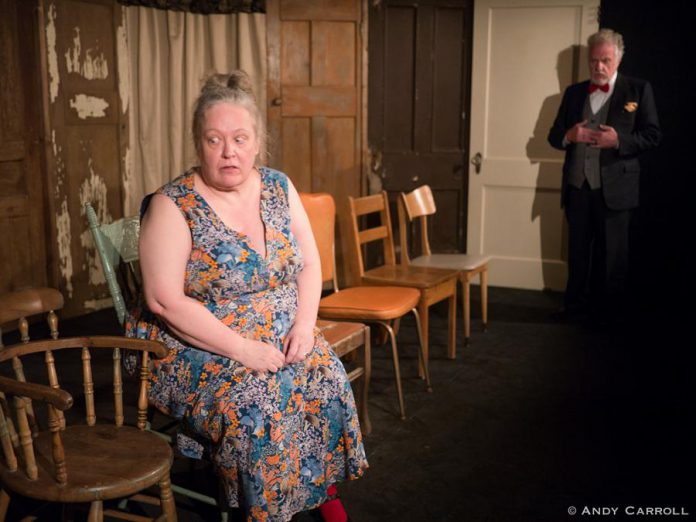 It's interesting to listen to these characters be placed in such a ridiculous situation, but present it as if it's the most normal situation in the world. The result is an entirely different dynamic than what I've come to expect from one of Ryan's Ionesco shows. There's warmth between the two characters, who thereby become much more relatable to the audience despite the insanity presented on the stage.
A regular on the local stage and at TTOK, this marks Di Latchford's first appearance in one of Ryan's Ionesco productions.
"I've had Di cast in another roles at TTOK and she's fantastic," Ryan says of his leading lady. "I wanted to give her a role that would show off what she can do, but also challenge her."
The Chairs is also a rare acting appearance by local favourite Randy Read, best known as the artistic director of New Stages Peterborough, who makes his TTOK debut in something completely out of his element.
"Randy has done a lot of acting in his life, but he hasn't been doing a lot of acting recently," Ryan explains. "He did do Our Town at Market Hall recently, but he has never done any acting at The Theatre on King before.
"Randy also tends to explore more non-absurd theatre in his own productions, so I knew this would be a challenge because it is new for him. It's a new space for him and, although we've worked together before, he hasn't worked with me as a director.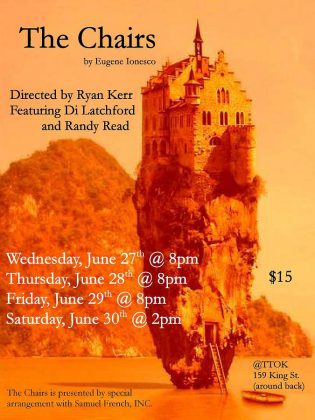 "Di and Randy are the perfect choices for this production. It's been interesting working with them, and seeing them rise to the challenge. They both get along really well, and they are the perfect cast for this show."
While not all of the absurdist theatre that Ryan produces at TTOK could necessarily be called audience friendly, what I personally love about Eugene Ionesco is how genuinely entertaining his plays are. Although the language might be challenging and the plots and events up for personal interpretation, the themes of the shows are fairly straightforward and understandable.
The Chairs is no exception to this, with much of the same themes of the uncontrollable nature of events and absurdity of power being explored. It's an easily accessible and entertaining show completely different from what is being produced by any other theatre company in Peterborough.
"We don't necessary learn this history of theatre anymore," Ryan points out. "We are in the age of very popular musicals. That's fine, but it means that some of the really good plays written in the past are being skipped over and forgotten. You need to know where you came from in order to go forward.
"I also think absurdist plays are very appropriate for the times that we are living in. Our leaders are not who they appear to be. There's an awful lot of absurdity and randomness that we have no control over. In some sense, we can identify with some of the characters and what they are going through."
The Chairs also features costumes by Kate Story, set by Kate Story and Paul Oldham, and lights and sound by Shannon McKenzie. It is truly the best of what patrons have come to expect of TTOK's mission at creating interesting and thought-provoking theatre.
As mentioned, The Chairs will also mark the end of an era for The Theatre on King. When the final curtain comes down at the 2 p.m. matinee on June 30th, it will mark the final theatrical performance for the TTOK, as a popular and much-loved artistic hub, at the King Street location.
Rumours of major changes in the works for TTOK have been circulating through the arts community in recent days. Although nothing official has been announced yet, things will look much different for the theatre company when they launch their 2018-2019 season in September.
In the meantime, the LLAADS troupe (Lindsay Unterlander, Luke Foster, Adam Wilkinson, Adam Martignetti, Dan Smith, and Sarah McNeilly) will continue to perform their popular comedy show at the space through June and July, and a few other events will be held before the theatre closes for August. But as for theatrical productions, The Chairs will be the final chance for audiences to enjoy the experience of seeing unique theatre in this black box space again. The Chairs is a perfect way to say goodbye to the TTOK that we've come to know.
The Chairs runs from Wednesday, June 27th to Saturday, June 30th at TTOK in downtown Peterborough, with performances at 8 p.m. except the closing matinee on Saturday at 2 p.m. Tickets are $15 at the door or pay what you can.