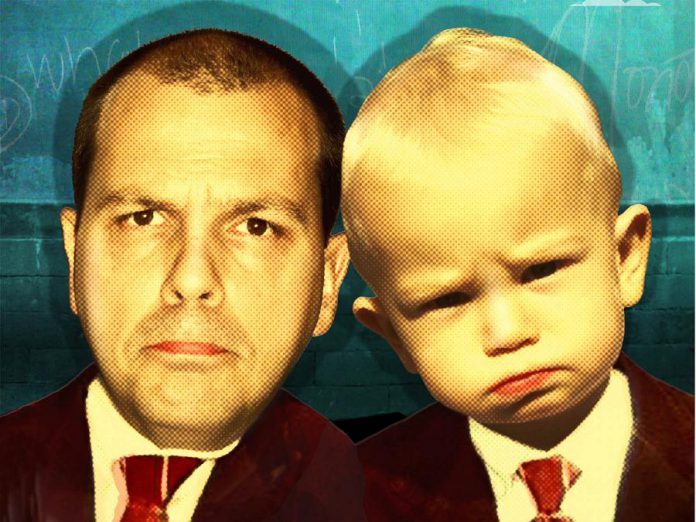 British comedian Chris Gibbs has had many titles in his life. He's been a comedian, street performer, acrobatic tumbler, author, and television and film actor. However, possibly his scariest title has been that as a father, which is the subject of Chris' one-man show Like Father, Like Son? Sorry , opening tonight (July 24) at Globus Theatre at Lakeview Arts Barn in Bobcaygeon.
Chris began his career as a street performer in the early 1990s in London's Convent Gardens, where he combined acrobatics and comedy after years of perfecting his craft as part of an acrobatic duo called Hoopa! Chris travelled through Europe, as well as Australia, New Zealand, and Canada, bringing his unique sense of humour to audiences everywhere.
"Street performing doesn't have to include skill, but it very often does," Chris says. "Your skill is your excuse to do a show, but you're really doing a comedic show."
Eventually Hoopa! had the opportunity to move indoors, where Chris began to experiment more with stand-up and improv. Upon moving to Canada in 2002, Chris discovered that the best way to continue his craft was by leaving stand-up behind and writing one-man comedy shows for the Fringe theatre circuit.
"I was in a weird situation where I had done stand-up in comedy clubs in London, but it all works a bit different in Canada," Chris says. "If you do shows in the Fringes its easier … and honestly a bit more lucrative to just write a one-man show and tour it around the Fringe."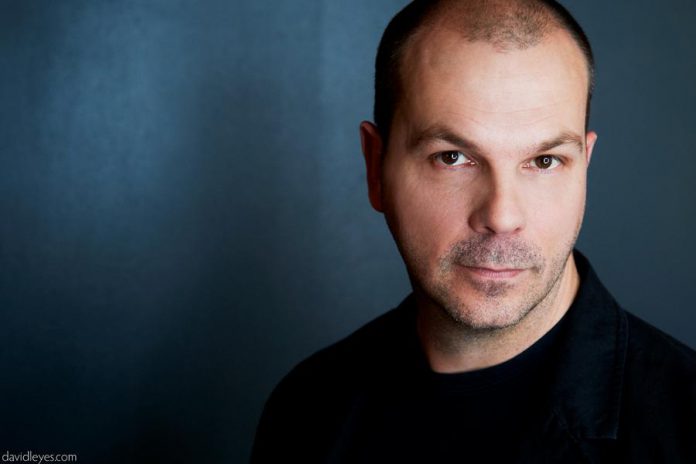 Chris' first show was "a weird Canadian version" of a show he had done in New Zealand.
"It wasn't a particularly good show, but there was a review in (Toronto's) NOW Magazine that described it as 'a funny one-man show about doing a bad one-man show'," he recalls. "Well, it wasn't that, but it was now! So I rewrote it to fit that, and then it was really fun."
It was during a 2007 performance in Winnipeg that Chris went off book, launching the development of Like Father, Like Son? Sorry . Earlier that week, Chris had become a father and, instead of performing his one-man show, he decided to just get on stage and talk about becoming a new dad.
"I was supposed to be doing a different show," Chris explains. "My son was born on a Saturday, and on Wednesday I was performing my first one-man show at the Winnipeg Fringe. But I got up on the stage and said 'I want to just talk about this baby that I just had.' The thing about stand-up shows is that you can kind of mess around with the material. So I started developing material for this show that night, but I didn't start touring it until two years later."
Chris explains it was his fear of becoming a father that drove him to focus on the topic.
"I found is that I spent a long time thinking that I could never be a dad," he says. "I had put the idea of fatherhood on a pedestal, so when I found out I was going to be a father I thought this would be the most difficult job that anybody could ever do and, clearly, I am going to mess this up. There are other jobs I could do that could be difficult, and clearly I could mess them up, but the only person who would get hurt is me. But when it's fatherhood, this could be terrible."
Chris admits that part of his fear of his inadequacy of being a father was by attempting to measure up to the way fathers are portrayed in pop culture, as well as memories of his own father.
"I realized that the judgement I was taking was from the father (figure) in movies, like Superman's father Jor-El, and ridiculous ideas of what fathers are. But my dad died when I was nineteen. It's not like I didn't know him, but we never had a chance to know each other as adults. So there was a mythical, with a small 'm' quality, to my father.
"I just remember my father as having an abiding sense of calm, but I never knew him well enough to ever see doubt, or all the things that now I know logically must have been there. It was just that dad knew what to do, and if there was a problem dad would take care of it.
"There is an element that I touch on in the show, when you realize your child is going to be born and you think 'Oh no, I haven't lived the right life for this, I've made terrible decisions!'. So it's a bit about that."
Although Chris describes the show as being just a "series of jokes," he hints at a bigger meaning within the show the audience may or may not see.
"When I started working on this show I had something I wanted to work towards, as if it was all a deep lesson but in the end I found out that it was just a bunch of jokes," he says coyly. "But every now and then I'd think again that it might be a deep important lesson. What's funny is that I had somebody a month ago who said 'I loved that point you made in that show' and I had thought that nobody had noticed.
"The trouble is that when you do a comedy show, and you have one serious bit, you judge it like you would a comedy, and when nobody laughs you think that they didn't like that bit."
It's over a decade since Chris first developed the show, and his son Beckett is now 11 years old.
"He's almost as tall as me," Chris says with pride. "He's a human being. I always think about it as a show about him, but it never really was. It's actually a show about me becoming a dad as much as it's all about him being a baby."
Although Beckett has seen some of his father's work, he has yet to see his father perform Like Father, Like Son? Sorry . However, Chris says that one night during the Globus run of the show he plans to finally have Beckett in the audience to see, for the first time, the show that was written about him.
"I've never done it nearby where he's been able to see it," Chris explains. "I've tended to have been touring it out west. The timing had to be right and he had to be old enough to enjoy it. I'm really excited about him finally seeing it.
"I am so ridiculously smug about how cool my son is. What I took away from my parents is that you're never going to get it right, so what I owe him is that I constantly worry about getting it right or not … as long as I'm always thinking about it, and wondering if I did it well. When he was born, all I thought was 'If he can be happy, that's all I want.'"
Chris Gibbs is a brilliantly funny man with a wonderful wit, and Like Father, Like Son? Sorry is a chance to see one of Canada's most popular comedians right in our own back yard. It will be a wonderful night of comedy and storytelling.
Like Father, Like Son? Sorry runs from Tuesday, July 24th until Saturday, August 4th at the Lakeview Arts Barn in Bobcaygeon. Shows start at 8 p.m., with 2 p.m. matinees on July 28th and August 2nd.
A three-course table d'hôte menu is available at 6 p.m. prior to every evening performance. Tickets are $34.50 for the show only, or $71 if you want the dinner and the show. For tickets, visit the box office at Lakeview Arts Barn or call 1-800-304-7897 or 705-738-2037.