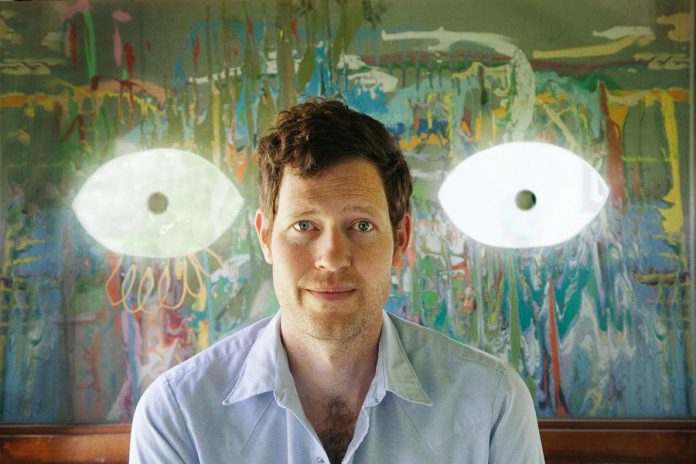 The Peterborough Folk Festival has announced the full line-up of artists for the free family-friendly music festival in August.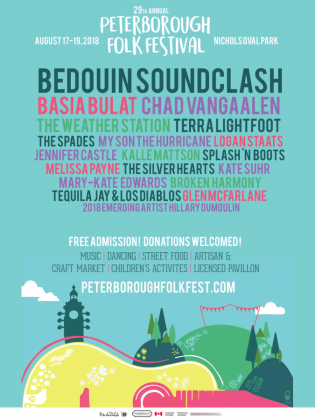 In addition to already-announced headliners Terra Lightfoot, Bedouin Soundclash, and Basia Bulat, and the reunion of local band The Spades, the festival will feature performances by Chad VanGaalen, Logan Staats, My Son the Hurricane, The Weather Station, Kalle Mattson, Jennifer Castle, Glen McFarlane, and Tequila Jay & Los Diablos.
Local musicians in the line-up are Mary-Kate Edwards, Broken Harmony, The Silver Hearts, Hillary Dumoulin, Kate Suhr, and Melissa Payne.
The festival kicks off with a ticketed concert featuring Terra Lightfoot on Friday, August 17th at 8 p.m. at the Market Hall Performing Arts Centre. Hillary Dumoulin, the 2018 Peterborough Folk Festival Emerging Arts, will be opening.
Tickets are $30 for assigned seating and are available at the Market Hall Box Office or online at markethall.org.
VIDEO: "Host Body" – Performed and animated by Chad VanGaalen

The remainder of the festival takes place at Nichols Oval Park on Saturday and Sunday. Admission is free and, in addition to musical performances, there will be street food, an artisan and craft village, children's activities, and a licensed pavillon.
On Saturday, August 18th, the line-up includes Bedouin Soundclash, The Spades, Chad VanGaalen, Kalle Mattson, Mary-Kate Edwards, Broken Harmony, Hilary Dumoulin, The Weather Station, Tequila Jay & Los Diablos, Glen McFarlane, and Terra Lightfoot.
VIDEO: "The Lucky Ones" – Logan Staats

The festival continues on Sunday, August 19th with performances by Basia Bulat, Kate Suhr, Jennifer Castle, The Silver Hearts, Melissa Payne, Splash N' Boots, Logan Staats, and My Son the Hurricane.
There will also be after-parties at the Historic Red Dog Tavern in downtown Peterborough on both Saturday and Sunday night, featuring some of each day's performers (the full line-up is to be announced). These age of majority events are free, but the festival will be accepting donations at the door.
The Peterborough Folk Festival, which is a not-for-profit organization, is still seeking volunteers to help out. As well as a good feeling, volunteers receive a limited edition volunteer t-shirt, complimentary food and drinks during the festival, and first access to year-round festival programming. To volunteer, visit www.peterboroughfolkfest.com/volunteer.
VIDEO: "Kids On The Run" – Kalle Mattson

The story will be updated as more details become available.