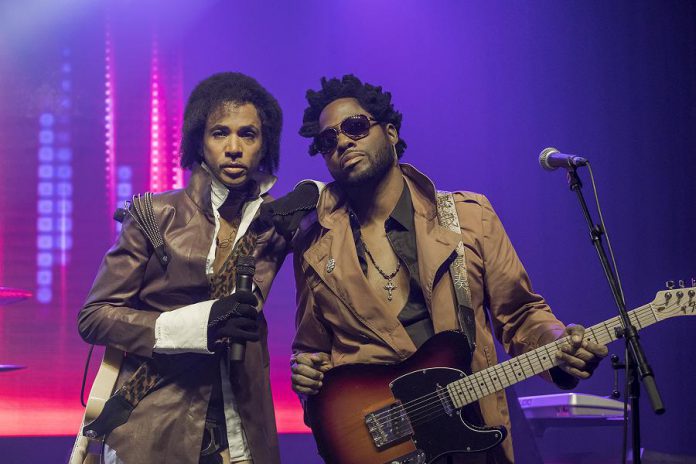 In the tribute band universe, substantial are the rewards for those acts that dare to present the music and style of artists who are incomparable — and do so exceedingly well.
When The Funk Frequency was formed in 2015, the subject of their tribute band — singer, songwriter and guitarist Prince — was very much alive.
Less than a year later, when the Minneapolis native died suddenly at age 57 as the result of an accidental fentanyl overdose, The Funk Frequency's tribute to the iconic artist took on much greater significance and poignancy for the many still looking to party like it was 1999.
On Saturday, August 4th at Del Crary Park, Peterborough Musicfest welcomes The Funk Frequency to the Fred Anderson Stage, fronted by lead singer Chris Rouse. Admission is free to the 8 p.m. show.
"You have Beatles tributes, you have Journey tributes, you have Motown tributes, you have all types of different tributes, but you don't have anyone that's really focusing on the heyday of the Minneapolis sound, which is Prince, but also what Prince did with a lot of other artists, like Sheila E., Vanity 6, The Time, Sheena Easton and The Bangles.
"So we decided we wanted to focus on that period, because it was a golden era and it meant so much to a lot of people. There was only one person I felt we could do this with. We couldn't do it without Chris (Rouse) accepting it. I prayed and did a little rain dance — a Purple Rain dance — and he said he was free and we started. It's important to note this concept started long before the unfortunate demise (of Prince). It's not like we jumped on some sort of bandwagon."
In bringing Rouse on board, Alexander and Roscetti had the perfect frontman for The Funk Frequency. Embodying Prince's unique essence, sound, and vocal styling, he also bears a striking physical similarity to Prince. When decked out in the singer's signature purple duds, the transformation is complete.
VIDEO: "1999" by Prince performed by The Funk Frequency

"Gratitude and humility," says Rouse of the experience of performing as Prince in The Funk Frequency. "I'm trying to fill some huge, huge shoes. It's always a challenge in a real healthy, positive, exciting way. It pushes me forward. It pushes me to be a better artist and a better person. I've been learning so much being a part of this group — how to be my best in a group scenario and really honour that sense of team energy that Prince was all about."
With album sales in excess of 100 million worldwide, Prince's huge popularity over five decades — he released his debut album For You in 1978 at age 20 — remains a testament to his music's message and relevancy to multi generations of fans.
Fuelled by a long list of hit songs such as "Little Red Corvette", "Kiss", "When Doves Cry", "Let's Go Crazy", and "1999", to name but a few, Prince remains one of the most awarded music figures of his generation with eight Grammy Awards, six American Music Awards, a Golden Globe Award, and an Oscar for Best Original Song Score for the 1984 film Purple Rain, in which he also starred. In addition, in 2004, he was inducted the Rock and Roll Hall of Fame.
VIDEO: "Let's Go Crazy" by Prince performed by The Funk Frequency

"Sometimes it brings me tears, it gets emotional," says Rouse of replicating Prince's flamboyant stage presence, his extravagant fashion sense and use of makeup, and his wide vocal range.
"When we're all performing, we get moved at the same time. We look around at each other and it's like 'What's going on? Is Prince here with us.' I think he is. That's what it feels like for me."
Besides bringing Prince's extensive music catalogue to the masses, The Funk Frequency also performs the music of noted Prince collaborators such as Morris Day and The Time ("Jungle Love" and "The Bird") and Sheila E. ("The Glamorous Life" and "A Love Bizarre").
VIDEO: "Raspberry Beret" by Prince performed by The Funk Frequency

"There are things we all do as individuals on our own and we respect that for each other," Rouse says.
"We do this because we love to do it. We do it for the passion, for the music. We love Prince, not just for what he did for his own career but for the careers of so many different artists, and for what he did for the music industry."
Peterborough Musicfest is presenting 18 free-admission concerts featuring a total of 20 acts during its 32nd season — each staged on Wednesday and Saturday nights at Del Crary Park.
Overseen by general manager Tracey Randall and staff, a board of directors, and numerous volunteers, Peterborough Musicfest's stated mission is to "provide diverse, affordable live music to enrich cultural and economic prosperity in our community."
For more information on this concert or the entire 2018 season, visit www.ptbomusicfest.ca or phone the Peterborough Musicfest office at 705-755-1111.