When opportunity knocks, you find it a stage.
Last September, after being approached by drummer David Inglis, Community Care Peterborough donor relations lead Dean Ostrander found a terrific stage for Inglis' contemporary jazz band Zing.
The result was a benefit concert for the agency, staged last September at the Market Hall Performing Arts Centre in downtown Peterborough.
"When David came in with the idea, I was 'Absolutely, let's do it,'" recalls Ostrander. "When you have somebody that's willing to do something like that and move forward with it, you take the opportunity and roll with it."
And roll with it they did, with the concert raising $1,400 for Community Care Peterborough while bringing increased awareness to the organization's mandate to provide essential services to seniors and physically challenged adults to allow them to stay in their homes.
So it's no surprise that Zing is returning to the Market Hall at 8 p.m. on Saturday, September 8th to perform another benefit concert for Community Care Peterborough. Tickets for "Play It Forward: An Evening of Contemporary Jazz Funk" cost $23 for general admission or $33 for cabaret-style seating, and can be ordered at the Market Hall box office, by phone at 705-749-1146, or online at markethall.org. Tickets are also available from Ostrander by calling 705-742-7067 ext. 224 or email dostrander@commcareptbo.org.
AUDIO: "Josie" by Walter Becker and Donald Fagen arranged and performed by Zing

Formed in April 2014, each of Zing's four members bring "some serious musical schooling" to the fore, according to Inglis.
Inglis is a retired City of Toronto Fire Department captain who, with bassist Patrick McPhail and guitarist Robert Moore, were once part of a band comprised mostly of firefighters.
The band raised some $40,000 for Toronto area charities, the set list typically comprised of songs with a connection to fire. Cue "Fire" by The Ohio Players or Talking Heads' "Burning Down The House" and you get the idea.
"When I retired, I thought it would be nice to continue doing that sort of thing," says Inglis, who also played percussion with the Peterborough Symphony Orchestra for 10 years.
John Ebata, a keyboardist who has worked with the likes of Buffy Sainte-Marie, Oscar Peterson, and The Alan Parsons Project, was added to the mix about a year ago, joining Berklee School of Music-trained Moore and McPhail, a 25-year member of the Windsor Symphony Orchestra who still toils as a firefighter.
Joining the band for the Play It Forward concert will be a special guest, Inglis says.
"What we're playing is a lot more intricate and sophisticated than smooth jazz," explains Inglis about Zing's sound.
"We've had a lot of trouble trying to give it a title. For this show, it's called contemporary jazz funk. It's not a fusion band like Chick Corea and it's not like John McLaughlin. It's not heavy musical stuff that only appeals to a select audience. The stuff we're playing, people actually got up and danced last year, which was quite surprising."
VIDEO: "Pick Up The Pieces" by Average White Band performed by Zing
With a repertoire that features "Josie" by Steely Dan, "Fields Of Gold" by Sting, and "Full House" by David Sanborn, Zing performs music not heard often on radio or at festivals, according to Inglis.
"That's strange because the bands that composed this music are still out there playing and putting out CDs. We're having a lot of fun bringing this particular style of music to folks. When they hear it, they want to know more about it.
"This style of music is something I always wanted to play but never had the opportunity. I did the symphony, I did jazz recordings and rock recordings, but this particular style of music — there was no outlet for me. So it was let's put something together and see if how it goes. It's educational and it's entertaining and that's what makes it all fun."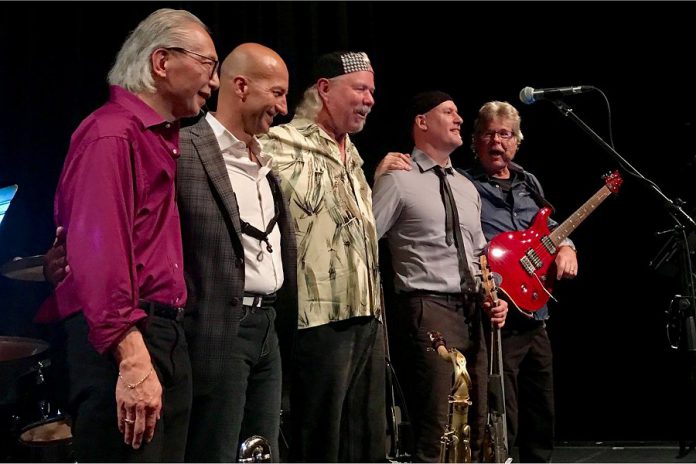 The partnership with Community Care Peterborough, says Inglis, formed when he learned that fundraising is integral to the agency's ability to meet its service commitments. The show name, Play It Forward, is a reflection of the fact he may one day need the services it provides.
"We all hope to get to the point where we don't want to need the services," Ostrander adds, "but we also all hope to grow old enough to need the services."
With close to 900 volunteers, Community Care Peterborough supports the health and well being of individuals, caregivers, and communities across Peterborough city and county. Last year, more than 37,000 meals were delivered by Meals On Wheels, more than 35,000 drives were provided, and more that 24,000 reassurance calls and visits were made.
In addition, the Home At Last program, offered in conjunction with the Peterborough Regional Health Centre and the Central East Local Health Integration Network, helped more than 700 people settle back into their homes after a hospital stay.
VIDEO: Zing at the Market Hall for Community Care Peterborough in September 2017

"They're a great bunch of guys," says Ostrander of Zing.
"The biggest thing that came out of last year's show was everybody was extremely pleased and, in a way, surprised because they didn't know what to expect. With the quality level of their music, everybody was very pleased."
Audience reaction to the band's sound and talent, says Inglis, is "the litmus test" of a job well done. On a personal level, the challenge presented by the arrangements is what keeps him intrigued.
"I've asked many musicians who do it for a living 'Do you not get tired playing cover tunes?'" he says. "How many times can you play I Can't Get No Satisfaction before you say 'Gee, this is not doing it.'"
With all due respect to The Rolling Stones, the arrangement and execution of the jazz tunes that Zing covers are slightly more sophisticated.
"You've got to be really on your toes and focused, not just as an individual but also as a band. That challenge is what makes it exciting. Surviving two hours and hopefully pulling it of — that's kind of the highlight of the night."
For more updates on Zing, visit the band's Facebook page. For more information about Community Care Peterborough, including the programs it offers, visit www.commcareptbo.org.