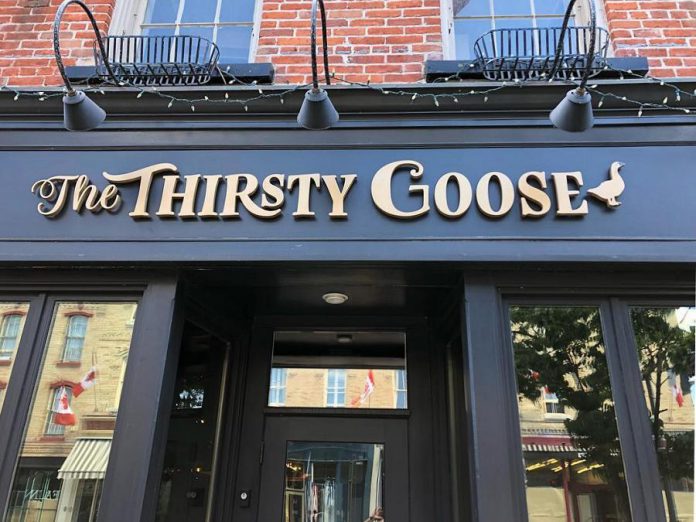 This week's round-up of regional business news includes the grand opening of The Thirsty Goose in Port Hope, the 20 young entrepreneurs selected for FastStart Peterborough's Camp Startup, the re-opening of Kawartha Credit Union's branch at Chemong Road in Peterborough, and the closing of the Nordia call centre in Lindsay.
Also featured is a review by the City of Peterborough of residents' concerns for transportation and storm water related to the proposed Ashborough Village development in East City, a donation by Christensen Fine Art to the Brock Mission, and the rebranding of Dr. Doug's Family Chiropractic Centre in Peterborough.
Regional business events added this week include Lift Lock Escape's grand opening in downtown Peterborough on August 21st, the Peterborough Chamber PBX at the Innovation Cluster on September 4th, the Women's Business Network of Peterborough 2018-19 season kick-off meeting on September 5th, the Port Hope Chamber's 17th Annual Golf Tournament on September 13th, and the Lindsay Chamber's Fall Golf Classic Tournament on September 20th.
We publish businessNOW every week. If you'd like us to promote your business news or event in businessNOW, please email business@kawarthanow.com.
---
Rejean Maranda and Cameron Green's latest venture The Thirsty Goose officially open in downtown Port Hope
Although it's been open for business since late July, The Thirsty Goose at 63 Walton Street in downtown Port Hope held its official grand opening last Friday (August 17th).
The Thirsty Goose is a joint venture of local restaurant entrepreneurs Rejean Maranda and Cameron Green, owners and operators of Kettle Drums and McThirsty's Pub in Peterborough.
Located next to Furby House Books, the pub offers a range of domestic, imported, and craft beers.
The menu includes soup, salad, nachos, a burger, sandwich, and several varieties of chicken wings, and some unusual offerings including "Stirling's Delight" — a fried donut topped with cinnamon apples, whipped cream, candied pecans, Canadian maple syrup and bacon.
There's also weekly live entertainment on Thursdays, Fridays, or Saturdays.
The Thirsty Goose is open from 11 a.m. to 11 p.m. from Monday to Saturday (open past 11 p.m. on Friday and Saturdays).
For more information, visit thethirstygoose.ca or follow them on Facebook and Instagram.
Twenty youth entrepreneurs selected to participate in Camp Startup at Camp Kawartha in September

Last Wednesday (August 15) at its E-Connect event at Publican House Brewery in downtown Peterborough, FastStart Peterborough announced the 20 successful applicants for the upcoming Camp Startup entrepreneurial bootcamp.
Richard Mathieu, Kasandra Gill, Abdullah Alvi, Conor Lynch, Amber Pula, Katrina Schouten, Ranvijay Singh, Sulfiya Moideen, Amitozdeep Singh, Vinny Lana, Krishma Gabba, Geoff Wolfer, Gaurav Ahuja, Erica Rankin, Reilly de Jong, Meet Nakrani, Tyson McDonald, Atam Goyal, Dylan Trepanier, and Timothy Bissonnette will all be participating in Camp Startup, which takes place from September 14th to 16th at Camp Kawartha.
The participants — all between the ages of 18 and 29 — were selected based on their innovative business ideas, ranging from helping the environment to increasing accessibility, during the application process.
FastStart Peterborough is a youth entrepreneurship training partnership that brings together Trent University, Fleming College, and the Innovation Cluster
"Each year we present this event for 20 new aspiring youth entrepreneurs to experience getting out of their comfort zone and learning new skills," says Rosalea Terry, Marketing Manager and Senior Innovation Specialist of the Innovation Cluster. "This year, we have re-envisioned the experience to be a more inclusive and well-rounded experience, going to Camp Kawartha for outdoor activities rather than a canoeing portage trip.
The 20 successful applicants will participate in a weekend of business, networking, and leadership challenges. Campers will arrive at Camp Kawartha Friday evening for an icebreaker night, following Saturday and Sunday with team-building exercises while implementing their own enterprise ideas.
To end the experience on Sunday, campers in their group will pitch to a panel of established judges in entrepreneurship and business, that they will have been preparing throughout the weekend. Members of the winning team will split $500 in cash to go towards entrepreneurial pursuits.
"This exercise is a great way to combine everything the participants have learned over the weekend to convey in a business pitch," Terry says. "When the youth finish the trip, they are always more confident in a group setting and the abilities they have as an entrepreneur."
Many past participants of the experience have since went on to build businesses through both the FastStart program and the Innovation Cluster.
Kawartha Credit Union celebrates grand re-opening of Chemong Road branch in Peterborough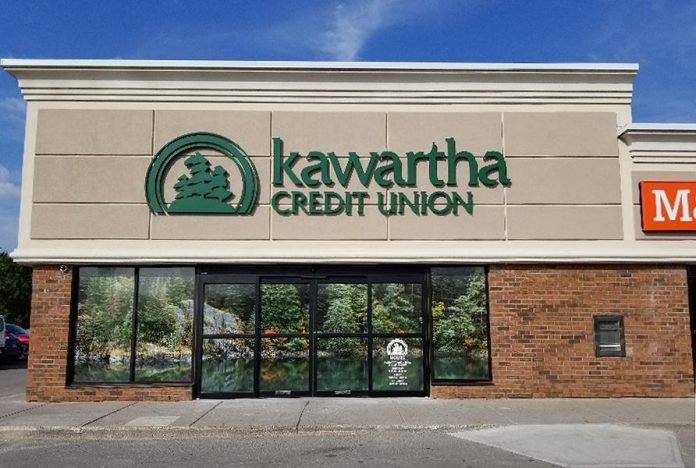 Last Wednesday (August 15), the Kawartha Credit Union celebrated the grand re-opening of its retail location on Chemong Road in Peterborough.
"We are very excited to further invest in the Peterborough community with this renovation to our Chemong Road branch," says Kawartha Credit Union CEO Robert Wellstood. "It offers us the opportunity to better serve our Peterborough members through our innovative service model, and round out access to our competitive products and services in every corner of the city."
Led by branch manager Dana Chambers, the Chemong Road location offers features included a a branch ambassador who greets members and determines how their needs can best be met, private offices (not teller stations) where staff can have confidential conversations about members' financial needs and provide wealth management advice and lending services, and two 24-hour ATMs.
"We will be moving all of our branches to this new format over the next few years," Wellstood says. "It has been well-received by members at our Peterborough branches and also in Brockville and Kingston."
The branch at 1091 Chemong Road is open from 9:30 a.m. to 5 p.m. Monday to Wednesday, 9:30 a.m. to 8 p.m. on Thursday, 9:30 a.m. to 6 p.m. on Friday, and 9 a.m. to 4 p.m. on Saturday.
For more information, visit www.kawarthacu.com.
Nordia announces Lindsay call centre to close in December 2018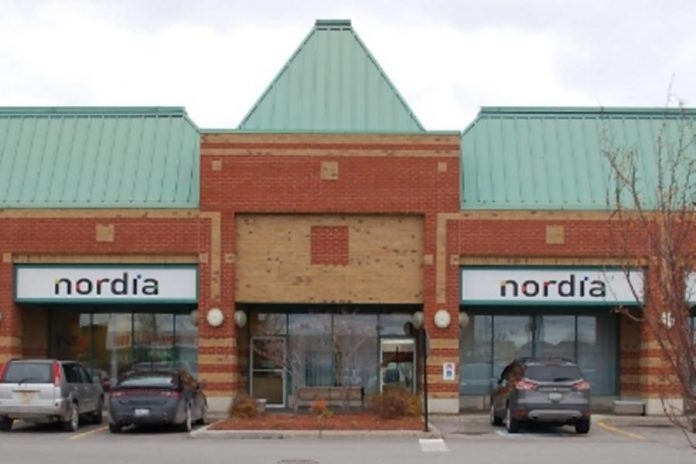 Nordia announced last Wednesday (August 15) that it's closing its Lindsay call centre effective December 21, 2018.
Located at the Whitney Town Centre on Kent Street, the call centre currently employees 63 people (48 customer service representatives and five management and support staff, with another 10 employees on leave). The call centre was previously operated by American multinational corporation Sykes Enterprises.
Nordia director of communications Philip Van Leeuwen says the decision to close was made because of the high cost of rent, the difficulty of attracting employees, and the limited opportunities for business growth in the area.
Nordia operates 14 call centres with more than 5,000 employees across Canada in British Columbia, New Brunswick, Quebec and Ontario — including 300 employees at its Peterborough call centre.
Van Leeuwen says the Lindsay employees will be able to apply for positions at Nordia's other call centres. Nordia will offer severance packages to eligible employees, and will offer job skills training and assistance with resume preparation and job searches.
In September 2016, employees of the Lindsay call centre voted to join the United Steelworkers union, joining employees at Nordia call centres at Kitchener, Quebec City, and Sherbrooke who were already members of the union. Those three call centres continue to operate.
City of Peterborough to address resident concerns for storm water management and transportation related to proposed East City subdivision
Following a community meeting on Ashborough Village (the proposed development of a 700-unit subdivision east of Ashburnham Drive in Peterborough's East City), the City of Peterborough has announced it will address concerns raised by residents about traffic and storm water management.
In response to residents' concerns, City Council will be asked to commit funds for a transportation review in early 2018. The new development will also be required to address storm water management on its site.
"The planning application process is facilitating conversations between residents, the applicant, and the City on existing situations as well as on new conditions that we expect to change with the projected growth in that part of the City," says Brad Appleby, subdivision control and special projects planner with the City of Peterborough.
As part of the subdivision agreement, the city will acquire a block of property currently owned by the Ashborough Village developer to address off-site storm water management concerns raised by residents who live north of the proposed development. Once the property is in city ownership, the City will have the ability to implement improvements by directing water to the newly acquired property, subject to the approval of the Otonabee Region Conservation Authority.
A full report from City staff on the draft plan of subdivision application for Ashborough Village will be released on Thursday, August 23rd and it will go to the General Committee on Monday, August 27th. Residents will have an opportunity to speak to City Council on the item during the meeting on August 2th.
City Council will consider the item at its meeting on Monday, September 10th.
Christensen Fine Art to donate $4,352 to Brock Mission
Peer and Lori Christensen of Christensen Fine Art have announced they will be donating $4,352 to the Brock Mission for its new building fund.
The Christensens raised the money during a close-out sale when they moved from their downtown storefront location earlier this summer.
The pair will present a cheque to Bill McNabb, Executive Director of the Brock Mission, on the building site at 217 Murray Street at 10 a.m. on Tuesday, August 21st.
Dr. Doug's Family Chiropractic Centre to rebrand as Peterborough Maximized Living Chiropractic Centre
Dr. Doug's Family Chiropractic Centre (354 Charlotte St, Peterborough) is being rebranded as Peterborough Maximized Living Chiropractic Centre.
Owned and operated by well-known local chiropractor Dr. Doug Lukinuk, Dr. Doug's Family Chiropractic Centre will officially reopen under its new name on Wednesday, September 19th.
The grand reopening takes place from 1 to 3:30 p.m. and will feature tours, demonstrations, and refreshments. An official ribbon-cutting ceremony will take at 2 p.m. and will be attended by Peterborough Mayor Daryl Bennett and other dignitaries and guests.
According to a media release, Peterborough Maximized Living Chiropractic Centre will include new and expanded services such as wellness, workshops, and fitness classes.
For more information, visit ptbomaxlivingchiro.com.
Lift Lock Escape grand opening in downtown Peterborough on August 21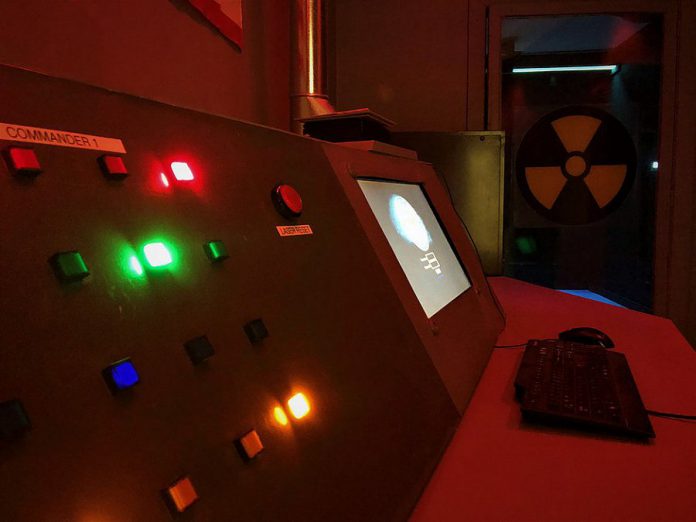 Lift Lock Escape in downtown Peterborough is having its official grand opening and ribbon-cutting ceremony from 4 to 6 p.m. on Tuesday, August 21st.
Located at 351A George Street North, Lift Lock Escape is an entertainment business featuring escape rooms, virtual reality systems and games, and a board game cafe.
Designed for groups of two to eight people, escape rooms are real-life interactive story quests where you have to find hidden objects, figure out clues, and solve puzzles to achieve an objective within a designated time limit. Lift Lock Escape is launching with the Judgment Day escape room ("Will you be able to save mankind from nuclear Armageddon?") with Super Jail Breakout ("Can you get out in time?") coming soon.
Lift Lock Escape will also offer two virtual reality stations, featuring the Oculus and HTC Vive VR systems and a catalog of games, as well a board game cafe.
For more information, visit www.liftlockescape.com.
Peterborough Chamber PBX at Innovation Cluster on September 4
The Peterborough Chamber of Commerce is hosting its next PBX (Peterborough Business Exchange) event from 4 to 6 p.m. on Tuesday, September 4th at the Innovation Cluster (270 George St. N., 3rd Floor, Peterborough).
Everyone is welcome to attend this free event.
For more information, peterboroughchamber.ca.
Women's Business Network of Peterborough Season Kick-off Meeting on September 5
The Women's Business Network of Peterborough (WBN) launches its 2018-19 season with a kick-off meeting beginning at 5:30 p.m. on Wednesday, September 5th at the Holiday Inn Waterfront (150 George St., Peterborough).
The meeting will feature three WBN members — 2018 Member of the Year Tracey Ormond of That's A Wrap Catering, Monika Carmichael of Trent Valley Honda, and photographer Heather Doughty — sharing their stories with other members.
Networking begins at 5:30 p.m., followed by dinner at 6:30 p.m. and the speakers at 7:30 p.m.
The event is free for WBN members but anyone can register online for $50 and come as a guest (space permitting). For more information and to register as a guest, visit www.womensbusinessnetwork.net.
Port Hope Chamber 17th Annual Golf Tournament on September 13
The Port Hope & District Chamber of Commerce is hosting its 17th Annual Golf Tournament beginning at 11:30 a.m. (shotgun start at 12:30 p.m.) on Thursday, September 13th at the Ash Brook Golf Club (7215 Dale Rd., Port Hope).
The event includes lunch, 18 holes of golf (cart included), and a steak dinner. There will be a best ball fun tournament and prizes.
Tickets are $110. For more information and to register, visit www.porthopechamber.com.
Business After Hours in Bridgenorth on September 19
The Kawartha Chamber of Commerce & Tourism's next Business After Hours event takes place from 5 to 7 p.m. on Wednesday, September 19th.
During the "Bridgenorth Hop", the Chamber will visit members in Bridgenorth, including Bridgenorth Deli, Style Boutique, and TCB Office Furniture & Supplies.
More details will be announced as the date nears.
Lindsay Chamber Fall Golf Classic Tournament on September 20
The Lindsay & District Chamber of Commerce is hosting its Fall Golf Classic Tournament from 11 a.m. to 8 p.m. on Thursday, September 20th at the Lindsay Golf & Country Club (282 Lindsay St. S., Lindsay).
The event fee of $141.25 includes a BBQ lunch, 18 holes of golf (cart included), and dinner. There will be prizes for women's and men's closest and longest drive, most honest and winning teams, and putting and chipping contests.
For more information and to register, visit www.lindsaychamber.com.
New Venture Workshop in Buckhorn on September 26
Peterborough & The Kawarthas Economic Development is hosting a workshop for entrepreneurs from 6 to 8 p.m. on Wednesday, September 26th at St. Matthew – St. Aidans Church (1946 Lakehurst Rd., Buckhorn).
The "New Venture Session" is designed for aspiring entrepreneurs or startups looking for support in the business community. The session will provide an overview of the foundations of starting and running a business, resources and programs that are available for entrepreneurs in Peterborough & the Kawarthas, the business model canvas exercise, how to access support from the Business Advisory Centre, and getting started on the "Startup Checklist".
Presented in partnership with Selwyn Township, Trent Lakes, and Curve Lake First Nation, the workshop is free and you can register at www.eventbrite.ca/e/new-venture-workshop-tickets-48692197674.
Next Kawartha Chamber B.O.S.S. session takes place on October 3
The Kawartha Chamber of Commerce & Tourism's next B.O.S.S. (Business Owners Sharing Solutions) session is scheduled for 5 to 7 p.m. on Tuesday, October 2nd at Camp Kawartha (1010 Birchview Rd., Douro-Dummer).
The session will explore team building programs, practices, and activities, and discuss the importance of establishing trust, setting goals, and honouring the goals of others. Refreshments will be provided.
More details will be coming soon. For more information, email events@kawarthachamber.ca.
Love Local Ptbo Business Expo on October 3
The Greater Peterborough Chamber of Commerce's Love Local Business Expo will take place this year from noon to 7 p.m. on Wednesday, October 3rd.
The region's largest business showcase, in previous years the Expo took place at the Morrow Building during September. While spacious, the location was also somewhat uncomfortable during the heat of late summer and required a lot of carpets to cover up the concrete floor.
This year's Expo is taking place at the Envinrude Centre, which features air conditioning and hardwood floors.
Watch for more details as the date gets closer, but you can register for a booth now at peterboroughchamber.ca.